June 01, 2022
Challenger Exploration Limited (ASX: CEL) ("CEL" the "Company") is pleased to invite shareholders and investors to an investor webinar on Wednesday 1 June at 12:30 pm AEST / 10:30 am AWST where Challenger's CEO and Managing Director, Kris Knauer, will discuss the Mineral Resource Estimate at the Hualilan Gold Project in Argentina.
Event: CEL Investor Webinar Presenter: Managing Director, Kris Knauer
Time: Wednesday 1 June at 12:30 pm AEST / 10:30 am AWST
Where: Zoom Webinar, details to be provided upon registration. To register your interest for the webinar, please click through to the link below.
Registration link:
https://janemorganmanagement-au.zoom.us/webinar/re...
Highlights
Maiden Mineral Resource Estimate (MRE) of 2.1 million ounces (AuEq)1 at CEL's flagship Hualilan Gold Project comprising:

Skarn component: 6.3 Mt at 5.6 g/t AuEq1 for 1.1 Moz AuEq
Intrusion/sediment-hosted: 41.4 Mt at 0.8 g/t AuEq1 for 1.0 Moz AuEq

Resource is based on 125,700 metres of CEL's current 204,000 metre drill program.
Resource contains a higher grade core of mineralisation comprising 1.0 Moz at 6.4 g/t AuEq (at a 3.0 g/t cut-off grade) or 1.2 Moz at 5.2 g/t AuEq (at a 2.2 g/t cut-off grade).
Grade/tonnage distribution provides significant flexibility with high retention of contained metal as the cut-off grade is lifted for the combined skarn/intrusion-hosted Resource Estimate

35.1Mt at 1.8 g/t AuEq for 2.0 Moz AuEq1 (0.4 g/t lower cut-off)
29.6Mt at 2.0 g/t AuEq for 1.9 Moz AuEq1 (0.5 g/t lower cut-off)
16.5Mt at 3.1 g/t AuEq for 1.6 Moz AuEq1 (1.0 g/t lower cut-off)

Clear potential for resource to grow significantly via both extension and infill drilling with some of the more significant intersections not impacting the resource including (refer Table 4):

13.0m at 15.5 g/t AuEq1 (FHNV10-02): 600 metres south of the resource limit
5m at 8.7 g/t AuEq1 (GNDD-394): 400m north of the resource limit
4.0m at 5.8g/t AuEq1 (GNDD-308e): 700m vertically below the resource limit
26.6m at 2.5 g/t AuEq1 (GNDD-437): discovery below Verde - extension drilling ongoing
39.0m at 5.6 g.t AuEq1 (GNDD-088A): below the pit shell requires additional infill drilling
104.0m at 1.7g/t AuEq1 (GNDD-113A): top 30m only falls within the optimised pit shell
67.6m at 2.6 g/t AuEq1 (GNDD-434): top 20m only falls within the optimised pit shell

Substantial drilling program has continued with another 59,300 metres of drilling (assays pending) completed since the Interim Resource Estimate cut-off date.
The MRE contains a much larger component of high-grade skarn material than expected and ongoing drilling indicates that this trend will continue.
Scoping Study will commence at the completion of the current 204,000 metre drill program as the Company expects that additional drilling will materially increase this Maiden MRE.
Discovery cost of US$8.20 per Oz AuEq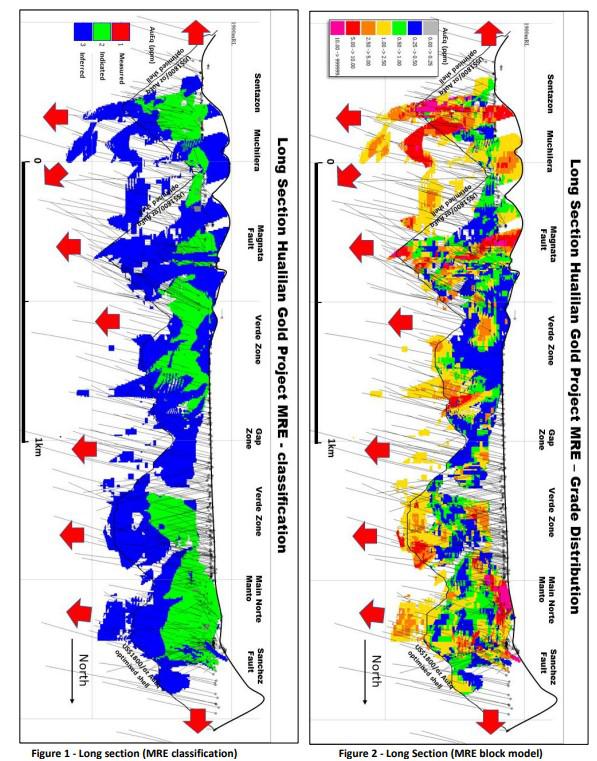 Commenting on the resource, CEL Managing Director, Mr Kris Knauer, said
"On behalf of myself and our Argentinian team, I would like to thank Dr Sergio Uñac (Governor of San Juan; Eng. Carlos Astudillo (San Juan Mining Minister), and Eng. Eduardo Machuca (President of the IPEEM). Without their help we would not have been able to pass this significant milestone.
As much as I am delighted by this maiden resource it is an Interim Resource Estimate. It includes only 126,000 metres of our 204,000-metre drill program, covering 2.2 of the 3.5 kilometres of strike, over which the high-grade mineralisation has been intersected. . With mineralisation open in all directions this Interim Resource Estimate provides a window to the substantial potential at Hualilan.
Importantly we have found significantly more high- grade skarn mineralisation than expected with it comprising more than half of this interim MRE. Based on drilling since the MRE cut-off date we expect this trend of significantly more skarn to continue which will be major boost for the project."
Click here for the full ASX Release
This article includes content from Challenger Exploration, licensed for the purpose of publishing on Investing News Australia. This article does not constitute financial product advice. It is your responsibility to perform proper due diligence before acting upon any information provided here. Please refer to our full disclaimer here.
CEL:AU
TOP STOCKS
American Battery4.030.24
Aion Therapeutic0.10-0.01
Cybin Corp2.140.00
Investing News Network websites or approved third-party tools use cookies. Please refer to the cookie policy for collected data, privacy and GDPR compliance. By continuing to browse the site, you agree to our use of cookies.