Overview
Demand for battery metals has dramatically increased in recent years alongside the rise of electric vehicles, renewable energy technologies, and consumer electronics. The global battery market is currently estimated at US$120.4 billion and is expected to reach an astounding US$279.7 billion by 2027. Metals such as nickel, lithium, copper and tantalum are necessary to satisfy the ever-growing demand for these batteries.
This is also the exact reason why a country like Namibia continues to prove itself as a key player in this movement due to its rich deposits of battery metals. Plus, with mining contributing approximately 10 percent to its GDP, experts predict that contribution will undoubtedly increase as mining production is expected to increase by 15 percent in 2022, and by an additional eight percent in 2023. The presence of rich zinc, lithium and cobalt deposits has attracted multiple mining companies to the region in recent years.
Arcadia Minerals (ASX:AM7) is an exploration company that's focused on exploring battery metals located throughout its multiple projects in Namibia, a country known for its rich metal deposits. The company's portfolio is composed of active exploration projects that feature tantalum, nickel, lithium, copper, and gold. All of its projects are fully funded and led by a strong management team with decades of experience.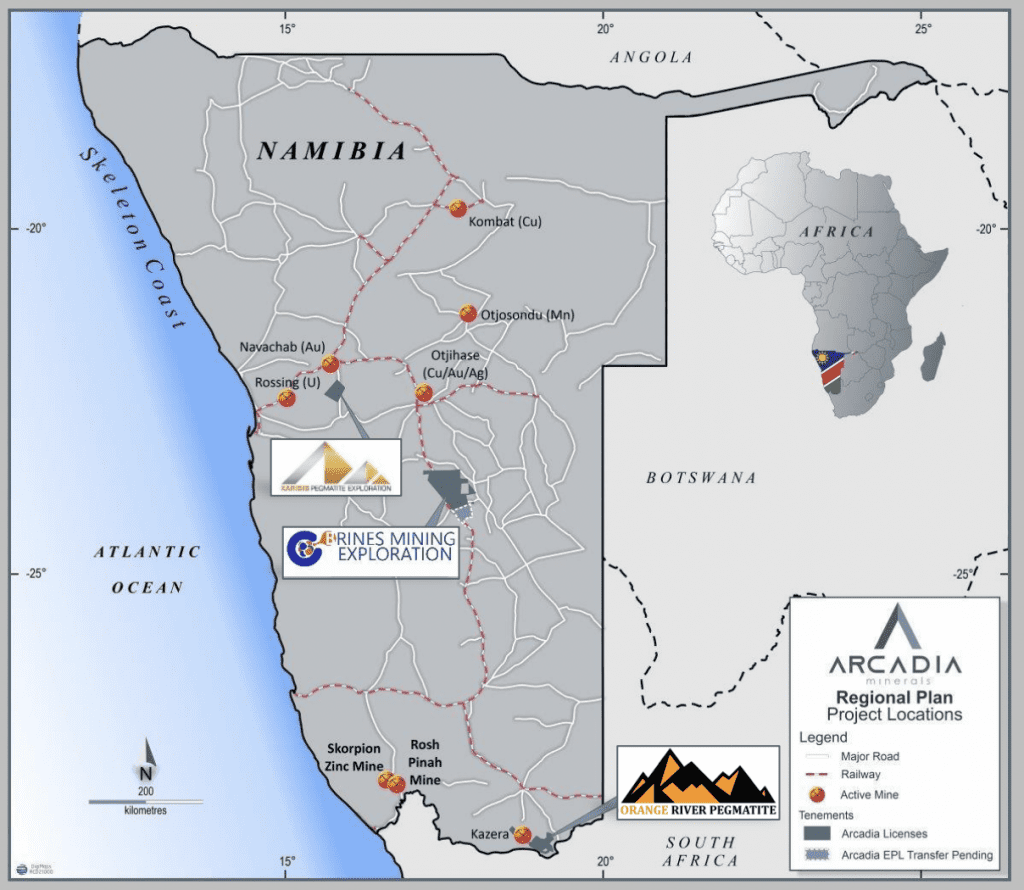 The company's flagship Swanson Project, which covers approximately 19.4 square kilometres. It's located in the well-mineralized southern region of Namibia, largely known for its tantalum deposits. Tantalum is an extremely rare mineral that's required for the production of capacitors that are used in a variety of electronic equipment. The neighbouring AIM mine has already produced 594,000 tons of ore. Arcadia Minerals is currently exploring pegmatites to identify targets for future production.
"Battery metals are very important for the new age where renewable energy is the method for supplying the energy and the power necessary. We intend to play a large role." said Jurie Wessels, executive chairman of Arcadia Minerals, in an interview.
The company is also led by a strong management team that has a proven track record of leading successful mining projects. Philip Le Roux, CEO of Arcadia Minerals, brings
decades of experience leading companies from exploration to production
throughout a diverse portfolio of geological landscapes. He currently is managing a team of geologists in Namibia that are moving each of the company's projects forward. The executive team is also experienced in overseeing mining projects within the African continent. The CEO, country manager, and chief geologist
all reside in Namibia
, which allows them to cultivate a network of consultants and advisors with a view to generating additional value for the company.
Company Highlights
Arcadia Minerals has an experienced executive team that has a track record for taking companies from exploration to production.
The company's projects are all located within Namibia.
Each project within Arcadia Mineral's portfolio is focused on minerals that are needed for producing electric vehicles, batteries, and other green technologies.
The company currently has an in-country team led by executives that are currently exploring each of the projects.
JORC mineral resource increased its total in situ metal content to 1,257 tonnes, a rise of 154 percent, on its flagship project.
Arcadia Minerals completed a study that advances the work program for district-scale lithium brine.
Arcadia Minerals received the completed study on its Kum-Kum property in May 2022, leading to further development.
Namibia has a strong regional infrastructure that currently supports an established mining industry.
Arcadia announced its completion of a drilling assay across 32 holes at its Bitterwasser Project to a maximum depth of 9.6 metres, with samples containing lithium mineralisation ranging from 2.4 to 9.4 metres, at between 744 and 811 parts per million (ppm).
Key Projects
Swanson Tantalum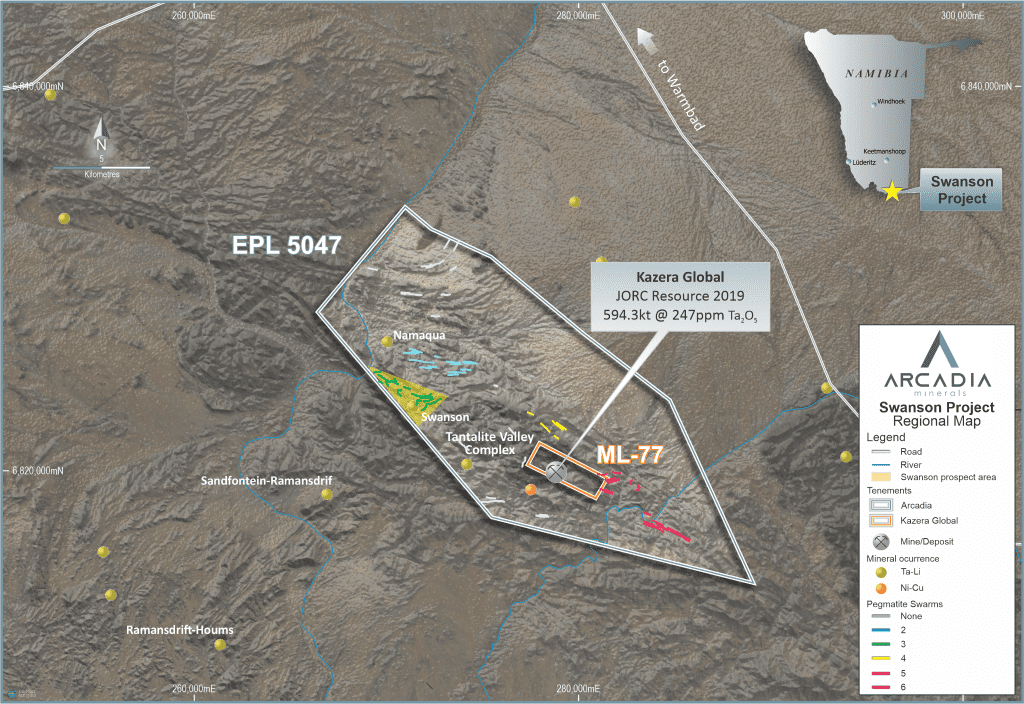 A neighbouring mine operated by Kazera Global has produced 594,000 tons of tantalum at a grade of 247 parts per million (ppm). The historical results produced by the nearby mine demonstrate the potential output that may be achievable through the Swanson Tantalum project.
It holds the potential to become cash-generative by utilising inexpensive gravimetric processing methods. The potential cash flow generated from this project could assist the company to fund further exploration at the other projects.
Arcadia recently announced a maiden JORC Resource of an indicated and inferred resource of 1.2 million tonnes, at an average grade of 412 ppm tantalum pentoxide, 76 ppm niobium pentoxide, and 0.29 percent lithium oxide, declared over four outcropping lithium-cesium-tantalum (LCT) pegmatites at Swanson Project. The resource is also estimated over four of 15 known LCT pegmatites that lie within the Swanson Project area of 83 hectares, out of a total 1,010 hectares of areas that are known to contain pegmatites in the licence area.
As of May 6, 2022, the JORC mineral resource increased its total in situ metal content to 1,257 tonnes, a rise of 154 percent. A significant result of the revised resource estimate is the increase in tantalum pentoxide of 17.9 percent.

Kum-Kum Nickel Project
This early-stage exploration project is located in the same area as the Swanson project and covers 787.61 square miles. The project covers the Kum-Kum Igneous Complex, which has been historically shown to contain nickel and copper with grades ranging from 0.21 to 0.58 percent nickel and 0.30 to 0.50 percent copper. These results are from the 1970s and are the only results that Arcadia Minerals was able to obtain. However, surface sampling completed by Arcadia Minerals returned results of 4.62 percent nickel and 6.3 percent copper.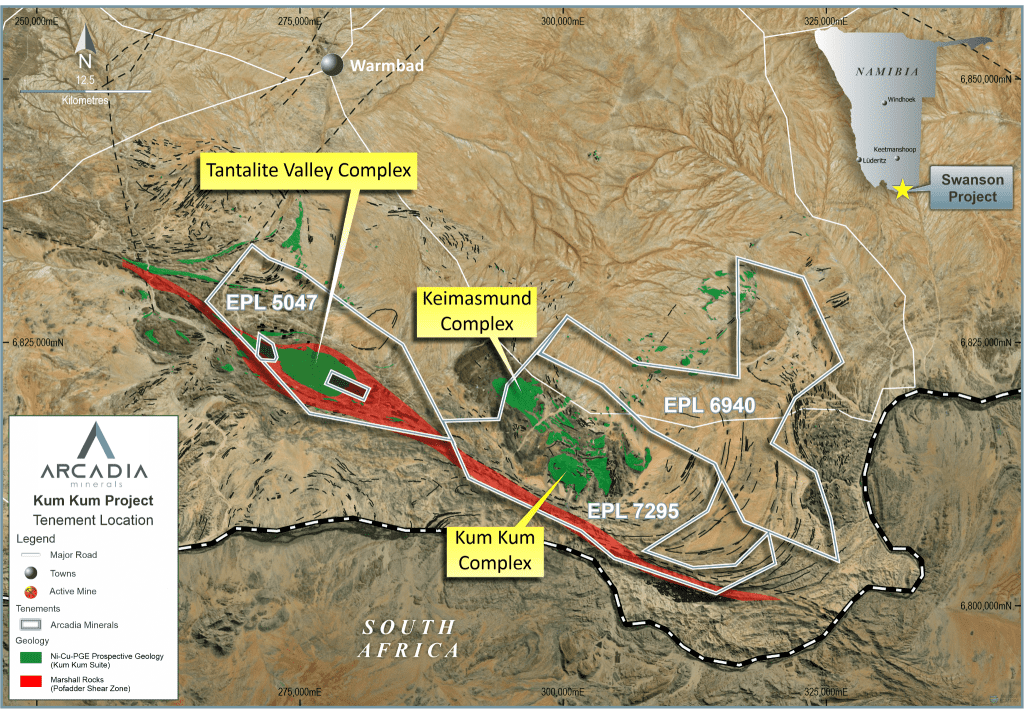 The project also contains three underexplored mafic complexes with discovery potential for magmatic-hosted nickel-copper-platinum group elements (PGE) sulphides. Further exploration is required to ascertain more information about these complexes.
As of May 2022, the earth sciences department at the University of Stellenbosch completed its minerals systems approach investigation. It showed promising mineralization results of nickel, copper, gold, platinum, and palladium. Arcadia CEO Philip le Roux notes, "Historical drilling results reporting high volumes of nickel and copper mineralization attracted us to the Kum-Kum Project. From the work done by the team from the University of Stellenbosch, it is evident that PGE and gold mineralization is also present, and that we are looking at a geological environment that could contain a stratiform nickel-copper-PGE disseminated sulphide 'reef' horizon. The prospect of possibly discovering a polymetallic deposit … has increased the allure of the Kum-Kum project for us, which we will eagerly follow up with further exploration."

Bitterwasser Lithium-in-Brine Project
This project exhibits attributes that are considered inherent to lithium-in-brine deposits. Confirming the presence of lithium-in-brine would reveal a new lithium province in Africa containing this valuable element. The Brukkaros Volcano as a potential source of the lithium, mineralised clay pans in the area, geothermal activity, and known brines in water boreholes. It has favourable geology that supports the forming of a closed basin and an arid climate at similar latitudes than the famous Lithium Triangle in South America also indicate that the Bitterwasser project is very prospective for lithium exploration.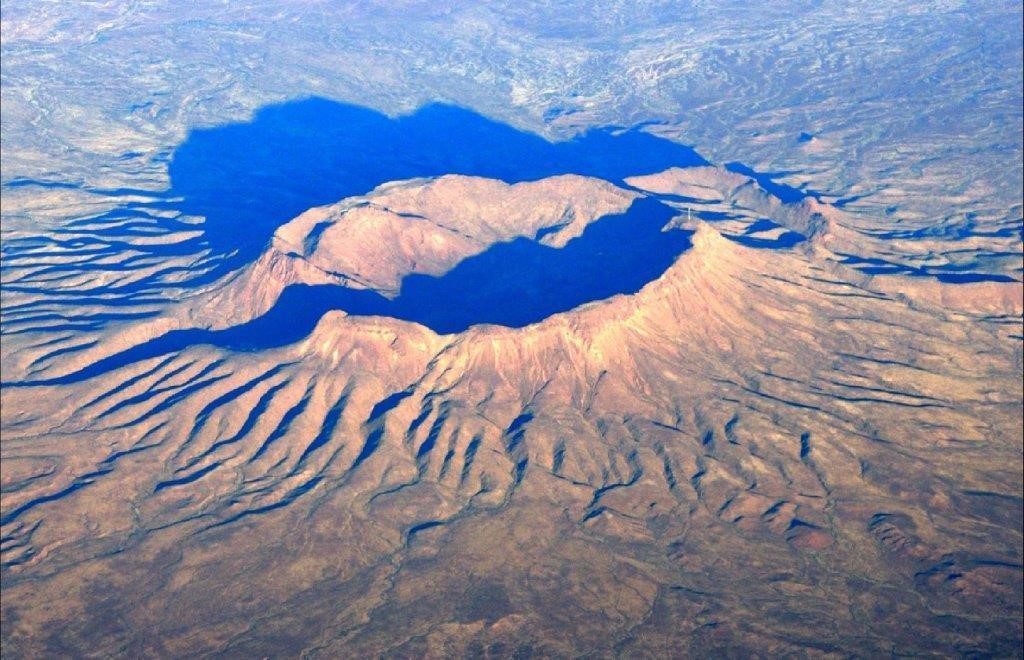 The Bitterwasser Lithium-in-Brine project is supported by environmental and geologic indicators that all reflect the presence of high grades of lithium, both in clay and in brine. On May 2, 2022, Arcadia announced its completion of a drilling assay across 32 holes, to a maximum depth of 9.6 metres.
The samples contained lithium mineralisation ranging from 2.4 to 9.4 metres, at between 744 and 811 parts per million (ppm). It's projected that the results will increase the JORC mineral resource estimate. Given the success, Arcadia exercised a 25 percent acquisition option of Bitterwasser Lithium Exploration. To further its efforts, the company is undertaking a regional study to prospect additional pans within the licensed area.
Arcadia Minerals completed a regional study, advancing the work program for district-scale lithium brine. It confirmed that the tectonic structures have a defined closed basin, similar to Clayton Valley, Nevada. Its basement rocks are amenable to a variety of lithium-rich sources. Historic tests show high boron and potassium materials, traditionally associated with lithium mineralization.The release expresses the exploration potential of Bitterwasser and resulted in an updated resource model. As of May 2022, the company is in Phase Three of its exploration, establishing parameters and targeting resources. Phase Four, a fully planned project, targets drilling and will determine volume and brine grade.

Karibib Project
The Karibib Project is located approximately 45 kilometres south of the town of Karibib. This project covers 409.86 square kilometres and is located south of the Navachab Gold Mine, the home of an important gold discovery in 2019.
This project contains a regional magnetic structure that is 1-2 kilometers wide and 20 kilometers in length. A recently completed grab sampling program returned results that confirmed mineralisation in conducive mineralogical environments that is known to yield economic deposits in the area. Average results from 57 sites over the exposed area of the structural feature returned values that include 4.32 percent copper, its highest 28.40 percent copper, 2.06 g/t gold, its highest 26.30 g/t gold, and 50.50 g/t silver, highest 453 g/t silver.
Management Team
Philip Le Roux - Chief Executive Officer
Philip Le Roux has 30 years of experience in exploration, mining, and economic geology, with extensive exposure to different geological terrains worldwide. Le Roux commenced his career as a mine geologist for Gencor, then became a mining analyst for the Industrial Development Corporation of South Africa. He operated as an independent consultant to several junior and mid-tier mining companies. Le Roux has progressed numerous projects from greenfields to feasibility and into production. He was responsible for progressing the projects that are the subject of the acquisitions by Arcadia from a technical point of view. Le Roux is a member of the Geological Society of South Africa and holds an honours degree in geology from the University of Stellenbosch.
Jurie Wessels - Executive Chairman
Jurie Wessels has 24 years experience in the exploration industry and co-founded a number of exploration and mining companies including public companies such as Bauba Resources, GoldStone Resources, and Vanadium Resources (ASX:VR8), where he is currently executive chairman. Wessels acted for various exploration companies in Africa, South America, and Europe and practised as a minerals lawyer up to 2003, but remains admitted as a non-practicing attorney and notary of the High Court of South Africa.
Request an Investor Kit
EXCITING upcoming projects!
IN-DEPTH reliable insights!
SUCCESSFUL growth strategies!
VALUE-BASED content!
Arcadia Minerals