Very low impurities confirmed from Kachi Brines lithium carbonate produced using Lilac direct extraction process
Highlights:
Groundbreaking results confirm that very high purity lithium carbonate with very low impurities produced from Lilac Solutions ion exchange pilot plant with brines from Lake's Kachi Lithium Brine Project, Argentina.
Lithium carbonate with 99.9% purity produced with very low impurities, such as iron and boron.
Focus now on producing larger volume samples of battery grade lithium carbonate specifically for potential downstream off-takers in discussions with LKE.
Lithium explorer and developer Lake Resources NL (ASX:LKE) is pleased to announce a major step forward, confirming that battery grade lithium carbonate with 99.9% purity has been produced with very low impurities from Lake's Kachi Lithium Brine Project using Lilac Solutions' disruptive technology in California.
Lithium carbonate with 99.9% purity exceeds the industry standard specifications for battery-grade purity (>99.5 wt%). A significant outcome was that very low impurities were produced with results of iron (Fe) <0.001wt% and boron (B) <0.001wt%. Demonstrating low impurity levels has been a key focus of the company in this process and a high priority in recent downstream discussions with battery/cathode producers.
Samples are being produced from the first pilot plant modules using Lilac Solutions' direct extraction ion exchange process, a result of over nine months of testing to optimise the process for Kachi brine samples. The information is being used in the Kachi Pre-Feasibility Study (PFS) which will be reported on shortly.
Larger samples of battery grade lithium product will be produced for potential downstream off-takers from the 20,000 litres of Kachi brine samples recently shipped from Argentina. This follows discussions with potential off-takers and other international development partners who are extremely interested in the low impurities of material produced by the direct extraction technology and are seeking confirmation of its potential.
Welcoming the results, Lake's Managing Director Steve Promnitz said: "This is potentially groundbreaking for the industry that we have demonstrated that a high purity battery grade lithium carbonate can be produced using brines from Kachi after 9 months of detailed test work. The critical development is the confirmation of very low levels of impurities which no doubt will be welcomed by potential off-takers.
"We are now focused on delivering greater volumes of battery grade lithium carbonate from Kachi brines and the pilot plant modules which will form the basis for more active engagement with potential off-takers increasingly focused on sustainability. With the Kachi PFS nearing completion, we are confident we can generate the right product at the right time, delivering consistently high quality, low impurity products that meet the needs of global buyers. Whilst we had anticipated releasing the PFS in late 2019, the study has been only slightly delayed awaiting additional engineering studies. We now anticipate the release date to be within the next month."
Lake aims to produce at Kachi a high quality, low impurity product capable of attracting premium pricing. Lab testing has shown that lithium concentrations of 30-60,000 mg/L lithium can be produced from brines of ~300 mg/L lithium in a few hours using the Lilac process.
Significantly, Lilac's direct extraction process offers a sustainable solution for Lake Resources when extracting lithium from brine as processed brine is returned to the aquifer once the lithium has been extracted removing the need for traditional evaporation ponds. This addresses increasing interest from electric vehicle makers (OEM's) and battery makers to demonstrate they have access to a sustainable scalable supply chain for raw materials.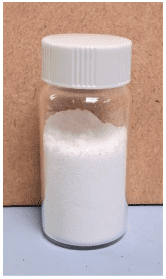 Figure 1: Lithium carbonate product with 99.9% purity and low impurities from the Kachi Lithium Brine Project using Lilac's direct extraction ion exchange process.

Table 1: Specifications of lithium carbonate product with 99.9% purity. Very low impurities in Iron (Fe) and Boron (B) from the Kachi Lithium Brine Project using Lilac's direct extraction ion exchange process.
About Lake Resources NL (ASX:LKE)
Lake Resources NL (ASX:LKE, Lake) is a lithium exploration and development company focused on developing its three lithium brine projects and hard rock project in Argentina, all owned 100%. The leases are in a prime location among the lithium sector's largest players within the Lithium Triangle, where half of the world's lithium is produced at the lowest cost. Lake holds one of the largest lithium tenement packages in Argentina (~200,000Ha) secured in 2016 prior to a significant 'rush' by major companies. The large holdings provide the potential to provide consistent security of supply, scalable as required, which is demanded by battery makers and electric vehicle manufacturers.
The Kachi project covers 70,000 ha over a salt lake south of FMC/Livent's lithium operation and near Albemarle's Antofalla project in Catamarca Province. Drilling at Kachi has confirmed a large lithium brine bearing basin over 20km long, 15km wide and 400m to 800m deep. Drilling over Kachi (currently 16 drill holes, 3100m) has produced a maiden indicated and inferred resource of 4.4 Mt LCE (Indicated 1.0Mt and Inferred 3.4Mt) (refer ASX announcement 27 November 2018).
A direct extraction technique is being tested in partnership with Lilac Solutions, which has shown 80-90% recoveries and lithium brine concentrations 30-60,000 mg/L lithium. Battery grade lithium carbonate has been produced from Kachi brine samples with very low impurities (Fe, B, with <0.001 wt%). Phase 1 Engineering Study results have shown operating costs forecast in the lowest cost quartile (refer ASX announcement 10 December 2018). Test results have been incorporated into a Pre-Feasibility Study (PFS) aimed to be released soon. The Lilac process is being trialed with a pilot plant in California which will then be transported to site to produce larger battery grade lithium samples. Discussions are advanced with downstream entities, mainly battery/cathode makers, as well as financiers, to jointly develop the project.
The Olaroz-Cauchari and Paso brine projects are located adjacent to major world class brine projects either in production or being developed in the highly prospective Jujuy Province. The Olaroz-Cauchari project is located in the same basin as Orocobre's Olaroz lithium production and adjoins the Ganfeng Lithium/Lithium Americas Cauchari project, with high grade lithium (600 mg/L) with high flow rates drilled immediately across the lease boundary.
The Cauchari project has shown lithium brines over 506m interval with high grades averaging 493 mg/L lithium (117-460m) and high flow rates, with up to 540 mg/L lithium. These results are similar to lithium brines in adjoining pre-production areas under development and infer an extension and continuity of these brines into Lake's leases (refer ASX announcements 28 May, 12 June 2019).
Significant corporate transactions continue in adjacent leases with development of Ganfeng Lithium/Lithium Americas Cauchari project with Ganfeng announcing a US$237 million for 37% of the Cauchari project previously held by SQM, followed by a further US$160 million to increase Ganfeng's equity position to 50% on 1 April 2019, together with a resource that had doubled to be the largest on the planet. Ganfeng then announced a 10 year lithium supply agreement with Volkswagen on 5 April 2019. Nearby projects of Lithium X were acquired via a takeover offer of C$265 million completed March 2018. The northern half of Galaxy's Sal de Vida resource was purchased for US$280 million by POSCO in June-Dec 2018. LSC Lithium was acquired in Jan-Mar 2019 for C$111 million by a mid-tier oil & gas company with a resource size half of Kachi. These transactions imply an acquisition cost of US$55-110 million per 1 million tonnes of lithium carbonate equivalent (LCE) in resources.
For more information on Lake, please visit http://www.lakeresources.com.au/home/
Click here to connect with Lake Resources NL (ASX:LKE) for an Investor Presentation
Featured
Global News
Housing the world's largest deposits of lithium, Chile's unique geological landscape and climate make it ideal for lithium brine extraction
As the world continues on the path towards a future dominated by clean energy, lithium's importance only continues to grow. Demand for the battery metal has already reached an all-time high, increasing by 400 percent in 2021. What's more, there is every indication that this growth will continue in 2022, with prices increasing by 126 percent in just the first quarter.
Currently, Australia and Chile are the two leading producers of lithium, respectively accounting for 46.3 percent and 23.9 percent of worldwide production. Both countries are jurisdictionally inclined to support the mining sector. However, Chile's potential could one day see it outstrip even Australia where investment is concerned.
Housing the world's largest deposits of lithium, Chile's unique geological landscape and climate makes it ideal for lithium brine extraction. The country thus has a pivotal role to play in meeting demand and establishing a stable global supply chain.
---
A critical component of sustainability
Climate change is an undeniable problem, one which requires a collaborative effort to address. It is for this reason that governments around the world have all agreed to pursue full climate neutrality by 2050. Because combustion engines represent an inordinate percentage of greenhouse gas emissions, replacing them with electric vehicles (EV) is essential if any nation is to achieve their sustainability goals.
Lithium is used extensively in both consumer and professional electronics. It is also a staple metal in multiple other sectors, including mining, manufacturing and energy storage.
Given its cross-sector industrial importance, the battery metal was already in high demand.
The large-scale manufacturing of electric vehicles has caused this demand to increase exponentially. As multiple automotive manufacturers construct gigafactories to ramp up EV distribution, the need for lithium is growing well beyond our current production capacity.
Investors and mining companies can benefit by turning to jurisdictions like Chile to ramp up supply. The world's migration towards a sustainable future simply cannot occur without lithium.
Lithium: Australia versus Chile
Although Australia houses impressive lithium reserves, the majority of the country's stores occur in hard rock deposits. Mining these deposits is relatively inexpensive, but hard rock lithium operations also tend to have narrow margins compared to other methods. In particular, lithium brine extraction offers higher yields, greater efficiency and a lower overall environmental impact.
Currently, the largest lithium producer in Australia is Pilbara Minerals (ASX:PLS,OTC Pink:PILBF). Its flagship project, the Pilgangoora operation, is situated atop one of the world's largest hard rock lithium deposits. It also jointly owns a pegmatite lithium project with Atlas Iron (ASX:AGO), the Mt Francisco project.
Geography represents Chile's first major advantage over other jurisdictions. Alongside Bolivia and Argentina, Chile lays claim to a geographic region known as the Lithium Triangle. Located in the Andes in South America, it contains an estimated 68 percent of the world's identified lithium resources.
The Lithium Triangle is home to a series of vast salt flats, beneath which sit incredibly lithium-rich brine pools. More promising still is the climate of the region, which is known for being incredibly hot and dry. This represents a considerable boon for extraction operations, which typically rely on evaporative processes.
A powerful investment opportunity
Chile's mining sector has leveraged its arid geography to great effect. The country's Salar de Atacama salt flat is the largest-producing brine deposit in the world. It is also home to several major lithium brine operations.
One of these is owned and operated by Albemarle (NYSE:ALB). Currently the largest business provider of lithium for electric vehicle batteries, Albemarle also operates a lithium carbonate plant at La Negra. According to an Albemarle spokesperson, the company has a long history in Chile backed by a unique contract.
SQM (NYSE:SQM) operates another major lithium brine operation in the salt flat. As the world's largest lithium producer overall, the company recently announced plans to reduce brine extraction in the region by 50 percent by 2030. This announcement came in tandem with a commitment to reduce water usage across all its operations by 40 percent.
Finally, just south of Salar de Atacama is situated the highest-quality lithium pre-production project in Chile. Maricunga is jointly owned by Lithium Power International (ASX:LPI), Minera Salar Blanco and Li3 Energy. Situated just 250 kilometers from Chile's coast, and 170 kilometers from the mining town of Copiapo, it's said to possess characteristics directly comparable to Atacama. Maricunga is also adjacent to Highway 31, which connects Northern Chile to Argentina.
The most significant challenge to Chile's growth, from an investment perspective, is sociopolitical. Although the country has a history of being relatively friendly towards the mining sector, its current government is exploring new legislation that could nationalize both copper and lithium. A new mining royalty bill is also in the works, which could increase tax rates by up to 80 percent.
It's worth noting that not every investor considers the current political climate to be a risk. South32 (ASX:S32), a spinoff of BHP (ASX:BHP), recently invested US$1.55 billion to purchase a 45 percent stake in the Sierra Gorda copper mine, and a lithium auction held by Chile earlier this year saw Chinese manufacturing company BYD acquire extraction rights for 80,000 metric tons of lithium.
Takeaway
Chile is home to the largest, richest and most valuable lithium deposits in the world. For many investors, the high margins and low cost of lithium extraction in Chile more than make up for the potential of a few political speed bumps.
This INNSpired article is sponsored by Lithium Power International (ASX:LPI). This INNSpired article provides information that was sourced by the Investing News Network (INN) and approved by Lithium Power International in order to help investors learn more about the company. Lithium Power International is a client of INN. The company's campaign fees pay for INN to create and update this INNSpired article.
This INNSpired article was written according to INN editorial standards to educate investors.
INN does not provide investment advice and the information on this profile should not be considered a recommendation to buy or sell any security. INN does not endorse or recommend the business, products, services or securities of any company profiled.
The information contained here is for information purposes only and is not to be construed as an offer or solicitation for the sale or purchase of securities. Readers should conduct their own research for all information publicly available concerning the company. Prior to making any investment decision, it is recommended that readers consult directly with Lithium Power International and seek advice from a qualified investment advisor.
LPI:AU
June 24, 2022
Gold Investing
Australia is rich in gold, and is home to many major mines. Here's a look at the top Australian gold mines flush with the yellow metal.
With Australia earning more accolades within the gold space and the price of gold hitting record highs in the last two years, investors may want to find out more about gold mines in the country.
Currently the second-largest gold-producing country in the world, Australia is home to top producers and gold mines.
Read on for a breakdown of the Australian gold market, as well as the largest gold mines that can be found throughout the area.
---
The region of Australia
As previously mentioned, Australia is currently the second-largest gold-producing country across the globe.
Global gold consumption is expected to rise annually at a rate of 5.7 percent until 2023, when it's expected to reach 4,535 tonnes. Australia's continued expansion projects and new developments in the gold sector will improve output and help the country maintain its position as a key player in the gold production market.
One of the more prolific gold mining areas in Australia is Western Australia.
Recent exploration activity in the Pilbara region of Western Australia has renewed interest and helped increase the country's consistent gold output. While the Pilbara region is typically known as one of the world's largest producers of iron ore, the region is currently in the midst of a small gold rush thanks to a major discovery in 2017 by Novo Resources (TSXV:NVO,OTCQX:NSRPF) and Artemis Resources (ASX:ARV,OTCQB:ARTTF).
In fact, gold was the second largest commodity in Western Australia by value in 2020 to 2021, behind iron ore, at a record of AU$17.3 billion in sales in 2020. In 2021, the metal saw sales of AU$16 million in the state.
The Fraser Institute also named Western Australia one of the best mining jurisdictions in the world, coming in first in 2021. The area has attracted major miners like Rio Tinto (ASX:RIO,LSE:RIO,NYSE:RIO) and BHP (ASX:BHP,NYSE:BHP,LSE:BLT) to the region. Covering more than half a million square kilometres (km), Western Australia's Pilbara is one of the most resource-rich regions in the state.
Western Australia itself represents close to 60 percent of the country's total gold output and some geologists have compared the geology of the Pilbara Craton with South Africa's Kaapvaal Craton and Witwatersrand Basin. Witwatersrand is home to the Earth's largest known gold reserves and is responsible for over 40 percent of worldwide gold production. Both the Pilbara and Witwatersrand are similar in age and composition, sitting on top of the Archean granite-greenstone basement. The Pilbara area hosts numerous small mesothermal gold deposits containing conglomerate gold — mineralization known to hold large, high-grade gold nuggets.
What are the top Australian gold mines?
Below is a guided tour of the top 10 largest gold mines in Australia in terms of gold output, according to the Aurum Analytics quarterly report on Australian and New Zealand gold operations.
1. Cadia Valley
Owned and operated by Newcrest (ASX:NCM,OTC Pink:NCMGF), Cadia is officially the biggest mine in Australia in terms of production. During the second quarter of 2021, the asset had an output of 194,757 ounces of gold.
The mine is made up of the Cadia East underground panel cave mine and the Ridgeway underground mine (currently in care and maintenance), which produce gold doré bars from a gravity circuit and gold-rich copper concentrates from a flotation circuit.
In October of 2019, the company announced approval of the Cadia expansion project, bringing it to the execution phase. This stage involves beginning development for the next cave (PC2-3). In December 2021, the company received approval to expand production to 35 million tonnes a year.
2. Boddington
Newmont (TSX:NGT,NYSE:NEM) became the sole owner of this open-pit mine in 2009.
The mine is located 16 kilometres from Boddington, Australia, and has an annual gold production of 709,000 attributable ounces. The mine is Western Australia's biggest gold producer. In 2020, the asset produced 670,000 ounces of the yellow metal.
In addition to gold, the mine also produces copper, and at the end of 2020, it provided an output of 56 million attributable pounds of the base metal.
In 2021, the company announced that Boddington would have the industry's first autonomous haulage fleet.
3. Fosterville
Fosterville is a high-grade, low-cost underground gold mine located in the state of Victoria, Australia. The Fosterville mine features growing gold production at increasingly high grades, as well as extensive in-mine and district scale exploration potential.
The mine has been operational since 1989, with a lifetime production of over 16 million ounces of gold. Additionally, in terms of scale, it is Australia's largest mine and its pits encompass more than 5 square kilometres. It's also one of the lowest cost gold mines in the world.
The asset, which is owned by Agnico Eagle Mines (TSX:AEM,NYSE:AEM), is the third-largest gold-producing mine in Australia, producing an impressive 157,993 ounces in Q2 2021.
4. KCGM
Northern Star (ASX:NST,OTC Pink:NESRF) owns Kalgoorlie Consolidated Gold Mines (KCGM), which includes the Fimiston open pit, Mt Charlotte underground mine and Fimiston and Gidji processing plants.
Northern Star refers to the Fimiston open pit as a super pit because it has produced more than 50 million ounces of gold in the last 30 years.
The asset is located in the legendary Golden Mile, which was once reputed to be the richest square mile on earth. When fully developed, Kalgoorlie will be 3.6 kilometres long, 1.6 kilometres wide and up to 650 metres deep.
KCGM Operations had previously been joint-owned by Barrick Gold (TSX:ABX) and Newmont until both companies sold their interests, and the operations were handed entirely to Northern Star in June 2021.
5. Telfer
Another mine owned by Newcrest, Telfer is located in the eastern Pilbara and is one of the oldest in Australia. Between the years 1975 and 2000, the asset produced approximately 6 million ounces of gold until operations were suspended due to high operating costs.
Fortunately, production was able to restart in 2004, and the mine has since produced over 5 million ounces, with 416,000 ounces of gold in the 2021 financial year alone. The mine also produces copper, with an output of 16 tonnes in 2019.
In 2015, the company signed a land use agreement with the Martu people, which enabled work at the mine to continue in exchange for the Martu receiving AU$18 million over the course of five years with the addition of a further revenue-sharing agreement.
6. Tanami
Tanami has been fully owned and operated by Newmont since 2002, and it is located in the remote Tanami Desert of Australia. Additionally, both the mine and the plant are located on Aboriginal freehold land that is owned by the Warlpiri people and managed on their behalf by the Central Desert Aboriginal Lands Trust.
Tanami is a fly-in, fly-out operation in one of Australia's most remote locations. The asset is 270 kilometres away from its closest neighbours, the remote Aboriginal community of Yuendumu. In 2020, Tanami produced 495,000 ounces of gold and reported 5.9 million ounces of gold reserves.
The Tanami Expansion 2 is currently underway to secure its future, potentially extending the mine life to 2040 and increasing annual gold production by an approximate 150 to 200 thousand ounces.
7. St. Ives
Owned and operated by Gold Fields (NYSE:GFI,JSE:GFI), St. Ives is both an open pit and underground mine, with two main open pits, and three underground mines.
In one of Gold Fields' latest quarterly reports, it was revealed that St. Ives produced 393 tonnes of the yellow metal in 2021, up 2 percent from 385 tonnes in 2020.
8. Tropicana
Tropicana is co-owned by AngloGold Ashanti (ASX:AGG,NYSE:AU,OTC Pink:AULGF), which owns 70 percent, and Regis Resources (ASX:RRL), which owns the remaining 30 percent.
The mine spans 3,600 square kilometres, stretching over close to 160 kilometres in strike length along the Yilgarn Craton and Fraser Range mobile belt collision zone. The regional geology is dominated by granitoid rocks; it is a rare example of a large gold deposit within high grade metamorphic rocks that have undergone widespread recrystallisation and melting.
In 2021, Tropicana produced 265,000 ounces of gold with an all-in sustaining cost of AU$1,326 per ounce.
9. Jundee
Jundee is located in the increasingly sought-after Western Australia region and is owned by Northern Star after the miner purchased it from Newmont in 2014 for AU$82.5 million.
The project is well-known due to the fact that it solely uses underground mining and not the often utilized open pit mining. Jundee produces around 1.8 million tonnes of ore per year.
Most recently, the asset produced 83,562 ounces of gold in Q2 2021.
10. South Kalgoorlie Operations
The South Kalgoorlie Operations were acquired by Northern Star (ASX:NST,OTC Pink:NESRF) in 2018.
In the second quarter of 2021, the South Kalgoorlie Oerations produced 76,175 ounces of the precious metal.
How can you invest in Australian gold stocks?
Like all publicly listed stocks, gold companies issue shares that are available for investors to trade. When you purchase shares of a gold stock, you are essentially purchasing a stake in the company, making an investment with financial returns or losses from its profits.
There are two main ways that an investor can invest in gold mining stocks. The first way is when market participants purchase through a major mining company; the other way of trading on the stock market is by investing in a gold mining stock through a junior miner (a small cap stock).
Although no gold stock investing is 100 percent foolproof, backing a successful mining company in the precious metals space can alleviate some of the stress of a down stock market when you keep in mind that if a company's share price goes down, it becomes more affordable to purchase and investors can more than likely anticipate that it will rise again and turn a profit.
While gold stocks are affected by some of the same factors that shape and shift the price of precious metals, they keep some distance from a direct correlation because it is possible for a gold miner and its stocks to be in a sound financial situation, even in a down market.
This is an updated version of an article first published by the Investing News Network in 2019.
Don't forget to follow us @INN_Australia for real-time updates!

Securities Disclosure: I, Matthew Flood, currently hold no direct investment interest in any company mentioned in this article.
From Your Site Articles
Related Articles Around the Web
What is decentralised finance and what should investors know about this space in Australia? Find out here.
DeFi, short for "decentralised finance," is a promising component of our brave new crypto world. The DeFi sector in Australia is here to stay, but what should investors know about this space?
DeFi offers an alternative to traditional financial services and institutions by bypassing banks, brokers, exchanges and other "middlemen" that serve as financial intermediaries that regulate the markets. In effect, DeFi is evolving into a parallel financial framework that facilitates and records transactions involving financial instruments and payment mechanisms chiefly related to trading and lending operations.
The DeFi market is currently expanding at an explosive rate. According to figures released by DeFi Llama, cryptocurrency investors have put up US$250 billion worth of assets as collateral in various DeFi projects, funds which are then lent out in the form of cryptocurrency loans. As more and more institutional investors enter the DeFi sector, the market is expected to expand to US$800 billion by the end of 2022.
---
Bitcoin and Ethereum, the world's two leading cryptocurrencies with market caps of US$882 and US$421 billion, respectively (as of the beginning of April), are digital assets whose ownership is documented in a public transaction ledger known as the blockchain. A traditional financial institution such as a bank, credit card provider or payment facilitator like PayPal maintains its own private records and uses its own servers to process transactions. Cryptocurrency transactions, by contrast, are processed on the computers of a global network of users and recorded publicly (though pseudonymously) for the entire network to see.
As currently constituted, the emerging DeFi sector provides holders of cryptocurrency the ability to bypass the world's traditional network of bank and other financial gatekeepers by means of independent, self-regulating computer programs that rely on blockchain technology.
These decentralised applications (DApps) of blockchain technology offer a more efficient and streamlined mechanism to access financial services by creating an alternative ledger system known as "distributed ledger technology" (DLT) as opposed to VISA, PayPal or other legacy digital payment services. By harnessing the power of blockchain, a new global ledger system has taken shape that relies on a global web of interconnected computers to record and tracks all transactions. Not only does DLT store such transaction data but it also identifes the parties involved in any transaction.
This allows anyone with a crypto wallet and an internet connection unlimited access to DeFi services. Users can trade currencies and move assets whenever and wherever they want and avoid antiquated and cumbersome bank transfer protocols and related fees. DeFi users are, however, required to pay "gas fee" charges for crypto transactions in many cases.
DeFi is thereby expanding the fundamental premise of digital money — bitcoin and other cryptocurrencies — by allowing individuals and companies alike to execute financial transactions by means of a new and fully transparent system.
DeFi Applications
Lending platforms
The DeFi market is currently expanding at an explosive rate. According to figures released by DeFi Llama, cryptocurrency investors have put up US$250 billion worth of assets as collateral in various DeFi projects, funds which are then lent out in the form of cryptocurrency loans.
Parallel to the expansion of the cryptocurrency market, DeFi will become increasingly able to provide loans via the various lending platforms that are popping up around the world. In effect, DeFi lending platforms are digital banks, taking money from cryptocurrency depositors and lending it out to borrowers.
Instead of traditional bank loans, the DeFi platforms rely on "smart contracts" — primarily the Ethereum blockchain — which uses computer code to authorize, execute and verify transactions.
Lending markets serve as one of the most intriguing and promising applications of DeFi by connecting borrowers to lenders of cryptocurrencies by means of platforms that enable individuals or companies to either borrow cryptocurrencies or provide crypto loans.
In order to obtain a loan, borrowers must put up collateral — usually ether, the crypto currency issued by Ethereum, the principal system on which all cryptocurrency applications are based. Borrowers tend to receive loans in the form of stablecoins pegged to traditional currencies like the dollar.
Alternatively, borrowers can post collateral in the form of bitcoin, which then gets deposited in a crypto pool that is overseen by a smart contract. Should the price of bitcoin take a precipitous fall, the smart contract automatically liquidates the collateral to protect depositors who have provided the loan funds in the form of stablecoins. Meanwhile, lenders earn money from the interest rate the platforms charge for lending out their funds.
Decentralised exchanges
Decentralised exchanges use smart contracts to enable traders to execute orders without an intermediary. Users trade directly from their wallets by exchanging one currency for another, for example Bitcoin for US dollars or euros for Ether, by means of the smart contracts behind the trading platform. Traders are solely responsible for managing and securing their funds and risk losing their holdings if they lose their private keys or send funds to the wrong addresses. The advantage of bypassing financial intermediaries and preserving anonymity is offset to a degree by the lack of security a bank or a centralized exchange provides.
Stablecoins
A stablecoin is a cryptocurrency pegged to the value of a non-crypto asset (i.e. the US dollar) that offers price stability, which in turn provides greater security for DeFi collateralized lending. Tether is one of the leading stablecoins.
Australia: Making a splash in DeFi
Australia currently ranks 12th out of 154 countries according to the Global DeFi Adoption Index published by Chainanalysis. This index uses three metrics in its assessment of DeFi adoption: on-chain cryptocurrency value received by DeFi platforms weighted by public private partnership (PPP) per capital, total retail value received by DeFi platforms and individual deposits to DeFi platforms.
Australia's DeFi sector is currently experiencing a boom led by various companies such as Synthetix (SNX), which hopes to become a decentralised version of derivatives exchange BitMEX; Maple Finance (MPL), which offers loans for crypto institutions; and newly launched tiiik, which offers a digital wallet that allows investors to earn interest on DeFi products. Other new Australian DeFi players include Thorchain, Ren and mSTABLE.
While the DeFi sector is currently in its first developmental phase much like Bitcoin in its early days, individual investors have three main ways of investing in this evolving industry. First, one can obtain cryptocurrency-based loans; second, one can earn interest by lending (staking) their crypto holds, looking to invest in DeFi coins. Block Earner, for example, is an Australian fintech outfit that provides a DeFi online savings platform, which pays 7 percent interest on deposits. Third, investors can simply invest in DeFi coins in the same way that one can purchase cryptocurrencies.

Evolving market
Investors willing to take a plunge in DeFi should be aware that the underlying volatility of the cryptocurrency markets can rattle the DeFi sector in the event of sharp declines in bitcoin, Ethereum and other cryptos. There is also the added spectre of rug pulls, a relatively rare but catastrophic form of fraud.
Rug pulls see unscrupulous DeFi developers create a new token, pair it to a leading cryptocurrency such as tether, set up a liquidity pool, and then use secret back doors encoded into the coin's smart contract to mint millions of new coins before liquidation. This was the case in 2020 when SushiSwap developer Chef Nomi cashed in his SUSHI tokens after raising over $1 billion in collateral finance, which caused the price of SUSHI to crash to near zero.
Don't forget to follow us @INN_Australia for real-time updates!
Securities Disclosure: I, Harold Von Kursk, hold no direct investment interest in any company mentioned in this article.
Investing News Network websites or approved third-party tools use cookies. Please refer to the cookie policy for collected data, privacy and GDPR compliance. By continuing to browse the site, you agree to our use of cookies.