Blackstone Minerals Limited (ASX:BSX) is pleased to announce that drilling at the King Cobra discovery has intersected 60m @ 1.3% Nickel from 32m at the Ta Khoa Nickel Project in Northern Vietnam.
Highlights:
▪ Blackstone's drilling at the King Cobra discovery has intersected 60m @ 1.3% Nickel from 32m including 13.9m @ 2.25% Nickel from 49m (Figures 1 & 2 and Tables 1 & 2 for full details);
▪ Blackstone's drillhole BP19-03 which returned 45m @ 1.2% Nickel from 56m is now interpreted as an earlier intersection of King Cobra mineralisation (see ASX announcement dated 6th August 2019 & 17th September 2019 for full details);
▪ Blackstone's drilling has now intersected the King Cobra (KCZ) discovery zone over 200m of strike length, with the KCZ interpreted to be open along strike to the north west and south east and down dip to the north east (see Figure 1);
▪ Assay results are reported in this announcement for six new drill holes (see Table 1 for drillhole results for BP19-25 to BP19-30) all returning significant intersections of nickel mineralisation;
▪ Hole BP19-29 returned the most significant downhole intersections seen to date at the Ta Khoa Nickel Project, with 60m @ 1.3% Nickel including 13.9m @ 2.25% Nickel from the King Cobra Zone, and 142m @ 0.41% Nickel including 11.9m @ 1.09% Nickel from the underlying previously unnamed Ban Duoi Zone (BDZ);
▪ Blackstone is continuing its aggressive drilling program at Ban Phuc with four drill rigs testing the disseminated mineralisation (DSS), including two rigs on priority step-out drilling testing for potentially significant expansions to the known Ban Phuc DSS orebody and the down dip feeder zone target at the King Cobra target zone (see Figure 1);
Blackstone Mineral's Managing Director Scott Williamson commented:
"Blackstone is pleased to announce the King Cobra discovery hole as our most significant drillhole to date at the Ta Khoa Nickel Project. The King Cobra discovery continues to grow, as does our understanding of the geology of the Ban Phuc deposit. The King Cobra discovery is shaping up to be a high grade, near surface, large scale disseminated Nickel-PGE zone that has potential to deliver a highly economic starter pit at Ta Khoa."
Click here for the full press release.
Blackstone Minerals Limited (ASX:BSX) is pleased to announce that drilling at the King Cobra discovery has intersected 60m @ 1.3% Nickel from 32m at the Ta Khoa Nickel Project in Northern Vietnam. The King Cobra discovery is a new, near surface, high grade zone of nickel sulfide bearing semi-massive sulfide veins (SMSV) at the Ta Khoa Nickel Project (see Figure 8). The King Cobra discovery includes the first-ever intersection of massive sulfide vein and breccia styles of sulfide mineralisation within the Ban Phuc intrusion and may provide vectors towards the high grade 'feeder zone' mineralisation (see Figure 6 for magmatic nickel sulfide model).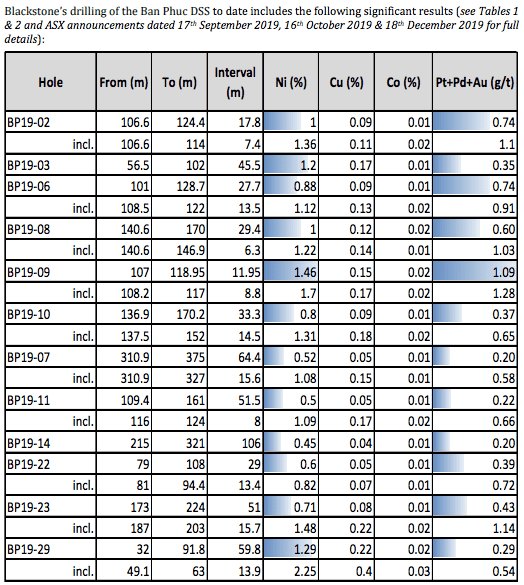 Since announcing the option agreement in May 2019, Blackstone has made significant progress at the Ta Khoa Nickel-PGE Project, drilling over 9,000m of diamond core in more than 47 holes into the Ban Phuc DSS deposit and King Cobra discovery zone. Blackstone is well advanced with an initial scoping study evaluating mining and processing options, including potential in-country downstream processing to deliver high value nickel sulfate into Asia's rapidly expanding electric vehicle (EV) industry. The recently announced MOU (see ASX announcement dated 2nd December 2019) with Asia's largest and the world's second largest, EV battery cathode manufacturer, Ecopro BM Co Limited represents a significant step toward making this a reality.
Initial geological modelling of Blackstone's drilling, combined with over 60,000m in 381 holes drilled by the previous owners of the project, is starting to reveal the potential extents of the Ban Phuc DSS Nickel – PGE deposit (see Figure 1). Currently the disseminated mineralisation has been encountered in drill holes over 1,000m by 500m in area and remains open along strike to the north west and south east and down dip to the north east.
The ultimate geometry of the disseminated Nickel – PGE layers in the deposit are yet to be fully defined by drilling, however the following preliminary observations and interpretations are being used to guide further exploration of the deposit.
▪ The previously reported Blackstone drillhole BP19-03 is now interpreted as an intersection of King Cobra mineralisation which assayed 45m @ 1.2% Nickel from 56m (see ASX announcement dated 6th August 2019 & 17th September 2019 for full details);
▪ The combination of the assay results from holes BP19-03 and BP19-29 and geological observations from recent holes BP20-03 and BP20-04 (see Figure 5), where assays are pending, suggest that KCZ can now be traced in drilling over 200m and is open along strike to the north west and south east (see Figure 1). The KCZ is also open down dip to the north east (see Figures 2 and 3), however it maybe locally closed off near surface in the area of hole BP19-44 by a post mineral fault;
▪ Drilling to date at Ban Phuc has identified two thick, overlying sheet-like zones of disseminated Nickel PGE (Cu Co) mineralisation, the KCZ and the underlying Zone here named the BDZ, are hosted within the Ban Phuc ultramafic intrusive. The KCZ and BDZ converge and dip to the north east.
▪ The KCZ and BDZ appear to have different nickel and PGE contents. KCZ is hosted by a textually distinct phase of the Ban Phuc intrusive with the margins of the KCZ locally marked by an "tremolite" contact zone (see Figure 2) that may define the contact of a distinct phase of the Ban Phuc intrusive body.
▪ Previous interpretations proposed that Ban Phuc mineralisation is a folded sheet-like body that is closed off to the north east. However, an alternate interpretation arising from the recent Blackstone drilling is that the KCZ and BDZ are distinct phases of mineralisation related to different intrusive pulses and that together they vector down dip to the north east toward a potentially higher grade "feeder zone".
▪ The 'feeder zone' target is currently being tested with two rigs that are drilling a series of new holes to test this concept.
Preliminary interpretations and drill results are also revealing several encouraging characteristics (see Figures 2, 3 & 4) that suggest the potential for a large tonnage disseminated sulfide deposit at Ban Phuc. These factors may make the deposit amenable to bulk mining techniques employed at large scale nickel mines in Australia and elsewhere in the world. The Ban Phuc DSS deposit's characteristics supporting this concept include:
• Thick accumulations of nickel sulfide mineralisation across a significant area of the Ban Phuc ultramafic body (see table above of Blackstone's drill intersections to date);
• Multiple stacked layers of disseminated mineralisation hosting higher grade intervals;
• King Cobra zone, hosting thick accumulations of nickel sulfide, in the near surface;
• Significant concentrations of precious metals – palladium, platinum and gold – in all drilling to date from the deposit.
Blackstone's Ta Khoa Nickel–PGE project has a combination of large DSS nickel targets and 25 other prospects (see Figure 7), including multiple high grade massive sulfide vein (MSV) targets of the style that were mined adjacent to the current Ban Phuc DSS drilling. The Ban Phuc Nickel mine operated for 3.5 years between 2013 and 2016, producing 20.7kt Ni, 10.1kt Cu and 0.67kt Co, before closing when the defined mineable reserves were depleted. The high grade Ban Phuc MSV is located less than 50m to the south of the Ban Phuc DSS deposit and remains underexplored at depths below the base of previous mining. Many other MSV targets are within potential trucking distance of the existing
450ktpa Ban Phuc processing facility that was built to international standards, commissioned in 2013, and has been on care and maintenance since 2016.
Blackstone is evaluating near mine MSV and other potential DSS targets for drill testing during the 2020 season, with the concept of identifying high grade and further disseminated mineralisation for either an early restart of the Ban Phuc mining operation, or the potential to blend higher grade MSV mineralisation with the larger tonnage DSS mineralisation for processing.
Blackstone believes that the Ta Khoa project represents a true district scale Nickel-PGE sulfide opportunity of a calibre rarely controlled by a junior company. The project also has significant infrastructure advantages that include the existing 450ktpa processing facility, abundant low cost hydroelectric power, a skilled low-cost labour force, and is located in a country that has become an Asian hub for electronics and battery manufacturing with a growing demand for Nickel Sulfate for EV battery manufacture.
Blackstone looks forward to reporting further results from the King Cobra discovery and the ongoing drill out at Ban Phuc over the coming weeks, as the company advances the exploration and evaluation of this high calibre asset for its shareholders.
Featured
Global News
April 21, 2022
Nickel Investing
As the world continues its transition towards a sustainable future, Australia has the potential to become a major player in clean energy and climate projects.
Sustainability is changing the course of multiple industries, with significant impacts on the investment sector.
Sustainable investing is the future — a means by which one can diversify their portfolio while also promoting positive societal and environmental impacts. This is arguably most evident in the energy and carbon markets.
"We're really in the middle of a low-carbon transition right now," said Adeline Aw, vice president of environmental sustainability at Singapore's Economic Development Board, according to a recent McKinsey podcast. "What's really important is to help finance and bring to life projects that can help us remove and to avoid carbon emissions."
---
The global push for sustainability
In 2018, scientists published a study in the peer-reviewed Earth System Dynamics, a scientific journal focused on climate change, geology and atmospheric science. According to that study, the world was fast approaching the point of no return for reversing global warming. Another report was published later that same year by the UN International Panel on Climate Change.

The second report has been the source of much confusion on the sustainability front. Many have grimly noted that it establishes 2030 as the point at which climate change is irreversible. What it actually says is that we need to significantly lower carbon emissions by that point — otherwise, we may be unable to stabilize the planet's warming.
This does not make the need for climate action any less urgent, nor does it undermine the importance of decarbonisation. It simply establishes a critical milestone for climate initiatives. That milestone has served as the bedrock for multiple countries as they lay out their environmental goals in both the short and long term.
Australia occupies a unique niche in that with respect to decarbonizing efforts. Although it was only responsible for roughly 1 percent of global carbon emissions in 2020, Australia is home to over 10 percent of the world's species. It's also home to Daintree, the world's oldest known rainforest. Protecting the country's unique ecosystem, especially its forests, will be critical in the fight against climate change.
Australia has made great progress in this regard, and the country is currently on track to exceed its initial 2030 target for emissions reduction by up to 9 percent.
A closer look at Australia's climate change strategies
Australia has adopted what it refers to as a technology-led approach to emissions reduction. The country's Technology Investment Roadmap is foundational to this strategy, establishing a clear process for identifying, developing and deploying sustainable technology. Australia's investments are not solely domestic in nature either.
The country has also established low-emissions technology partnerships with several key global players, including South Korea, the UK, Germany, Japan and Singapore.
Australia has also established the Emissions Reduction Fund, the Safeguarding Crediting Mechanism and Climate Active initiative to incentivise decarbonisation and sustainability in both business and industry. Finally, it has defined comprehensive systems for emissions monitoring, reporting and accountability.
As some have noted, Australia could go even further than carbon neutrality with technology that already exists. It could achieve net-negative carbon, removing more carbon from the atmosphere than it creates. To that end, researchers at the Australian National University have created the ANU Below Zero Initiative, which sets the deadline for net-zero carbon emissions in 2025.
A net-negative approach to a sustainable future
Queensland Pacific Metals (ASX:QPM) is one of the companies currently leading Australia's transition towards net-negative emissions.
Its flagship project, the Townsville Energy Chemicals Hub (TECH), will produce nickel through a proprietary process that requires no tailings dams and discharges no liquids. TECH will also leverage waste mine gas from the Bowen Basin in its production process, helping offset a major contributor to Australian emissions. Finally, the company is exploring productive uses for the residue created from nickel production, primarily silica.
Recognized as a prescribed project by the Queensland government, the TECH project is expected to reduce net emissions by 14.9 kilograms of carbon dioxide (CO2) equivalent for every kilogram of nickel produced, a total reduction of 238,000 tonnes annually. The independent sustainability consultant Minviro undertook these CO2 emissions calculations in an ISO-compliant lifecycle assessment.
Australian Mines (ASX:AUZ) is another major player in the pursuit of Australia's net-zero goals.
The Sconi project, situated just 220 kilometres northwest of Townsville, aims to deliver the most sustainable, carbon-neutral-certified nickel and cobalt in the world. Australian Mines has placed its focus on developing an end-to-end production chain, including a 2 million tonne per annum ore processing plant. Expected to begin production in 2024, Sconi has a projected lifespan of over 30 years and will primarily supply materials to LG Energy Solution (KRX:373220).
As with TECH, Sconi has been identified by the Queensland government as a prescribed project.
Australia's second largest independent producer of oil and gas, Santos (ASX:STO) operates a carbon capture and storage (CCS) project known as Moomba, alongside partner Beach Energy (ASX:BPT). Developed to capture carbon produced by the nearby Moomba gas plant, the project will, upon completion, reduce Southern Australia's annual emissions by more than 7 percent. Captured carbon will be injected into depleted gas reservoirs via pipeline and is part of a plan to develop longer-term CCS capabilities in the region.
Finally, Anglo-Swiss mining and commodity company Glencore (LSE:GLEN) is currently developing its carbon transport and storage company project, which will capture emissions from a coal-fired power plant for storage in Queensland's Surat Basin. Speaking to Reuters, a Glencore spokesperson noted that if proven sustainable, the basin could hold "very sizable" volumes of carbon.
Takeaway
There are many carbon-focused projects in Australia across multiple industries and sectors, which together have the potential to greatly reduce the country's carbon emissions, while also providing compelling opportunities for sustainable investment.
This INNSpired article is sponsored by Queensland Pacific Metals (ASX:QPM). This INNSpired article provides information which was sourced by the Investing News Network (INN) and approved by Queensland Pacific Metals in order to help investors learn more about the company. Queensland Pacific Metals is a client of INN. The company's campaign fees pay for INN to create and update this INNSpired article.
This INNSpired article was written according to INN editorial standards to educate investors.
INN does not provide investment advice and the information on this profile should not be considered a recommendation to buy or sell any security. INN does not endorse or recommend the business, products, services or securities of any company profiled.
The information contained here is for information purposes only and is not to be construed as an offer or solicitation for the sale or purchase of securities. Readers should conduct their own research for all information publicly available concerning the company. Prior to making any investment decision, it is recommended that readers consult directly with Queensland Pacific Metals and seek advice from a qualified investment advisor.
QPM:AU
Revenue from Australia's mobile sector is expected to grow from AU$9.6 billion in 2021 to AU$11.2 billion in 2026. Here's what to know about this industry.
After lagging behind for a prolonged period, Australia's tech sector is ramping up at an accelerated pace. The tech sector is now equivalent to 8.5 percent of the country's GDP as of the end of 2021, an increase of 26 percent since the onset of COVID-19 through June 2021 and a massive 79 percent increase over the past five years. Tech contributes AU$167 billion to the Australian economy, trailing only the mining (AU$205 billion) and financial/insurance (AU$169 billion) sectors.
Australia's characteristically resilient economy — which had not experienced a recession in nearly 30 years prior to COVID-19 lockdowns — has provided a sturdy backdrop for its growing tech sector. The growth in the tech sector's contribution to the GDP has outpaced average growth of other industries by more than 400 percent, a gain partly attributable to accelerated digital technology adoption during the pandemic.
This dramatic expansion is largely in response to Australia's need to catch up to the rest of the world and assert itself in the global tech marketplace. Should the tech sector continue to grow at its current rate it will eventually surpass the relative GDP contribution of the long dominant mining sector. This will also complete the process of bringing Australia more in line with other western economies such as the UK, and notably Canada, which is comparable to Australia in terms of its dominant mining and agricultural industries.
---
In terms of digital innovation earnings as a percentage of GDP, for example. Australia stands at 7.4 percent, significantly behind the 11.2 percent average for companies that are part of the Organisation for Economic Cooperation and Development (OECD). According to its September 2021 Policy Primer report, the Australian Academy of Sciences called for the federal government to place greater emphasis on supporting emerging digital technologies.
"Australia risks falling behind as a technologically-driven nation unless we recognise emerging digital technologies as a central, independent sector in its own right, warranting investment in the core aspects of research, innovation, and workforce development," the report stated.
Understanding Australia's mobile tech landscape
One of the drivers of Australia's tech sector expansion is its booming mobile telephone industry. This expansion has taken many forms ranging from expanded use of mobile telephony, adoption of blockchain technology for supply chain management and the rise of the cryptocurrency market. The application of mobile tech to the banking industry is just one space where mobile usage has become key and is expected to continue developing. According to research firm KPMG, digital platforms will become the preferred and dominant business model form.
Chase Bank completed a survey revealing that the COVID-19 pandemic has accelerated the adoption of mobile banking technology. Banking apps allow users to deposit cheques, pay bills and perform transfers from their mobile device.
One critical side effect of COVID-19 has been the way lockdowns and related restrictions on behaviour has changed the way people live and work. Remote working conditions and enforced isolation has triggered increased demand for improved connectivity and internet speeds to facilitate this transition in corporate culture during the pandemic.
As a result, Australia's leading mobile telephony giants have been obliged to improve data capacity and speed, especially in regional areas that have badly lagged behind urban coverage. Some people have relocated to regional areas — where connectivity remains a challenge — and others are requiring more data capacity and fast speeds to allow them to work more efficiently from home.
The Australian mobile sector is dominated by three main players: Telstra (ASX:TLS), Optus — a subsidiary of Singapore-based Singtel (SGX:Z74) — and TPG Telecom (ASX:TPG). Telstra is the largest provider of mobile services with 48.7 percent market share followed by Optus at 26.3 percent.
In 2022, there have already been several major new developments in the Australian mobile sector. One such event has been the tentative network sharing agreement announced in February between Telstra and TPG Telecom, which brings an end to the bitter rivalry between the two competitors. The agreement provides a comprehensive framework for the two telecom giants to share mobile telecommunication infrastructure across Australia.
TPG and Telstra will both enjoy significant savings and benefits from this arrangement. Telstra will reap up to AU$1.8 billion in added revenues while gaining access to TPG's spectrum that expands Telstra's fixed wireless services in regional areas. Correspondingly, TPG gains access to 3,700 Telstra towers in regional areas; this means TPG does not have to spend significant money to duplicate the infrastructure for its own use.
In addition, Telstra announced earlier in the year that it will spend up to AU$1.6 billion on new infrastructure intended to improve connectivity and internet speeds as part of its response to the overall need to accommodate rising consumer demand in the wake of the pandemic.
What's the outlook for mobile tech in Australia?
One of the positive side effects of the pandemic has been the increasing adoption of wireless services by Australians and the ownership of internet-of-things devices that are prevalent in nearly all households.
According to GlobalData, a data and analytics company, mobile sector revenue in Australia is expected to grow from AU$9.6 billion in 2021 to AU$11.2 billion in 2026 at a compound annual growth rate of 3 percent. This revenue growth will mainly accrue from growth in the mobile data subsector.
Meanwhile, the three leading telephone companies will not only be expanding their 4G services but rolling out 5G networks across the country. 5G allows for improved and additional smartphone services and also enhances fixed wireless services that are competitive with higher speed National Broadband Network (NBN) connections.
In addition, low earth orbit satellite services are beginning to roll out in Australia led by Elon Musk's SpaceX's Starlink service that offers broadband connections delivered via its satellite network.
Overfall, the winding down of restrictions due to COVID-19 will likely see the big three companies enjoy higher revenues in 2022 after declines in earnings owing to the pandemic. Telstra, Optus and TPG Telecom all experienced significant earnings drops between 2020 and 2021 due to reduced international roaming fees, softening demand for headsets and ongoing adoption of NBN services.
But the outlook for 2022 is positive given overall improved economic prospects as Australia emerges from the pandemic, which actually increased overall consumer use of communication services in 2021.
Lockdowns resulted in increased consumer uptake of online services such as online shopping, data-intensive video streaming and the additional household usage of communication services. Indeed, in 2021, data traffic reached record highs as Australian consumers demanded improved internet speeds and unlimited data plans. Remote work will likely continue to remain elevated in 2022 and beyond, which should reinforce increased consumption of home communications services.
Telstar and TPG Telecom in particular are embarking on long term strategies that will drive future earnings growth via accelerating 5G adoption, expansion in dark fibre, and increased adoption of new services such as edge/cloud computing.
Don't forget to follow us @INN_Australia for real-time updates!
Securities Disclosure: I, Harold Von Kursk, hold no direct investment interest in any company mentioned in this article.
From Your Site Articles
Related Articles Around the Web
General Manager Matt Herbert described Ontario as an "undiscovered gem," and spoke about the company's work on its lithium projects in the province.
---
After making its ASX debut this past November, Green Technology Metals (ASX:GT1) has been hard at work in Ontario, Canada, where it holds three projects covering 35,000 hectares.
Speaking to the Investing News Network at the Prospectors & Developers Association of Canada (PDAC) convention, General Manager Matt Herbert described the province as an "undiscovered gem" with the potential to contribute to the lithium supply chain in an environmentally conscious manner.
"I think the opportunity there is to create some very, very green lithium," he said.
---
"At the moment, a lot of lithium is mined in Western Australia, (then) shipped to China for processing; from China it goes to European battery markets. I think by the time that lithium arrives where it's supposed to arrive it's left itself a bit of a carbon footprint," Herbert explained during the conversation. "We have a real opportunity here to leverage low-carbon lithium in a place that is really screaming for security."
Green Technology Metals has already seen support from members of the Ontario government, including recently re-elected Premier Doug Ford, and Greg Rickford, who is the province's minister of northern development, mines, natural resources and forestry, as well as its minister of indigenous affairs.
"Both are massive supporters of critical minerals," said Herbert. "Those things are important when you're at the permitting and approval stage, and that's exactly where we're at. We're able to leverage those relationships really well, and there's just no better place to be at the moment."
Watch the interview above for more from Herbert on Green Technology Metals and its plans for the next six months. You can also click here for our recap of PDAC, and here for our full PDAC playlist on YouTube.
Don't forget to follow us @INN_Australia for real-time updates!
Securities Disclosure: I, Charlotte McLeod, hold no direct investment interest in any company mentioned in this article.
Editorial Disclosure: Green Technology Metals is a client of the Investing News Network. This article is not paid-for content.
The Investing News Network does not guarantee the accuracy or thoroughness of the information reported in the interviews it conducts. The opinions expressed in these interviews do not reflect the opinions of the Investing News Network and do not constitute investment advice. All readers are encouraged to perform their own due diligence.
Investing News Network websites or approved third-party tools use cookies. Please refer to the cookie policy for collected data, privacy and GDPR compliance. By continuing to browse the site, you agree to our use of cookies.