Overview
Electric vehicle sales are anticipated to rise from approximately 2 million units to 26 million units by 2030. EVs rely on high-capacity batteries and fast-charging stations, both of which require lithium, nickel and copper to manufacture. With EVs alone, experts believe the demand for battery metals is destined to skyrocket — with the global battery metal market estimated to be worth US$20.5 billion by 2027.
Australia is known as the top lithium-producing country on the planet, with an average of 40,000 MT of lithium production per year and an estimated stockpile of 2.7 MT of lithium reserves. In 2019, Australia produced 55 percent of the lithium supply for the entire world. The strong presence of lithium has made Australia a world leader in lithium, but the additional presence of nickel and copper creates an ideal location for mining essential battery metals. With 19 useful minerals being mined throughout 350 operating mines in Australia, it's an extremely valuable location for exploration.
Charger Metals (ASX:CHR) is an exploration-focused battery minerals company targeting lithium and other battery metal projects throughout Western Australia and the Northern Territory. Charger Metals currently has three projects in the exploration phase, with each project targeting lithium, nickel, copper or PGEs. The company has a strong management team composed of mining industry professionals with strong backgrounds in battery metals.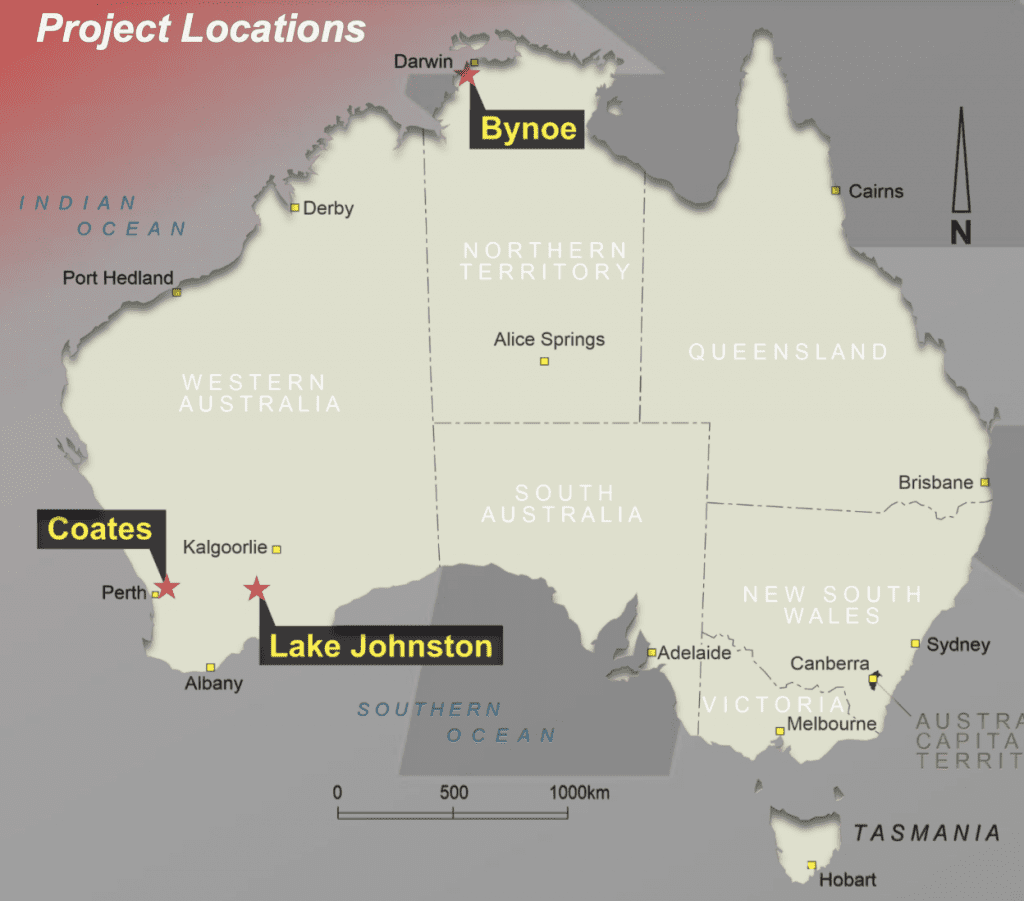 "All three of these projects are in world-class battery minerals spots and are adjacent to world-class deposits. We have got a really solid team led up by David Crook who is a very seasoned professional. We have an exploration team that has been focused on nickel and lithium for the last 7 years," said Terry Gardiner Chairman of Charger Metals in a recent interview.
The Bynoe project is the company's flagship and covers 62.7 square kilometers. Located in the Northern Territory, the project is surrounded by a successful mine operated by Core Lithium Ltd. Finnis Lithium Project that has produced a total mineral inventory of 14.7 mt at 1.32 percent LiO2. The proximity of a world-class mine creates confidence that the Bynoe project will yield positive results.
The corporate leadership of Charger Metals has the experience and expertise to help nurture each of the company's projects. David Crook, managing director and CEO, has over 40 years of experience as a geologist, with specific experience in the production of lithium, gold, nickel and caesium. Terry Gardiner, a non-executive chairman, has over 20 years of experience capital markets, stockbroking, derivatives trading and working with private investors. Crook and Gardiner's along with Charger's team of geologists combined experience has the potential to lead the company to success.
Company Highlights
Charger Metals is an Australian-based exploration company with three projects located throughout Australia, the world's largest producer of lithium
Each of the company's projects provides access to important battery metals, such as lithium, nickel, copper and PGEs.
The Bynoe project is surrounded by a Australian's most lithium recent lithium developer, creating confidence that Bynoe will also bear fruit.
Charger Metals has a strong leadership team with decades of applicable experience that will help guide the development of each project and the company overall
Key Projects
Bynoe Lithium Project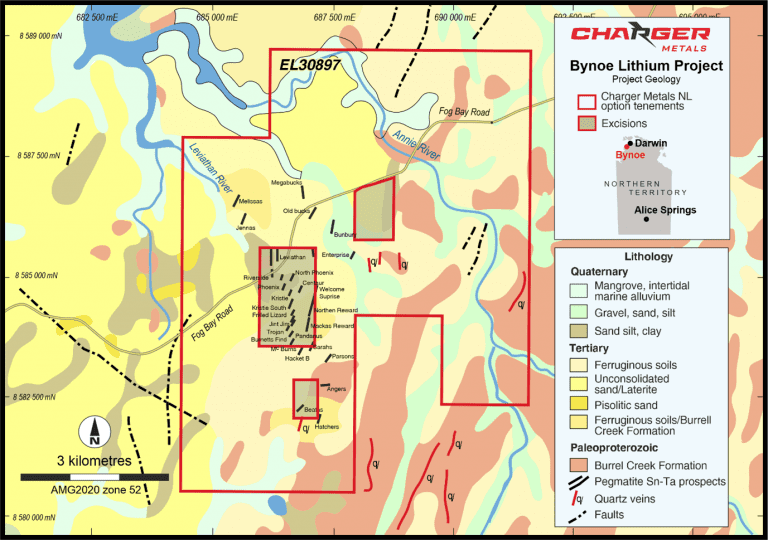 The Bynoe project is located within the Pine Creek orogen, which includes the Bynoe Pegmatite Field. The target of this project is a lithium-bearing pegmatite that may also include gold. The Bynoe Lithium Project is surrounded by Core Lithium Ltd's Finnis Lithium Project, which just announced a total resource inventory of 14.7 Mt of 1.32 percent lithium. The Finnis Lithium project is fully financed into production and ideally sheds light on the future of the Bynoe project. Soil coverage and mapping data are still being gathered, all leading up to exploratory drilling.
Historically, there have only been small-scale mining operations on the known pegmatites in this province , and minimal records were kept as to the production data. Between 1886 and 1890, the project area was mined for tin however few of these pegmatites were drilled into the fresh rock.. A few tin mines appeared in the 1980s as tin prices rose, but it wasn't until 2007 that lithium was discovered.
Lake Johnston Project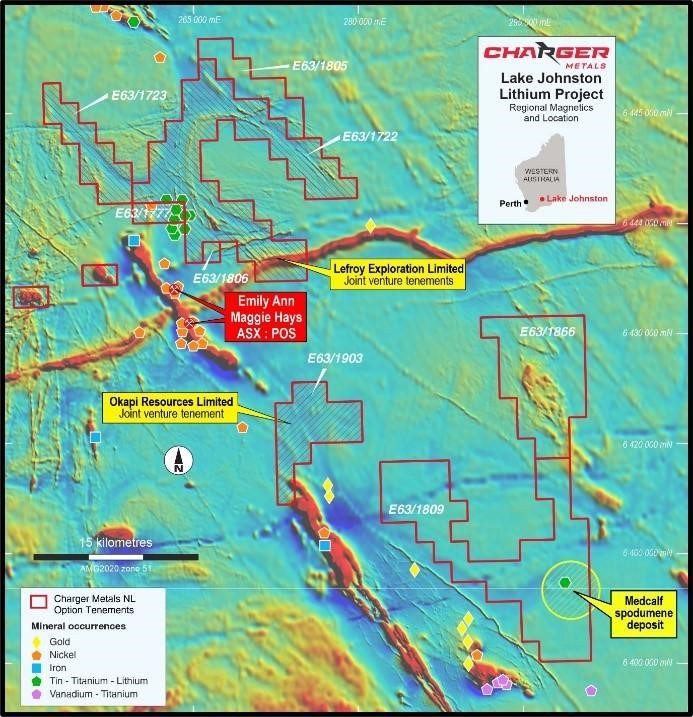 The Lake Johnston region has not been actively explored for lithium unlike many of the other greenstone belts in Western Australia. The lack of exploration is largely due to the being a difficult area to access and a lack of outcrop. However, the nearby Covalent Lithium Pty Ltd's Early Grey/MT Holland lithium deposit is only located 70 kilometers to the west, which creates significant interest in the area.
Charger Metals was attracted to this project due to the area being known as a large pegmatite field. The Lake Johnston project is Charger Metal's most advanced project. The project area contains a high amount of unexplored granite intrusions that are associated with pegmatites. During reconnaissance exploration, the pegmatites contained lithium and encouraged further exploration. Furthermore, the project area has the potential to contain gold and nickel.
During the 1980s and 1990s, nickel was discovered in the area and paved the way for the M/aggie Hay Nickel Mine currently owned by Poseidon Nickel Ltd. Most of the exploration in the area since then has focused on the greenstone belts, leaving many areas in the project area unexplored.
Coates Project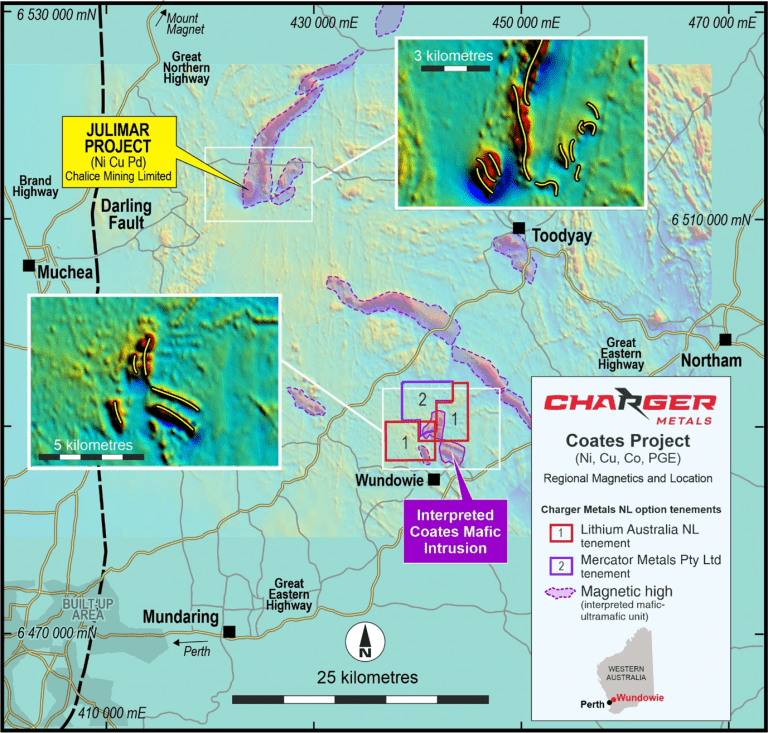 The Coates project is approximately 25 kilometers southeast of the Julimar Ni-Cu-PGE Project, owned by Chalice Mining Limited. It was announced in March 2020 that new sulphide mineralisation at the Julimar project contains nickel, copper and PGEs. Since the discovery both Chalice and other regional explorers have found evidence that there are similar prospectus in the area. These discoveries highlight the potential of the geological terrain of this style of mineralisation.
Previous exploration has been conducted in the area dating back to the 1930s, however much of those exploration attempts were focused on vanadium or bauxite. More recent exploration completed in 2011 showed the potential for a variety of valuable minerals, including nickel and copper. The the Coates mafic intrusion extends on to Chargers Project and previous drilling has identified anomalous nickel, copper and PGE mineralisation inspiring confidence in future explorative missions in the area.
Management Team
David Crook - Chief Executive Officer
David Crook is an experienced Managing Director with a strong technical and commercial background. Crook has 40 years' experience as a geologist with a demonstrated discovery and production record including in nickel, gold, caesium and lithium, which included 16 years as Managing Director of ASX-listed Pioneer Resources Limited. Crook was part of the geological teams that made discoveries at Mt Jewell (gold), Sinclair (Caesium), Dome North (Lithium), Kalpini and Goongarrie (Nickel Laterite) and Gidgee Gold Mine (gold).
Terry Gardiner - Non-executive Chairman
Terry Gardiner was appointed to the Board of Directors upon incorporation. He has strong experience in capital raising, support, promotion and corporate advisory services to listed companies in Australia and overseas. He has 30 years' experience investing in capital markets and extensive experience in funds management for sophisticated and private investors. He is currently a Non-Executive Director of Cazaly Resources Limited and Galan Lithium Limited. He is also an Executive Director of Barclay Wells Ltd, a boutique stock broking firm with offices in Perth and Melbourne.
Alan Armstrong - Non-Executive Director
Alan Armstrong was appointed to the Board of Directors upon incorporation. He is an experienced Director with a demonstrated history of working in the mining & metals industry. He has strong business development professional experience and holds a Grad Dip CA from The Institute of Chartered Accountants Australia and is a member of the Australian Institute of Company Directors.
Request an Investor Kit
EXCITING upcoming projects!
IN-DEPTH reliable insights!
SUCCESSFUL growth strategies!
VALUE-BASED content!
Charger Metals