The Directors of eMetals Limited (ASX: EMT) (eMetals)(Company), are pleased to announce the completion of the surface geochemistry and reconnaissance stream sediment sampling program on the Nardoo Rare Metals Project, Gascoyne Region, Western Australia.
The Directors of eMetals Limited (ASX:EMT) (eMetals)(Company), are pleased to announce the completion of the surface geochemistry and reconnaissance stream sediment sampling program on the Nardoo Rare Metals Project, Gascoyne Region, Western Australia.
HIGHLIGHTS
670 stream sediment samples, 280 soil samples and 141 rock chip samples were collected in an extensive 16-day field work program.
Samples have been submitted for assay and results are expected in approximately 4 weeks' time.
Significant extensions to known prospective pegmatites have been defined by mapping.
eMetals has been successful in applying for Exploration Incentive Scheme (EIS) cofunding for $67,500 to support the drilling of Nardoo Hill E09/2114 and Beryl Well E09/2156 exploration targets.
eMetals applies for new tenement Camel Hill E09/2407 covering prospective rare metal geochemical anomalies.
BACKGROUND
The Nardoo Rare Metals Project, comprising Nardoo Hill E09/2114 and Beryl Well E09/2156, is located within the Gascoyne Mineral Province in Western Australia, approximately 840 km to the north of Perth. Nardoo Hill E09/2114 contains approximately 15 strike kilometers of tungsten mineralised skarns within the Mount James Subgroup, and several Li-Ta-Nb-REE mineralized pegmatite occurrences.
Beryl Well E09/2156 overlies the historical Nardoo Hill & Morrissey Hill workings, in a pelitic and gneissic terrain that has been extensively intruded by pegmatites, which host tantalum-lithium-niobium mineralization. The acquisition of Beryl Well E09/2156 has expanded the tenement position to include areas which were identified as prospective for niobium, tantalum and rare earth element (REE) pegmatites (Nb-Ta-REE).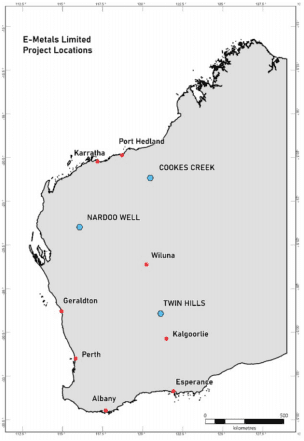 Figure 1: eMetals Projects
SURFACE GEOCHEMISTRY
eMetals Limited is pleased to announce the completion of the further surface geochemistry program on the Nardoo Rare Metals Project. The further surface geochemistry program was an extension to the stream sediment sampling that was undertaken by Gneiss Results during the 2019 field season in conjunction with mapping and due diligence activities. Please refer to the Company ASX Announcement on 09 March 2020.
The further sampling program was designed to thoroughly test the Nardoo Hill E09/2114 and Beryl Well E09/2156 tenements for tungsten skarn and rare metal pegmatite mineralization. This was achieved via sampling of third order streams, rock chip sampling of pegmatite occurrences, and sampling of an infill soil sampling grid over the highly anomalous stream sediment results at the Nardoo Hill prospect. Please refer to the Company ASX Announcement on 14 May 2020.
A total of 670, -115 mesh stream sediment samples were taken from third order streams across the tenement (Figure 2) at Nardoo Hill E09/2114 and Beryl Well E09/2156Sampling prioritised an 8 kilometer horizon of heavily veined and pegmatite intruded schist of the Leake Springs Metamorphics, and areas identified as potentially enriched in yttrium and rare earth elements. Samples have been submitted to a commercial laboratory for multi-element and REE analysis.
A total of 141 rock chip samples were also collected across the tenements, sampling a mix of veins, granites and pegmatites. Samples have been submitted to a commercial laboratory for multi-element and REE analysis.
At Nardoo Hill E09/2114 , where previous stream sediment sampling has returned highly enriched niobium (to 335ppm), tantalum (to 75 ppm), cerium (to 300ppm), tin (to 500ppm) and tungsten (to 129ppm), was investigated with a 100m x 50m soil sampling grid for 280 samples. In addition, significant earlier REE stream sediment sample results show an enrichment of up to 0.11% total rare earth oxide + yttrium (TREO), with the most anomalous results clustered around pegmatites at the recently acquired Beryl Well E09/2156 prospect, which is considered highly anomalous. The soil sampling will define the presence and position of any Nb-Ta-Li-W and REE anomaly. A total of 141 rock chip samples were taken from pegmatites and veins within this area.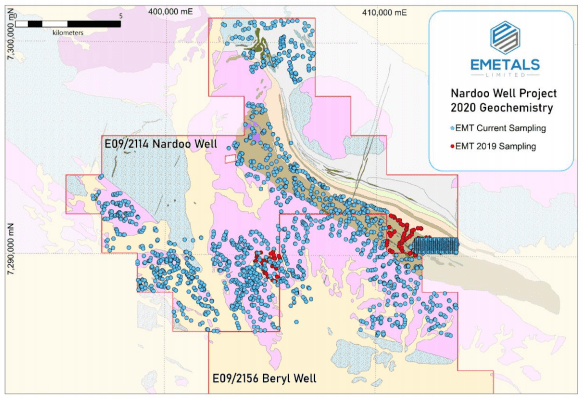 Figure 2. eMetals Limited 2020 stream and rock chip sampling on Nardoo Hill E09/2114 and Beryl Well E09/2156.
EIS Co-FUNDED DRILLING GRANT
eMetals is pleased to announce that it has been successful in its application for co-funding of its drilling activities under the Western Australian Government's Exploration Incentive Scheme (EIS) exploration drilling program.
eMetals prepared an application for up to $67,500 in funding, to cover 50% of direct drilling costs, to drill up to 500m of diamond core on Nardoo Hill E09/2114 and Beryl Well E09/2156.
E09/2407 CAMEL HILL TENEMENT APPLICATION
eMetals has submitted an application for Camel Hill E09/2407 comprising an area of 24 subblocks (55.6km2) surrounding the Camel Hill Li-Ta-Nb prospect. The tenement has been pegged based on historical exploration work and proximity to the existing company tenure, and substantially increases eMetals footprint in this highly prospective belt.
The Company will progress the tenement application and has begun compiling historical data from the WAMEX database. The Company plans to use similar exploration methodologies as the work on the Nardoo Rare Metals Project to explore for economic pegmatite and skarn mineralization.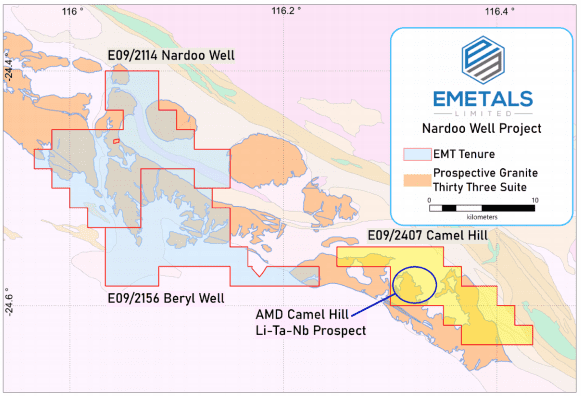 This announcement is authorised by the Board of eMetals Limited.
For, and on behalf of, the Board of the Company Mathew Walker Director EMETALS Limited
Forward looking statements
This announcement contains forward-looking statements which are identified by words such as 'may', 'could', 'believes', 'estimates', 'targets', 'expects', or 'intends' and other similar words that involve risks and uncertainties. These statements are based on an assessment of present economic and operating conditions, and on a number of assumptions regarding future events and actions that, as at the date of this announcement, are expected to take place. Such forward-looking statements are not guarantees of future performance and involve known and unknown risks, uncertainties, assumptions and other important factors, many of which are beyond the control of the Company, the directors and our management. We cannot and do not give any assurance that the results, performance or achievements expressed or implied by the forward-looking statements contained in this prospectus will actually occur and investors are cautioned not to place undue reliance on these forward-looking statements. We have no intention to update or revise forward-looking statements, or to publish prospective financial information in the future, regardless of whether new information, future events or any other factors affect the information contained in this announcement, except where required by law. These forward looking statements are subject to various risk factors that could cause our actual results to differ materially from the results expressed or anticipated in these statements.
Competent Persons Statement
The information in this announcement that relates to Exploration Results is based on and fairly represents information and supporting documentation prepared by Mr Roland Gotthard. Mr Gotthard is a consultant geologist for eMetals and a member of the Australian Institute of Mining and Metallurgy. Mr Gotthard has sufficient experience relevant to the styles of mineralisation and types of deposits which are covered in this announcement and to the activity which they are undertaking to qualify as a Competent Person as defined in the 2012 edition of the 'Australasian Code for Reporting of Exploration Results, Mineral Resources and Ore Reserves' ("JORC Code"). Mr Govey consents to the inclusion in this announcement of the matters based on his information in the form and context in which it appears.
Read the full press release here.
Click here to connect with eMetals Limited (ASX:EMT) for an Investor Presentation.
EMT:AU
Featured
Global News
February 25, 2021
Active Company
Building a strong pipeline of mineral projects to drive shareholder value.
Overview
eMetals Limited (#ASX:EMT) exploration manager Roland Gotthard discussed the company's #exploration results from the Poona rare metals project, which strongl...
eMetals Limited (ASX:EMT) is a mineral resource exploration company focused on driving shareholder value by building a strong pipeline of mineral projects in various stages of development. The company's portfolio currently includes three projects in the premiere mining district of Western Australia that are highly prospective for tungsten, lithium and gold.
eMetals Limited is planning to conduct H1 2020 drill programs for the Nardoo Well tungsten-lithium project in the Gascoyne region and the Cookes Creek tungsten project adjoining Tungsten Mining's (ASX:TGN) Big Hill Deposit in the East Pilbara region. Tungsten is classified as a strategic metal by major economies across North America, Europe and Asia. According to firm Roskill, stricter environmental regulations in China coupled with depleting global mine supply are projected to create a tungsten deficit in the coming years.
Exploration work at the company's Twin Hills gold project in the Eastern Goldfields region is slated for H2 2020. Australia is one of the most prolific gold-mining countries in the world. The price of gold in Australian dollars has experienced a mostly upward trajectory since 2000, climbing from a high of AU$481.68 to AU$1,400 in 2010 and further upward to around AU$2,200 per ounce at the start of 2020.
To further expand its portfolio of mineral exploration opportunities, eMetals Limited has entered into a partnership agreement with Gecko Metals Sdn Bhd to identify and evaluate the potential acquisition of iron ore, manganese and tin interests in Malaysia.
Company Highlights
Owns a portfolio of projects in Western Australia, ranked the world's second most attractive mining district by the 2018 Fraser Institute Annual Survey of Mining Companies.
Focus on tungsten, a strategic metal experiencing a looming supply deficit.
Highly prospective tungsten assets with high grades and walk-up drill targets.
Twin Hills gold project hosts historical intersections along strike of a high-grade gold mine.
Anticipated steady news flow with drilling at Nardoo Well and Cookes Creek tungsten projects slated for H1 2020; proposed exploration work at Twin Hills gold project in H2 2020.
Partnership with Gecko Metals Sdn Bhd to build out a portfolio with quality iron ore, manganese and tin exploration projects in Malaysia.
Highly experienced board to maximize the value of its assets.
Tight capital structure: HSBC Custody Nominees Ltd 15.51 percent; GWR Group Limited 10.16 percent; Great Southern Flour Mills Pty Ltd1 9.26 percent; Citicorp Nominees PL 7.20 percent.
Key Projects
eMetals Limited's Project Pipeline
eMetals Limited's Nardoo Well Tungsten Project
The Nardoo Well tungsten project covers an area of 131 square kilometers in the Gascoyne region of Western Australia. Earlier historical exploration performed by Mincor Resources (ASX:MCR) at Nardoo Well identified a significant source of tungsten mineralization in mapped skarns. Lithium and tantalum mineralization has also been identified in pegmatites in the property.
Historical results from Mincor's 2006 channel sampling work identified high-grade tungsten mineralization.
Historical results from Mincor's 2006 channel sampling work identified high-grade tungsten mineralization.
3 meters at 6.66 percent WO3
2 meters at 5.34 percent WO3
2 meters at 2.07 percent WO3
The proposed exploration program at Nardoo Well includes geochemical surveys and surface mapping to support the drilling of targets along an 8.5-kilometer strike length of the Thirty-Three Supersuite, a geological structure known for rare earth element-bearing pegmatites and quartz veins derived from granite, and the skarns identified by Mincor.
eMetals Limited's Cookes Creek Tungsten Project
The Cookes Creek tungsten project covers 51 square kilometers adjoining Tungsten Mining's Big Hill Deposit in the East Pilbara region of Western Australia. The property hosts a well-exposed granite greenstone belt, with granites enveloped by volcano-sedimentary rocks. Historical exploration at Cookes Creek identified a number of tungsten, molybdenum and base metal occurrences on the property.
Tungsten mineralization was first observed at Cookes Creek in 1956 through survey work conducted by the Geological Society of Western Australia. A positive price environment for tungsten in that era led to small-scale mining activities at the McCleod's Quartz Vein, the biggest tungsten producer in the Pilbara region during the 1950s. Today, the vein appears open along strike and potential parallel structures can be seen on aerial photos.
Further tungsten anomalies were identified during exploration work conducted in the 1970s and 1980s. In 1983, Kalgoorlie Southern Gold Mines (KSGM) conducted a stream sediment program in the region that defined six major tungsten anomalies (A through F) all of which were located within 1.6 kilometers of the granite greenstone belt. Today, Area C is the site of the Big Hill deposit where drilling by Tungsten Mining from 2003 to 2009 identified a 2012 JORC Indicated resource of 6.2 MT at 0.16 percent WO3 and an Inferred resource of 5.3 MT at 0.13 percent WO3.
Areas A and D are within eMetals' Cookes Creek licenses and have experienced minimal modern exploration. At Area A, located west of the historic mining area, KSGM's trenching and drill work identified high-grade tungsten veins at surface.
eMetals Limited's exploration plan for Cookes Creek includes detailed surface mapping of the historical workings on the property along with a broader geochemical soil sampling program to identify any additional potential targets for drilling.
eMetals Limited's Twin Hills Gold Project
The Twin Hills gold project is located 150 kilometers north of Kalgoorlie and covers 30 square kilometers in the Eastern Goldfields of Western Australia's Archaean Yilgarn Craton. The property includes a total of 10 kilometers of strike covering the north and south extensions of the greenstone sequence that hosts the excised historical Twin Hills gold mine.
The Twin Hills gold mine was first discovered in 1928 and worked sporadically up through 1986. Historical exploration work in the region detected anomalous gold along strike of the mine, including RAB drill intercepts such as 8 meters at 1.74 g/t gold. The primary source of this mineralization has yet to be identified through deep bedrock drilling.
eMetals Limited's planned exploration at Twin Hills includes surface soil and mapping data as well as a detailed magnetics survey to identify drill targets for testing bedrock mineralization.
Management Team
Gary Lyons — Chairman
Gary Lyons is a successful and well-respected Perth based businessman and has been a shareholder and Managing Director of the Heiniger Groups Australasian operations for the last 25 years. During the last three years, Lyons has served as a director of the following listed companies: GWR Group Limited (appointed 2 June 2010) and Tungsten Mining Limited (appointed 16 July 2014).
Mathew Walker — Executive Director
Mathew Walker has extensive experience in public company management and in the provision of corporate advice. Specializing in the natural resources sector, Walker has served as Executive Chairman or Managing Director for public companies with mineral interests in North America, South America, Africa, Eastern Europe, Australia and Asia. Currently he serves as Chairman of corporate advisory firm Cicero Advisory Services based in Perth, Western Australia. He currently serves as a director of the following listed companies: Family Insights Group Limited (appointed 09 July 2018).
Teck Siong Wong — Director
Teck Siong Wong has considerable international business experience having worked in Hong Kong, the United Kingdom and now in Malaysia and Indonesia after graduating with a Bachelor of Business degree from Swinburne University (Melbourne). Wong is involved with the mining industry in China, Indonesia and Malaysia. He was previously involved in sales and exports of steel-related products and was a director of a retail chain business in the United Kingdom. Wong was working in the OEM plastic manufacturing industry in Hong Kong prior to taking up a position in the steel industry in Malaysia. He is currently a director at Golden West Resources Ltd.
read more Show less
EMT:AU
Investing News Network websites or approved third-party tools use cookies. Please refer to the cookie policy for collected data, privacy and GDPR compliance. By continuing to browse the site, you agree to our use of cookies.