Global Energy Metals Corporation is pleased to announce an update regarding its unmanned airborne magnetometer survey.
Global Energy Metals Corporation (TSXV:GEMC, OTC:GBLEF, FSE:5GE1) ("Global Energy Metals", the "Company" and/or "GEMC") is pleased to announce an update regarding its unmanned airborne magnetometer survey on the Company's Nevada based battery minerals project located in the Stillwater Mountain Range, approximately 150km east of the Tesla Gigafactory in Sparks, Nevada.
Interpretation of the data is ongoing but preliminary data suggests the following:
– The focus of the initial work program at Lovelock was to further evaluate the subsurface geology and identify areas for future drilling, and serve as an important resource for the creation of a 3D geological model of the nickel-copper-cobalt rich property.
– Good correlation between surface mineralization and historic IP conductors.
– The survey has identified numerous new strong magnetics trends that appear to correlate very well with historic zones of mineralisation.
– The area over the mine was covered by 50-metre line spacing to acquire detailed data for interpretation and modelling.
– Survey covers 248 line kilometers, 12.4 square kilometre area of the historically high-grade Cobalt-Nickel-Copper project.
– Further intepretation of the data is underway with results pending.
– The survey was flown by MWH Geo-Surveys International Inc. ("MWH"), a leader in the UAV space.
Commenting on the survey and its application to the overall global electrification, CEO Mitchell Smith stated the following:
"The EV market is still in its infancy worldwide, but as it continues to mature it presents a tremendous opportunity for exploration and development companies. The United States, like many other nations waking up to the need for resource sovereignty, is seeking to bolster its economic and national security by providing a scalable supply chain of critical minerals, like cobalt, to avoid dependence on competing countries for raw materials."
"This survey aids in our understanding of a drill ready project in Nevada, home to the world's largest battery manufacturing facility, and spotlights these projects as a potential future source of cobalt, nickel and copper that are required to produce the vast amount of raw material the EV battery and new energy economy demands."
This first ever high-quality, detailed magnetic survey completed on the property highlights multiple zones of interest. With additional interpretation and ground truthing the survey will assist Global Energy Metals in planning and executing a targeted ground exploration program culminating in drill testing.
UAV Magnetic Survey
MWH's UAV mag system uses a GEM GSMP-35U sensor flown under a D-RTK DJI Matrice 600 Pro hexacopter. Due to the high data capture rate, slower flight speeds and lower altitude, the magnetic data is of high accuracy and resolution. Data will be processed and presented as TMI map (PDF) & ASCII grid formats.
Figure 1. Preliminary data image for the north area of the Lovelock and Treausre box Projects.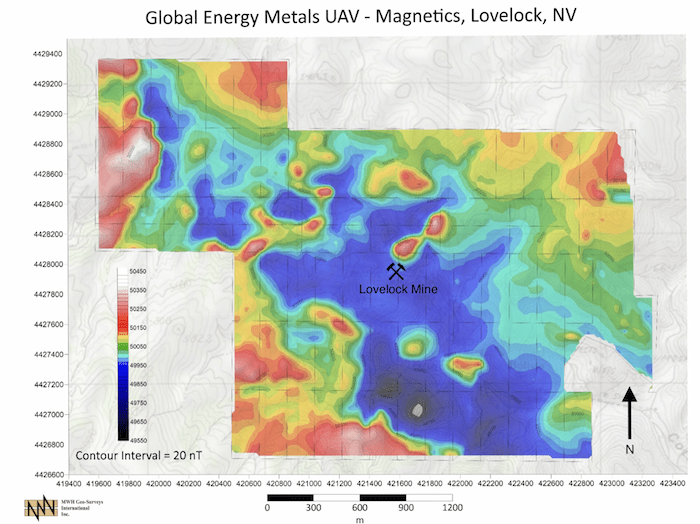 Figure 2. Preliminary data image for the south area of the Lovelock and Treausre box Projects.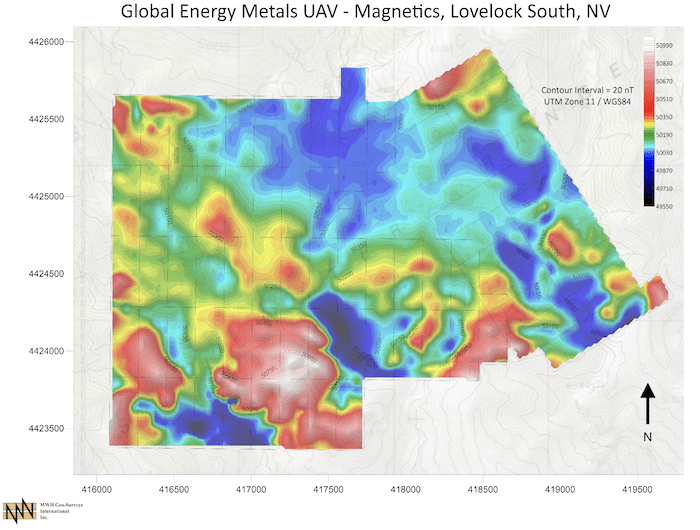 MWH Geo-Surveys International Inc.
MWH Geo-Surveys have since 1980 been exclusively conducting gravity and magnetic surveys and their related topographic surveys. They have extensive experience around the world including surveys in Argentina, Bolivia, Chad, Colombia, Cuba, Eritrea, Ethiopia, Finland, Gambia, Guatemala, Honduras, Indonesia, Iraq, Ireland, Italy, Kenya, Liberia, Madagascar, Mali, Mexico, Mongolia, Nigeria, Oman, Peru, Philippines, Senegal, Spain, Sudan, Thailand, Trinidad, Tunisia, Turkey, Yemen and Zimbabwe. Additional information can be found at www.mwhgeo.com
While the UAV magnetic survey technology is new, MWH has been a leader in developing a field proven system integrating the UAV equipment, the magnetic system and flight controlling software. Their UAV systems have been successfully utilized worldwide on numerous successful surveys consisting of more than 20,000 flown kilometers.
Qualified Person
Mr. Paul Sarjeant, P. Geo., is the qualified person for this release as defined by National Instrument 43-101 – Standards of Disclosure for Mineral Projects and has reviewed and verified the technical information contained herein.
Global Energy Metals Corporation
(TSXV:GEMC, OTCQB:GBLEF, FSE:5GE1)
Global Energy Metals is focused on offering security of supply of cobalt, a critical material to the growing rechargeable battery market, by building a diversified global portfolio of cobalt assets including project stakes, projects and other supply sources. GEMC anticipates growing its business by acquiring project stakes in battery metals related projects with key strategic partners. Global Energy Metals now holds 100% of the Millennium Cobalt Project and two neighbouring discovery stage exploration-stage cobalt assets in Mt. Isa, Australia. It also currently owns 70% of the Werner Lake Cobalt Mine in Ontario, Canada, has an option to acquire an 85% interest in two cobalt exploration projects in Nevada, 150km East of the Tesla Gigafactory.
For Further Information:
Global Energy Metals Corporation
#1501-128 West Pender Street
Vancouver, BC, V6B 1R8
Email: info@globalenergymetals.com
t. + 1 (604) 688-4219 extensions 236/237
Twitter: @EnergyMetals
Cautionary Statement on Forward-Looking Information:
Certain information in this release may constitute forward-looking statements under applicable securities laws and necessarily involve risks associated with regulatory approvals and timelines. Although Global Energy Metals believes the expectations expressed in such forward-looking statements are based on reasonable assumptions, such statements are not guarantees of future performance and actual results or developments may differ materially from those in the forward-looking statements. Except as required by law, the Company undertakes no obligation to update these forward-looking statements in the event that management's beliefs, estimates or opinions, or other factors, should change. For more information on Global Energy and the risks and challenges of their businesses, investors should review the filings that are available at www.sedar.com.
Neither TSX Venture Exchange nor its Regulation Services Provider (as that term is defined in the policies of the TSX Venture Exchange) accepts responsibility for the adequacy or accuracy of this release.
Click here to connect with Global Energy Metals Corporation (TSXV:GEMC, OTC:GBLEF,FWB:5GE1) for an Investor Presentation.
Featured
Global News
Highlights: – Former Xstrata plc executive, Mr. Ian Woolsey, has joined Jervois as Group Manager Information Technology – Mr. Woolsey will lead the IT integration of Freeport Cobalt in Finland, Idaho Cobalt Operations in the United States and the São Miguel Paulista nickel-cobalt refinery in Brazil – Mr. Woolsey joins Jervois after more than 10 years with Glencore Xstrata where he led the IT integration of major …
Highlights:
– Former Xstrata plc executive, Mr. Ian Woolsey, has joined Jervois as Group Manager Information Technology ("IT")

– Mr. Woolsey will lead the IT integration of Freeport Cobalt in Finland, Idaho Cobalt Operations in the United States and the São Miguel Paulista nickel-cobalt refinery in Brazil

– Mr. Woolsey joins Jervois after more than 10 years with Glencore Xstrata where he led the IT integration of major cross-border transactions including the Xstrata acquisition of MIM Holdings, Falconbridge and the Xstrata-Glencore merger
TheNewswire – 8 September 2021 – Jervois Global Limited (" Jervois " or the " Company ") (ASX:JRV) (TSXV:JRV) (OTC:JRVMF) is pleased to announce Mr. Ian Woolsey has joined as Group Manager (" GM ") – Information Technology (" IT ").
Mr. Woolsey has over 30 years of global experience across IT Strategy and Planning, ERP Program Management, Chief Information Officer and Chief Technology Officer roles across the Resources and Government sectors, including a decade of CIO / IT leadership experience with Glencore Xstrata. He has a proven track record in:
– Global ERP strategy and implementation;

– IT transformational change, including post-M&A integration for rapid delivery of synergies; and

– Executive management of the IT function with significant resources and expenditure, across diverse functions, cultures, and geographies.
Mr. Woolsey joined Xstrata plc in 2003 as the Global IT Projects Manager, responsible for the implementation of standard IT infrastructure across 10 business units in 7 countries. He transitioned to Toronto, Canada in 2006, with responsibility for delivering the successful IT integration of the newly acquired Falconbridge business. In 2008, Mr Woolsey transferred to Xstrata Nickel as General Manager Business Services, where he led the successful deployment of an integrated SAP solution for Xstrata Nickel's global operations, across 7 sites in 4 languages.
This included coverage for Xstrata's Integrated Nickel Operations, which included the custom feed and intermediate purchasing and recycling division, Xstrata Nickel International Limited, ran by current Jervois commercial executive Mr. Klaus Wollhaf.
Mr. Woolsey returned to Australia in 2012 as General Manager Business Systems and Integration for Xstrata Coal, then led IT integration efforts across Glencore Copper following the sale of Xstrata to Glencore in 2013.
Prior to Xstrata, Ian was an Associate Partner with Accenture, working across Australia and Asia for more than a decade, and began his career with IBM Australia.
Since 2014 when he left Glencore, Mr. Woolsey has continued to focus on delivering ERP-enabled transformation initiatives for Mining and Public Sector organisations. He holds a Bachelor of Engineering (Electrical) and Master of Commerce (Economics) from the University of New South Wales, Australia.
Jervois is pleased to welcome an operating executive of Mr. Woolsey's caliber as it implements the requisite IT systems, reporting and governance controls across its expanding portfolio of operating assets.
On behalf of Jervois Global Limited
Bryce Crocker, CEO
For further information, please contact:
Forward-Looking Statements
This news release may contain certain "Forward-Looking Statements" within the meaning of the United States Private Securities Litigation Reform Act of 1995 and applicable Canadian securities laws. When used in this news release, the words "anticipate", "believe", "estimate", "expect", "target, "plan", "forecast", "may", "schedule", "expected" and other similar words or expressions identify forward-looking statements or information. These forward-looking statements or information may relate to integration of businesses into the Jervois group and certain other factors or information. Such statements represent Jervois' current views with respect to future events and are necessarily based upon a number of assumptions and estimates that, while considered reasonable by Jervois, are inherently subject to significant business, economic, competitive, political and social risks, contingencies and uncertainties. Many factors, both known and unknown, could cause results, performance or achievements to be materially different from the results, performance or achievements that are or may be expressed or implied by such forward-looking statements. Jervois does not intend, and does not assume any obligation, to update these forward-looking statements or information to reflect changes in assumptions or changes in circumstances or any other events affections such statements and information other than as required by applicable laws, rules and regulations.
Neither TSX Venture Exchange nor its Regulation Services Provider (as that term is defined in policies of the TSX Venture Exchange) accepts responsibility for the adequacy or accuracy of this release.
Copyright (c) 2021 TheNewswire – All rights reserved.
News Provided by TheNewsWire via QuoteMedia
read more Show less
Winsome Resources CEO Chris Evans said, "Canada and the US are working feverishly to develop an internal battery materials supply chain and we think we're going to play a critical role in that."
Winsome Resources CEO Chris Evans: Sustainable Hardrock Lithium Opportunities in Quebec youtu.be
---
Winsome Resources (ASX:WR1) CEO Chris Evans joined the Investing News Network to discuss the company and its Cancet lithium project in Quebec, Canada.
"We listed on the ASX on November 30, 2021," he explained. "We're lithium focused but based in Canada, and we've been pretty successful in the last six months — our share price has done well. I think I've been putting this down to the success factors which we possess as a company, including the fact that we're into lithium at a moment with high demand. Any mining company that's associated with lithium has tended to do well.
"Our assets are in Quebec, a fantastic mining jurisdiction for all sorts of reasons. Also, being listed on the ASX — Australian investors tend to like early stage plays a bit better. They've certainly woken up to the electric vehicle and lithium revolution that's occurring in the world. And it's a pleasure having the assets in Canada."
---
Next, Evans got into specifics about the company's flagship project. "The Cancet project is our flagship, in the James Bay region of Quebec. All our projects are hard-rock lithium; that's digging the rocks out of the ground and concentrating the lithium in them. Then it gets converted into the final product, which is lithium carbonate or hydroxide, that then goes into electric vehicle batteries," he explained.
"Cancet's had about 5,500 metres of drilling done on it historically, so we know that there's a great deposit of lithium at fantastic grades. It outcrops on the surface, the lithium-containing spodumene from the pegmatite rock, where we have 3.7 percent lithium oxide over a 17 metre interval from the surface at our most successful drill hole. We just completed 2,000 metres of drilling ourselves, increasing our knowledge of the orebody that's there, and also looking for extensions to the orebody. We've got 395 claims, and our drilling and exploration is only over about 15 of the claims. So we've got a lot further to look here and a lot more to develop."
As for supply location, and the company's relationship with the international market, Evans said, "We think it's fantastic for us, and our shareholders, that we have assets in Quebec. Roughly 50 percent of the world's hard-rock lithium comes from Australia, where it's mined and concentrated. The problem is that final conversion into lithium carbonate or hydroxide all occurs at the moment in China ... lithium is on the critical minerals list in Canada, the US and Australia, and Canada and the US are working feverishly to develop an internal battery materials supply chain. We think we're going to play a critical role in that."
Elaborating on the sustainability industry that drives the battery revolution, he said, "(Nearly) all power in Quebec is generated by hydroelectricity and renewable forms of electricity. That's very important, because the mining and concentration process for lithium products traditionally produces a large carbon footprint, because it's energy intensive. The EU, from 2024, has mandated that all batteries are labeled with the carbon footprint of all the materials that are contained within them. Then, by about 2026, there's specific targets that batteries have to meet in order to be sold in the EU. If you don't have a renewable source of energy to produce your lithium products that go into those batteries, it's going to severely restrict your markets — and that's another bonus for us being in Quebec."
Evans said that Winsome Resources' approach is to develop a mine itself, rather than selling or partnering. "We will approach this as if we are going to be developing the Cancet project, and producing lithium ourselves, in four or so years. And I think that'll best serve our shareholders." With regards to other ways the company could benefit investors, Evans said, "Being listed on the ASX, and having access to a lot of capital, I think there's a great opportunity for us to acquire other projects in Canada. We're about to start our summer exploration. And we're on the lookout for a new project. So I think the good news is really to come."
Watch the full interview of Winsome Resources CEO Chris Evans above.
Disclaimer: This interview is sponsored by Winsome Resources (ASX:WR1). This interview provides information that was sourced by the Investing News Network (INN) and approved by Winsome Resources in order to help investors learn more about the company. Winsome Resources is a client of INN. The company's campaign fees pay for INN to create and update this interview.
INN does not provide investment advice and the information on this profile should not be considered a recommendation to buy or sell any security. INN does not endorse or recommend the business, products, services or securities of any company profiled.
The information contained here is for information purposes only and is not to be construed as an offer or solicitation for the sale or purchase of securities. Readers should conduct their own research for all information publicly available concerning the company. Prior to making any investment decision, it is recommended that readers consult directly with Winsome Resources and seek advice from a qualified investment advisor.
This interview may contain forward-looking statements including but not limited to comments regarding the timing and content of upcoming work programs, receipt of property titles, etc. Forward-looking statements address future events and conditions and therefore involve inherent risks and uncertainties. Actual results may differ materially from those currently anticipated in such statements. The issuer relies upon litigation protection for forward-looking statements. Investing in companies comes with uncertainties as market values can fluctuate.
WR1:AU
May 24, 2022
Silver Investing
Where are the silver mines in Australia? You might be surprised to learn that the country is home to one of the world's top primary silver producers.
Mining is a big part of Australia's history, and it continues to shape the country's economy and position in the world today. The nation is one of the world's top producers and exporters of resources, with coal, uranium, copper and gold being some of its best-known commodities.
Australia is also a key producer of silver — it was the world's fifth-largest producer of the metal in 2021, tied with Russia, putting out 1,300 MT. Interestingly, most of Australia's silver is produced from silver-bearing galena, but some is also produced from copper and gold mining.
Refined silver comes mainly from the Port Pirie lead smelter and refinery in South Australia, though silver is also refined at gold refineries in Perth, Kalgoorlie and Melbourne.
---
But where are the silver mines in Australia, exactly? While it's interesting to know what types of deposits the precious metal is found in, many investors want to know what companies are producing silver and where their mines are located geographically. Read on to find the answers to those questions.
Where are the silver mines in Australia?
Silver has played a role in Australia since the mid-1800s — Wheal Gawler, Australia's first metal mine, was a silver-lead mine developed in South Australia in the 1840s. And that's not Australia's only early silver-mining operation — the Broken Hill deposit in New South Wales and the Mount Isa deposit in Queensland are two other early Australian silver discoveries.
Broken Hill, a lead-zinc-silver deposit, was discovered in 1883 by German immigrant Charles Rasp, and the Broken Hill Proprietary Company was born in 1885; it ultimately merged in 2001 with another mining giant, Billiton, to form BHP Billiton (ASX:BHP,NYSE:BHP,LSE:BLT). BHP Billiton is no longer involved with Broken Hill, but ore is still being extracted there today. Perilya now runs the southern and northern operations.
For its part, Mount Isa was discovered in 1923 by John Campbell Miles, and like Broken Hill is still producing today. It was acquired by Glencore (LSE:GLEN) in 2013 and in addition to silver is also a producer of zinc.
These major early Australian silver discoveries are not the country's only sources of silver. Other silver mines in Australia include Cannington, one of the world's top primary silver producers. It's a fly-in, fly-out mining and processing operation that is owned by South32 (ASX:S32,LSE:S32), a diversified resource company spun out from BHP Billiton in 2015. Cannington also produces lead and zinc.
Australia holds the McArthur River mine as well, which opened in 1995 and is owned by Glencore subsidiary McArthur River Mining. The mine is one of the world's largest zinc-lead-silver mines, and is located in Australia's Northern Territory.
Glencore's 2021 annual report claims total silver production reached 31.519 million ounces for the year, representing a 4 percent drop from 2020. That includes 625,000 ounces from McArthur River.
The Century mine, which previously belonged to MMG (HKEX:1208), shut its doors at the end of 2015, but was a major producer of zinc (and silver) until that time. It was reopened in mid-2018 by New Century Resources (ASX:NCZ) and the company says it now has an estimated annual production capacity of 264,000 tonnes of zinc and 3 million ounces of silver.
Independence Group (ASX:IGO) also produces silver, along with copper and zinc, at its Jaguar operation in Western Australia. Gold producer Silver Lake Resources (ASX:SLR) owns some projects with silver reserves as well. As you can see, there are and have been many silver mines in Australia.
Future silver mines in Australia?
In addition to being home to a slew of large silver mines, Australia also plays host to many companies that are exploring and developing silver projects. Below are a few that have made recent progress.
Please let us know in the comments if we've forgotten to mention any Australia-focused silver companies. All companies listed had market caps of at least AU$5 million on May 19, 2022.
Argent Minerals (ASX:ARD) — Argent Minerals' main asset is its 100-percent-owned Kempfield polymetallic project in New South Wales. In May 2018, the company announced an updated resource estimate for the asset — its silver equivalent contained metal now stands at an estimated 100 million silver equivalent ounces at 120 g/t silver equivalent; that's approximately double the previous estimate.
In total the company has three projects, with all of them being in New South Wales.
Investigator Resources (ASX:IVR) — Investigator Resources is advancing silver, copper and gold deposits in South Australia. Currently its properties include the Peterlumbo/Paris silver project, the Eyre Peninsula and Stuart Shelf projects and the Northern Yorke Peninsula projects.
The total resource for Paris stands at an estimated 18.8 million tonnes at 88 g/t silver and 0.52 percent lead for 53.1 million ounces of contained silver and 97,600 tonnes of contained lead (at a cut off of 30 g/t silver). The indicated component is 12.7 million tonnes of silver (95 g/t) and represents 73 percent of the total estimated resource ounces.
Horizon Minerals (ASX:HRZ) — Horizon Minerals owns the Nimbus silver-zinc project in Western Australia. Nimbus has a high-grade silver-zinc resource estimate of 255,898 tonnes at 773 g/t silver and 13 percent zinc; the total Nimbus resource stands at 1.21 million tonnes at 52 g/t silver, 0.9 percent zinc and 0.2 g/t gold.
Silver Mines (ASX:SVL) bills itself as a leading Australian silver exploration company, and has spent a considerable amount of time acquiring Australian silver projects. Those include Malachite Resources' (ASX:MAR) Conrad project and Kingsgate Consolidated's (ASX:KCN) Bowdens silver project.
While the company's main focus has been on the Webbs silver project in New South Wales, the Bowdens project represents the largest undeveloped silver project in Australia, and Silver Mines is working to get the project through the feasibility, environmental impact statement and permitting stages.
In a 2018 report, the feasibility study demonstrated an average silver production of 3.4 million tonnes per annum for the project, with 5.4 million during the first three years of operation. Estimations also included 6,900 tonnes of zinc and 5,100 tonnes of lead.
This is an updated version of an article first published by the Investing News Network in 2018.
Don't forget to follow us @INN_Australia for real-time updates!
Securities Disclosure: I, Ryan Sero, hold no direct investment interest in any company mentioned in this article.
Investing News Network websites or approved third-party tools use cookies. Please refer to the cookie policy for collected data, privacy and GDPR compliance. By continuing to browse the site, you agree to our use of cookies.