Overview
"You've come to the right place to know Mako Gold. At INN our Mission is to arm you with knowledge and connect you with investing opportunities! Ready for the next step? Download the FREE Investor Kit TODAY to get the institutional investor details!"
The Ivory Coast presents a significant mineral exploration and discovery potential with widespread occurrences of gold, diamond, iron, nickel, cobalt, copper, manganese and bauxite. Despite being deemed one of the top five gold-producing regions in the world, the highly prospective Biriminan greenstone belts of West Africa remain highly underexplored.
Côte d'Ivoire, located on the south coast of West Africa, contains more Birimian greenstone belts than other West African countries yet only 30 million ounces of gold resources have been found to date. With much more gold mineralization still to be discovered, the Ivory Coast stands as a perfect storm for gold exploration potential, with a stable, mining-friendly government, outstanding infrastructure, and a modern and transparent mining code.
Like much of West Africa, which is poised to become one of the top five gold-producing regions in the world, gold has been at the forefront of exploration since the introduction of a new investor-friendly mining code in 2014.
Mako Gold (ASX:MKG) is a mineral exploration company focused on the discovery of large high-grade gold deposits in highly prospective and underexplored mining regions in Côte d'Ivoire and other favorable countries in West Africa. Mako is scheduled to announce its maiden Mineral Resource Estimate prior to the end of 2021.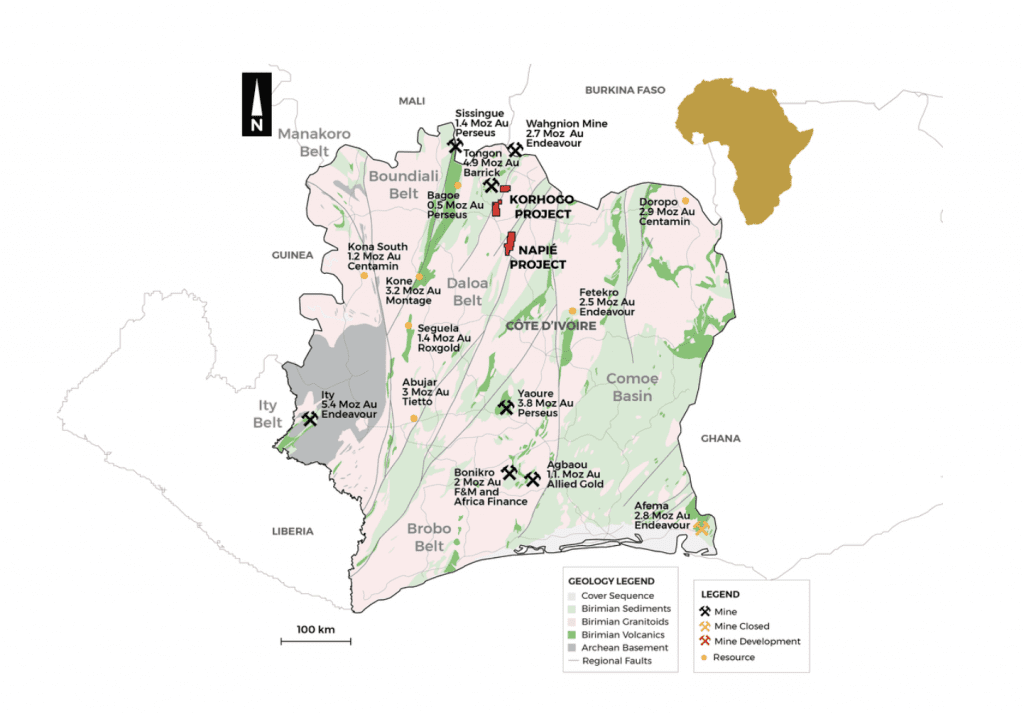 The company's project portfolio consists of its flagship Napié project, Korhogo project and Niou project in Burkina Faso, which was recently sold to Nordgold (FRA:RTSD). All projects have limited to no exploration history but leverage exceptional existing infrastructure, road access and strategic positioning to successful gold players.
The flagship Napié project contains the main Tchaga and Gogbala prospects, which are high-grade infill drill targets with shallow mineralization and wide gold intercepts. In August 2021, the company discovered continuity of mineralization between oxide and fresh rock with record-high 174.6g/t gold grades at Tchaga. Ongoing reverse circulation (RC) drilling presents more potential for additional high-quality discoveries.
Mako Gold recently entered into a binding agreement with Perseus Mining Ltd. (ASX:PRU) to consolidate ownership from 51 percent to 90 percent. This strategic alliance with such a major gold producer pushes Mako Gold to establish a stronger footing in the prolific Côte d'Ivoire gold mining space, which contains more Birimian greenstone belts than other West African countries.
The 100 percent owned Korhogo gold project is an underexplored high-grade prospect that leverages close proximity to major gold projects in the Côte d'Ivoire. The company has already completed geophysical surveying and intends to progress exploration with its intended RC drilling campaign following drill sample results.
In August 2021, Mako Gold finalized the sale of its third gold project, Niou, to Nordgold (FRA:RTSD), a major high-yield gold producer. The Burkina Faso-based asset hosts high-grade gold mineralization and great exploration potential. Mako retains a one percent NSR in the project.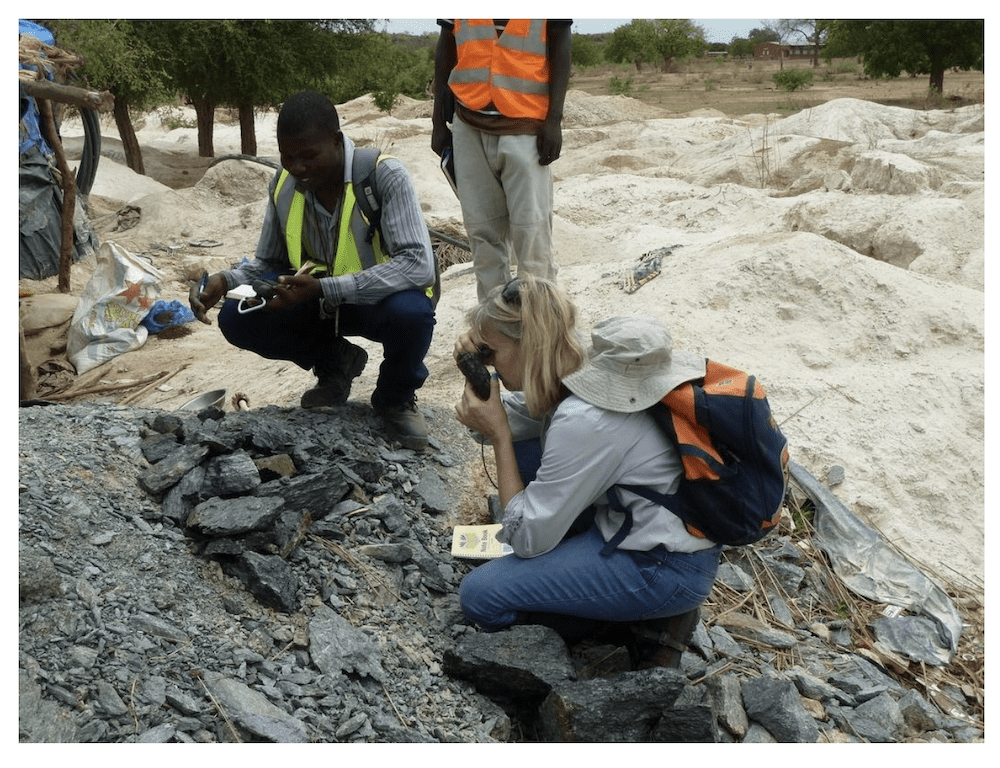 The next steps for the company include concentrating on a systematic exploration and growth strategy that aims to extend existing high-grade mineralization, test multiple high-priority regional prospects and deliver a maiden Mineral Resource Estimate at the Napié project. RC drilling at Korhogo presents exciting discovery opportunities for the company as well.
Mako Gold is led by a highly experienced team of mining industry professionals with a proven track record of gold discoveries in West Africa. Together, their over 75 years of combined experience and vested interest in success primes Mako Gold for exceptional gold exploration and economic growth.
Highlights
Mako Gold is a mineral exploration company focused on exploring West Africa's Birimian Greenstone Belts, which have estimates of over 400 million ounces of gold.
The company's highly attractive portfolio includes the flagship Napié project and Korhogo project.
The flagship Napié project boats potential for multi-million-ounce gold deposits and leverages excellent infrastructure and early-mover exploration opportunities.
The Korhogo project hosts two highly prospective permits, Korhogo Nord and Ouagadougou. Work has commenced in preparation for the project's extensive maiden drilling project.
In August 2021, Mako completed the sale of its third project, Niou, in Burkina Faso to Nordgold (FRA:RTSD). The company retains a one percent NSR in the project.
Mako has strategic alliances with Perseus Mining Limited (ASX:PRU) and Geodrill (TSX:GEO), including a binding agreement with Perseus to increase consolidated ownership from 51 percent to 90 percent.
Mako Gold is led by a highly experienced team of mining industry professionals with a proven track record of gold discoveries in West Africa.
Projects
Napié Project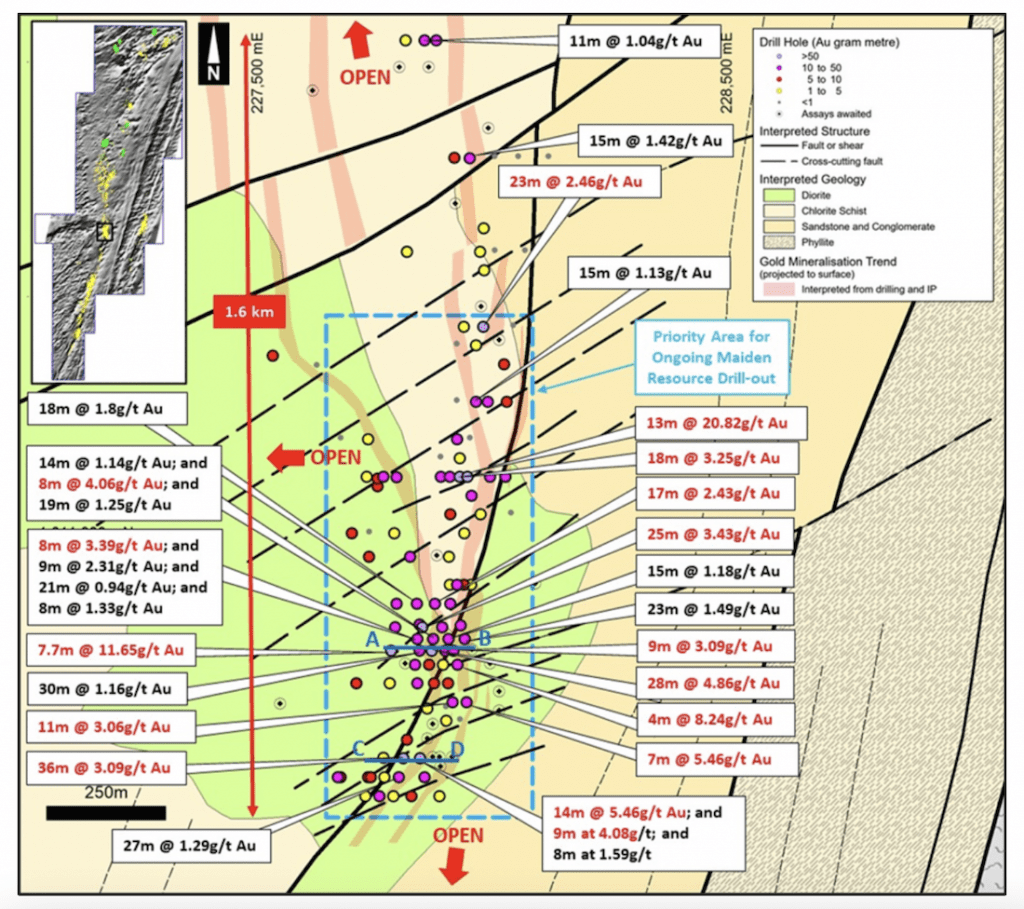 The flagship Napié project is located in the north-central part of Côte d'Ivoire, 30 kilometers southeast of the city of Korhogo. The asset leverages easy road access and covers a strike length of 30 kilometers over a highly prospective land package spanning over 225 kilometers squared. Mako Gold currently earns up to 75 percent interest in the Napié project under a farm-in and joint venture agreement with Occidental Gold SARL and recently entered into a binding agreement with Perseus Mining to consolidate ownership from 51 percent to 90 percent.
The property's main Tchaga and Gogbala prospects boast exceptional gold mineralization potential along their intersected 30 kilometer long shear zone. To date, areas drilled only cover a small portion of the main strike and shear zone. However, exciting exploration and discovery prospects point to multiple gold trends, which exhibit similar characteristics to the main trend.
Mako Gold has completed a maiden drilling program in 2018 and a total of six drill phases totalling 131 holes. Results from these extensive drilling campaigns demonstrate consistent high-grade, shallow gold mineralization with highlighted values like 13 meters at 20.82g/t gold and recovery of 94 percent gold in oxide and fresh rock metallurgy. The next steps for Napié include systematic exploration, testing and expansion efforts of this high-value project.
Korhogo Project
The Korhogo project hosts the Korhogo Nord and Ouangolodougou permits, which cover 185 kilometers squared and 111 kilometers squared respectively. The property stands adjacent to Barrick's 4.9 million ounce Tongon gold mine and in the same belt as Endeavour's 2.7 million ounce Wahgnion mine in Burkina Faso. Mako Gold owns 100 percent of Korhogo.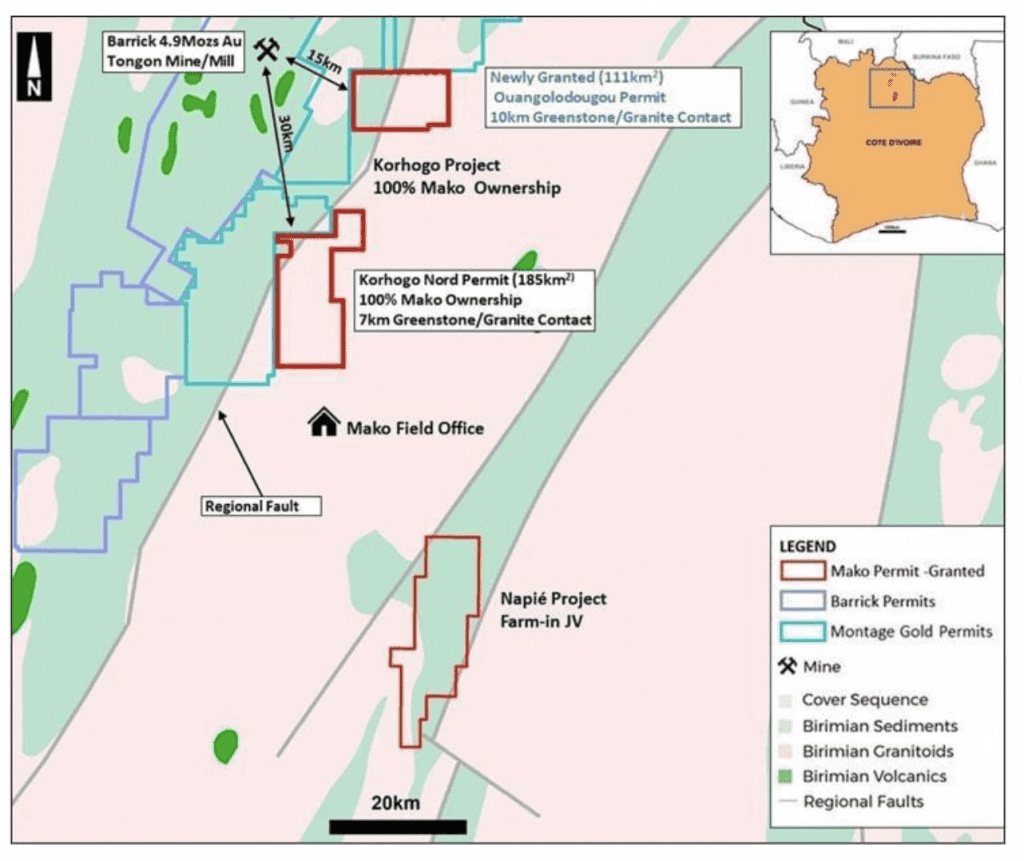 The permits cover significant greenstone-granite contact along a regional fault, which point to favorable high-grade gold mineralization conditions. The project stands underexplored with limited to no previous exploration history. Close proximity to successful gold players suggests Korhogo could mimic such yield and gold valuations as its geographic neighbors.
Mako Gold has planned a methodical exploration and soil sampling program. The company has already completed a soil geochemical program and airborne geophysical survey. Its projected RC drill program could reveal exciting gold discoveries at Korhogo.
Niou Project
The Niou Project is located within the Goren Greenstone Belt, in the central part of Burkina Faso. It is 50 kilometers north of Burkina Faso's capital Ouagadougou and leverages excellent accessible road systems. In August 2021, Mako Gold completed the sale of the Niou Project to Nordgold, a major high-yield gold producer. The company retains a one percent NSR of the project.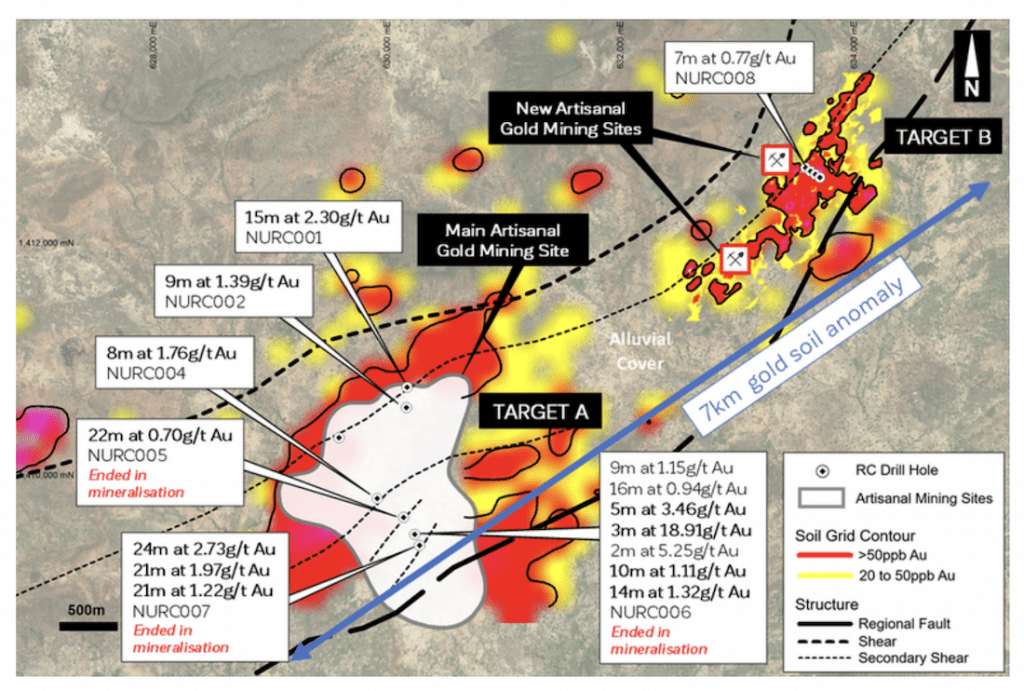 A 2019 RC drilling program at Niou tested two prospective targets of shearing associated with a major regional fault and coincident with a gold soil anomaly along a seven-kilometer long strike. Six of the seven holes drilled revealed significant gold intersections with multiple mineralized intervals and highlighted assayed grades of 53.8g/t and 2.73g/t gold. To date, Mako has completed soil geochemical sampling, geological mapping, rock chip mapping and airborne geophysics.
Management Team
Michele Muscillo — Non-Executive Chairman
Michele Muscillo is a Partner specializing in corporate law with HopgoodGanim Lawyers. He is an admitted solicitor and has a practice focusing almost exclusively on mergers and acquisitions, and capital raising. Muscillo has a Bachelor of Laws from Queensland University of Technology and was a recipient of the QUT University Medal.
In his role with HopgoodGanim Lawyers, Muscillo acted on a variety of corporate transactions including initial public offerings, takeovers and other acquisitions. His experience brings to the board expertise on corporate regulation, governance and compliance matters. Muscillo was previously a director of ASX-Listed Orbis Gold Limited until its takeover by TSX-Listed Semafo and is a non-executive director of ASX-Listed Aeris Resources (ASX:AIS), Xanadu Mines (ASX:XAM) and Cardinal Resources (ASX:CDV).
Peter Ledwidge — Managing Director
Peter Ledwidge, managing director and founder of Mako Gold, is a geologist with over 30 years of experience in exploration and mining primarily focused on gold in Canada, Africa and Australia.
Prior to founding Mako Gold, Ledwidge was a senior manager with ASX-listed Orbis Gold whereby he secured all of Orbis' permits in Burkina Faso and Côte d'Ivoire. He played a critical role in the discovery of the Nabanga gold deposit and thereafter contributed geological ideas towards the discovery of the Boungou mine, currently being mined by Endeavour Mining Corporation.
Steven Zaninovich — Non-Executive Director
Steve Zaninovich is a qualified engineer with over 25 years of experience in the mining industry. His career has encompassed all stages of the project development life cycle, from exploration and feasibility to construction and operations. Zaninovich has worked extensively in West Africa and Australia in a variety of project development, maintenance and operational roles. He served as COO with Gryphon Minerals before assuming the role of VP of Major Projects and becoming part of the executive management team at Teranga Gold Corp. following its acquisition of Gryphon, where he was responsible for the bankable feasibility study for the Wahgnion gold project.
Zaninovich has extensive West African on the ground experience, predominantly in gold, including Ghana, Burkina Faso, Mali, Senegal and Côte d'Ivoire. He is also currently a non-executive director of Indiana Resources Ltd., Sarama Resources Ltd., Canyon Resources Ltd. and Maximus Resources Ltd. He previously held non-executive director roles with Centaurus Metals, Gryphon Minerals, Orway Minerals Consultants, and an Executive position with Lycopodium Minerals.
Paul Marshall — Company Secretary, LLB, ACA
Paul Marshall holds a Bachelor of Law degree, a Post Graduate Diploma in Accounting and is a Chartered Accountant. He has more than thirty years of experience initially with Ernst & Young and subsequently twenty years spent in commercial roles as company secretary and CFO for a number of listed and unlisted companies mainly in the resources sector.
Marshall has extensive experience in all aspects of company financial reporting, corporate regulatory and governance areas, business acquisition and disposal due diligence, capital raising and company listings and company secretarial responsibilities.
Ann Ledwidge — General Manager of Exploration
Ann Ledwidge is a founder of Mako Gold and a qualified geologist with over 25 years of experience in mineral exploration. She has worked in various commodities but has focused primarily on gold and base metals projects for both junior and major companies in Canada, Africa and Australia.
Ledwidge ran her own consultancy for a number of years, based in Yukon, Canada providing technical expertise to a diverse group of junior exploration companies. She also previously worked as a mining inspector for the Canadian government, giving her insight into internationally approved codes and regulations for mining and water use.
Ledwidge most recently held the position of general manager of exploration with Orbis Gold in Burkina Faso until their recent takeover by Semafo. During her time with Orbis, she led the project team responsible for Orbis' Natougou discovery and advanced the Nabanga and Natougou projects to the resource estimation stage. Ledwidge also oversaw the Scoping Study initially completed for the Natougou deposit.
Ibrahim Bondo — Operations Manager--West Africa
Ibrahim Bondo is a founder of Mako Gold and has over 20 years of experience in the mineral exploration industry in Burkina Faso. Bondo has worked for numerous junior and major companies, on gold exploration and development projects within Burkina Faso in a variety of technical and logistical roles. He has had experience with all aspects of exploration including permit acquisition, drilling, geochemistry, geophysics and logistics.
Most recently, Bondo held the position of logistics manager for Orbis Gold. He was responsible for the construction and maintenance of camps as well as liaising with geologists to ensure the seamless operation of all projects. Bondo was actively involved in business development and was responsible for liaising with local permit vendors and was integral in the acquisition of new exploration permits and in maintaining good relationships with the vendors.
Boukaré Guigma — Chief Geologist
Boukaré Guigma, has over 15 years of experience in the intensive exploration of the West African Birimian. Throughout his career, he has actively participated in exploration projects from grassroots to feasibility studies.
Guigma has been involved in numerous gold and base metals discoveries and developments including the Natougou gold deposit (now the Boungou Mine), Nabanga gold deposit, Bissa gold deposit, Kiaka gold deposit and Gaoua copper-gold porphyry in Burkina Faso. As a skillful senior geologist, Guigma has developed expertise in the fields of geological modelling, interpretation of mineralization, statistical and geostatistical analysis of complex systems.
Request an Investor Kit
EXCITING upcoming projects!
IN-DEPTH reliable insights!
SUCCESSFUL growth strategies!
VALUE-BASED content!
Mako Gold