Lake Resources NL has received a vote of confidence from authorities in Argentina, reaffirming their support for lithium development and exploration.
Highlights:
Meetings in Argentina with the provincial governor and regulators reaffirmed support for Lake's flagship Kachi Lithium Brine Project, as well as other projects.
Argentina's three lithium provinces and new federal government continue to seek new export income sources, including the resources sector.
Lithium explorer and developer Lake Resources NL (ASX:LKE) has received a vote of confidence from authorities in Argentina, with meetings with provincial governors and regulators reaffirming their support for lithium development and exploration, including Lake's Kachi Lithium Brine Project in Catamarca Province.
The meetings, held with governors and regulators in Jujuy, Catamarca and in Buenos Aires, focused on the need to secure new forms of export income in each of the lithium provinces and under the direction of the new federal government. This included support for lithium development and exploration, while ensuring environmentally and socially responsible development in line with international best practice. This follows similar comments made in meetings prior to the recent elections.
The recent talks included members of Lake's local subsidiary, Morena del Valle S.A, a company established in Catamarca which employs primarily local people.
Lake's Managing Director Steve Promnitz said: "We are pleased with the continued support of regulators and government in the provinces in which we operate in Argentina and it clearly demonstrates their commitment to supporting more foreign investment in the sector when local concerns are recognised. As shareholders are aware, recent national elections in Argentina have resulted in a change of party and leadership and ongoing support from new members of government is always important.
"Such support is vital as Lake moves towards the development of what is undoubtably a very large new lithium project at Kachi based on a potentially groundbreaking direct extraction process, which offers the potential for a smaller environmental footprint without requiring evaporation ponds."
On 9 January (refer ASX announcement 9 Jan 2020), Lake announced that a battery grade lithium carbonate with 99.9% purity had been produced with very low impurities using partner Lake Solutions' disruptive technology in California. This exceeded the standard 99.5% purity required for battery grade, which together with minimal impurities such boron represented a potential major breakthrough for the lithium brine industry. Lake now plans to dispatch samples to potential downstream off-takers, for the purpose of securing binding offtake agreements for Kachi brine products.
The Kachi project ranks amongst the world's top 10 lithium brine resources. The mining leases cover over 70,000 hectares. By comparison, the target covers an area more than a third of the Sydney basin (Fig.2). Kachi has a maiden resource estimate of 4.4 million tonnes lithium carbonate equivalent (LCE) (Indicated 1.0 Mt and Inferred 3.4 Mt) within a much larger target (refer ASX announcement 27 November 2018).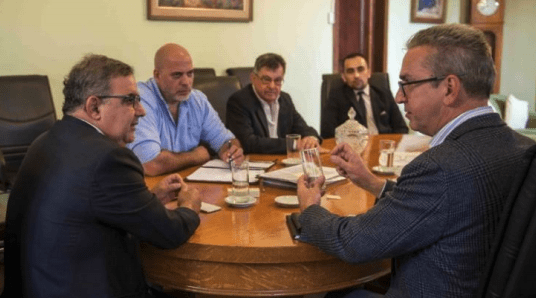 Figure 1: The new governor of Catamarca, Raúl Jalil, the new Minister for Mining, Rodolfo Micone, senior cabinet members and Lake's Steve Promnitz discussing company progress as reported in the local media. Copyright Ⓒ El Esquiú.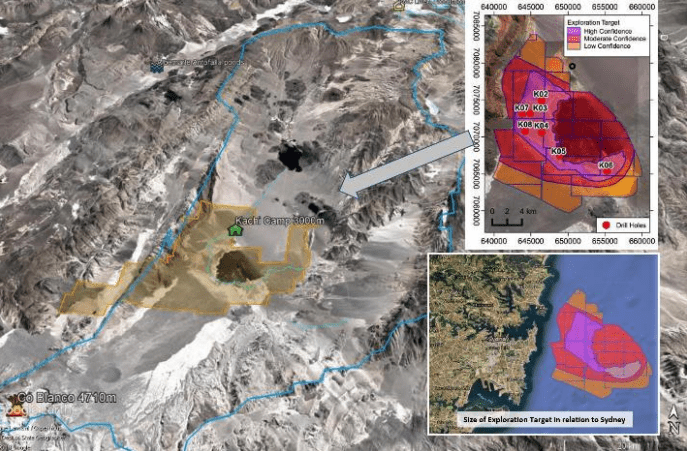 Figure 2: Kachi Lithium Project showing mining lease boundaries (yellow) covering 70,000 hectares at the lowest point of a large drainage basin of 6,800km2 (blue line) with insets showing the target size in relation to the Sydney basin (from ASX announcement 31 Jan 2019).
About Lake Resources NL (ASX:LKE)
Lake Resources NL (ASX:LKE, Lake) is a lithium exploration and development company focused on developing its three lithium brine projects and hard rock project in Argentina, all owned 100%. The leases are in a prime location among the lithium sector's largest players within the Lithium Triangle, where half of the world's lithium is produced at the lowest cost. Lake holds one of the largest lithium tenement packages in Argentina (~200,000Ha) secured in 2016 prior to a significant 'rush' by major companies. The large holdings provide the potential to provide consistent security of supply, scalable as required, which is demanded by battery makers and electric vehicle manufacturers.
The Kachi project covers 70,000 ha over a salt lake south of FMC/Livent's lithium operation and near Albemarle's Antofalla project in Catamarca Province. Drilling at Kachi has confirmed a large lithium brine bearing basin over 20km long, 15km wide and 400m to 800m deep. Drilling over Kachi (currently 16 drill holes, 3100m) has produced a maiden indicated and inferred resource of 4.4 Mt LCE (Indicated 1.0Mt and Inferred 3.4Mt) (refer ASX announcement 27 November 2018).
A direct extraction technique is being tested in partnership with Lilac Solutions, which has shown 80-90% recoveries and lithium brine concentrations 30-60,000 mg/L lithium. Battery grade lithium carbonate has been produced from Kachi brine samples with very low impurities (Fe, B, with <0.001 wt%). Phase 1 Engineering Study results have shown operating costs forecast in the lowest cost quartile (refer ASX announcement 10 December 2018). Test results have been incorporated into a Pre-Feasibility Study (PFS) aimed to be released soon. The Lilac process is being trialed with a pilot plant in California which will then be transported to site to produce larger battery grade lithium samples. Discussions are advanced with downstream entities, mainly battery/cathode makers, as well as financiers, to jointly develop the project.
The Olaroz-Cauchari and Paso brine projects are located adjacent to major world class brine projects either in production or being developed in the highly prospective Jujuy Province. The Olaroz-Cauchari project is located in the same basin as Orocobre's Olaroz lithium production and adjoins the Ganfeng Lithium/Lithium Americas Cauchari project, with high grade lithium (600 mg/L) with high flow rates drilled immediately across the lease boundary.
The Cauchari project has shown lithium brines over 506m interval with high grades averaging 493 mg/L lithium (117-460m) and high flow rates, with up to 540 mg/L lithium. These results are similar to lithium brines in adjoining pre-production areas under development and infer an extension and continuity of these brines into Lake's leases (refer ASX announcements 28 May, 12 June 2019).
Significant corporate transactions continue in adjacent leases with development of Ganfeng Lithium/Lithium Americas Cauchari project with Ganfeng announcing a US$237 million for 37% of the Cauchari project previously held by SQM, followed by a further US$160 million to increase Ganfeng's equity position to 50% on 1 April 2019, together with a resource that had doubled to be the largest on the planet. Ganfeng then announced a 10 year lithium supply agreement with Volkswagen on 5 April 2019. Nearby projects of Lithium X were acquired via a takeover offer of C$265 million completed March 2018. The northern half of Galaxy's Sal de Vida resource was purchased for US$280 million by POSCO in June-Dec 2018. LSC Lithium was acquired in Jan-Mar 2019 for C$111 million by a mid-tier oil & gas company with a resource size half of Kachi. These transactions imply an acquisition cost of US$55-110 million per 1 million tonnes of lithium carbonate equivalent (LCE) in resources.
For more information on Lake, please visit http://www.lakeresources.com.au/home/
Click here to connect with Lake Resources NL (ASX:LKE) for an Investor Presentation
Featured
Global News
Housing the world's largest deposits of lithium, Chile's unique geological landscape and climate make it ideal for lithium brine extraction
As the world continues on the path towards a future dominated by clean energy, lithium's importance only continues to grow. Demand for the battery metal has already reached an all-time high, increasing by 400 percent in 2021. What's more, there is every indication that this growth will continue in 2022, with prices increasing by 126 percent in just the first quarter.
Currently, Australia and Chile are the two leading producers of lithium, respectively accounting for 46.3 percent and 23.9 percent of worldwide production. Both countries are jurisdictionally inclined to support the mining sector. However, Chile's potential could one day see it outstrip even Australia where investment is concerned.
Housing the world's largest deposits of lithium, Chile's unique geological landscape and climate makes it ideal for lithium brine extraction. The country thus has a pivotal role to play in meeting demand and establishing a stable global supply chain.
---
A critical component of sustainability
Climate change is an undeniable problem, one which requires a collaborative effort to address. It is for this reason that governments around the world have all agreed to pursue full climate neutrality by 2050. Because combustion engines represent an inordinate percentage of greenhouse gas emissions, replacing them with electric vehicles (EV) is essential if any nation is to achieve their sustainability goals.
Lithium is used extensively in both consumer and professional electronics. It is also a staple metal in multiple other sectors, including mining, manufacturing and energy storage.
Given its cross-sector industrial importance, the battery metal was already in high demand.
The large-scale manufacturing of electric vehicles has caused this demand to increase exponentially. As multiple automotive manufacturers construct gigafactories to ramp up EV distribution, the need for lithium is growing well beyond our current production capacity.
Investors and mining companies can benefit by turning to jurisdictions like Chile to ramp up supply. The world's migration towards a sustainable future simply cannot occur without lithium.
Lithium: Australia versus Chile
Although Australia houses impressive lithium reserves, the majority of the country's stores occur in hard rock deposits. Mining these deposits is relatively inexpensive, but hard rock lithium operations also tend to have narrow margins compared to other methods. In particular, lithium brine extraction offers higher yields, greater efficiency and a lower overall environmental impact.
Currently, the largest lithium producer in Australia is Pilbara Minerals (ASX:PLS,OTC Pink:PILBF). Its flagship project, the Pilgangoora operation, is situated atop one of the world's largest hard rock lithium deposits. It also jointly owns a pegmatite lithium project with Atlas Iron (ASX:AGO), the Mt Francisco project.
Geography represents Chile's first major advantage over other jurisdictions. Alongside Bolivia and Argentina, Chile lays claim to a geographic region known as the Lithium Triangle. Located in the Andes in South America, it contains an estimated 68 percent of the world's identified lithium resources.
The Lithium Triangle is home to a series of vast salt flats, beneath which sit incredibly lithium-rich brine pools. More promising still is the climate of the region, which is known for being incredibly hot and dry. This represents a considerable boon for extraction operations, which typically rely on evaporative processes.
A powerful investment opportunity
Chile's mining sector has leveraged its arid geography to great effect. The country's Salar de Atacama salt flat is the largest-producing brine deposit in the world. It is also home to several major lithium brine operations.
One of these is owned and operated by Albemarle (NYSE:ALB). Currently the largest business provider of lithium for electric vehicle batteries, Albemarle also operates a lithium carbonate plant at La Negra. According to an Albemarle spokesperson, the company has a long history in Chile backed by a unique contract.
SQM (NYSE:SQM) operates another major lithium brine operation in the salt flat. As the world's largest lithium producer overall, the company recently announced plans to reduce brine extraction in the region by 50 percent by 2030. This announcement came in tandem with a commitment to reduce water usage across all its operations by 40 percent.
Finally, just south of Salar de Atacama is situated the highest-quality lithium pre-production project in Chile. Maricunga is jointly owned by Lithium Power International (ASX:LPI), Minera Salar Blanco and Li3 Energy. Situated just 250 kilometers from Chile's coast, and 170 kilometers from the mining town of Copiapo, it's said to possess characteristics directly comparable to Atacama. Maricunga is also adjacent to Highway 31, which connects Northern Chile to Argentina.
The most significant challenge to Chile's growth, from an investment perspective, is sociopolitical. Although the country has a history of being relatively friendly towards the mining sector, its current government is exploring new legislation that could nationalize both copper and lithium. A new mining royalty bill is also in the works, which could increase tax rates by up to 80 percent.
It's worth noting that not every investor considers the current political climate to be a risk. South32 (ASX:S32), a spinoff of BHP (ASX:BHP), recently invested US$1.55 billion to purchase a 45 percent stake in the Sierra Gorda copper mine, and a lithium auction held by Chile earlier this year saw Chinese manufacturing company BYD acquire extraction rights for 80,000 metric tons of lithium.
Takeaway
Chile is home to the largest, richest and most valuable lithium deposits in the world. For many investors, the high margins and low cost of lithium extraction in Chile more than make up for the potential of a few political speed bumps.
This INNSpired article is sponsored by Lithium Power International (ASX:LPI). This INNSpired article provides information that was sourced by the Investing News Network (INN) and approved by Lithium Power International in order to help investors learn more about the company. Lithium Power International is a client of INN. The company's campaign fees pay for INN to create and update this INNSpired article.
This INNSpired article was written according to INN editorial standards to educate investors.
INN does not provide investment advice and the information on this profile should not be considered a recommendation to buy or sell any security. INN does not endorse or recommend the business, products, services or securities of any company profiled.
The information contained here is for information purposes only and is not to be construed as an offer or solicitation for the sale or purchase of securities. Readers should conduct their own research for all information publicly available concerning the company. Prior to making any investment decision, it is recommended that readers consult directly with Lithium Power International and seek advice from a qualified investment advisor.
LPI:AU
Revenue from Australia's mobile sector is expected to grow from AU$9.6 billion in 2021 to AU$11.2 billion in 2026. Here's what to know about this industry.
After lagging behind for a prolonged period, Australia's tech sector is ramping up at an accelerated pace. The tech sector is now equivalent to 8.5 percent of the country's GDP as of the end of 2021, an increase of 26 percent since the onset of COVID-19 through June 2021 and a massive 79 percent increase over the past five years. Tech contributes AU$167 billion to the Australian economy, trailing only the mining (AU$205 billion) and financial/insurance (AU$169 billion) sectors.
Australia's characteristically resilient economy — which had not experienced a recession in nearly 30 years prior to COVID-19 lockdowns — has provided a sturdy backdrop for its growing tech sector. The growth in the tech sector's contribution to the GDP has outpaced average growth of other industries by more than 400 percent, a gain partly attributable to accelerated digital technology adoption during the pandemic.
This dramatic expansion is largely in response to Australia's need to catch up to the rest of the world and assert itself in the global tech marketplace. Should the tech sector continue to grow at its current rate it will eventually surpass the relative GDP contribution of the long dominant mining sector. This will also complete the process of bringing Australia more in line with other western economies such as the UK, and notably Canada, which is comparable to Australia in terms of its dominant mining and agricultural industries.
---
In terms of digital innovation earnings as a percentage of GDP, for example. Australia stands at 7.4 percent, significantly behind the 11.2 percent average for companies that are part of the Organisation for Economic Cooperation and Development (OECD). According to its September 2021 Policy Primer report, the Australian Academy of Sciences called for the federal government to place greater emphasis on supporting emerging digital technologies.
"Australia risks falling behind as a technologically-driven nation unless we recognise emerging digital technologies as a central, independent sector in its own right, warranting investment in the core aspects of research, innovation, and workforce development," the report stated.
Understanding Australia's mobile tech landscape
One of the drivers of Australia's tech sector expansion is its booming mobile telephone industry. This expansion has taken many forms ranging from expanded use of mobile telephony, adoption of blockchain technology for supply chain management and the rise of the cryptocurrency market. The application of mobile tech to the banking industry is just one space where mobile usage has become key and is expected to continue developing. According to research firm KPMG, digital platforms will become the preferred and dominant business model form.
Chase Bank completed a survey revealing that the COVID-19 pandemic has accelerated the adoption of mobile banking technology. Banking apps allow users to deposit cheques, pay bills and perform transfers from their mobile device.
One critical side effect of COVID-19 has been the way lockdowns and related restrictions on behaviour has changed the way people live and work. Remote working conditions and enforced isolation has triggered increased demand for improved connectivity and internet speeds to facilitate this transition in corporate culture during the pandemic.
As a result, Australia's leading mobile telephony giants have been obliged to improve data capacity and speed, especially in regional areas that have badly lagged behind urban coverage. Some people have relocated to regional areas — where connectivity remains a challenge — and others are requiring more data capacity and fast speeds to allow them to work more efficiently from home.
The Australian mobile sector is dominated by three main players: Telstra (ASX:TLS), Optus — a subsidiary of Singapore-based Singtel (SGX:Z74) — and TPG Telecom (ASX:TPG). Telstra is the largest provider of mobile services with 48.7 percent market share followed by Optus at 26.3 percent.
In 2022, there have already been several major new developments in the Australian mobile sector. One such event has been the tentative network sharing agreement announced in February between Telstra and TPG Telecom, which brings an end to the bitter rivalry between the two competitors. The agreement provides a comprehensive framework for the two telecom giants to share mobile telecommunication infrastructure across Australia.
TPG and Telstra will both enjoy significant savings and benefits from this arrangement. Telstra will reap up to AU$1.8 billion in added revenues while gaining access to TPG's spectrum that expands Telstra's fixed wireless services in regional areas. Correspondingly, TPG gains access to 3,700 Telstra towers in regional areas; this means TPG does not have to spend significant money to duplicate the infrastructure for its own use.
In addition, Telstra announced earlier in the year that it will spend up to AU$1.6 billion on new infrastructure intended to improve connectivity and internet speeds as part of its response to the overall need to accommodate rising consumer demand in the wake of the pandemic.
What's the outlook for mobile tech in Australia?
One of the positive side effects of the pandemic has been the increasing adoption of wireless services by Australians and the ownership of internet-of-things devices that are prevalent in nearly all households.
According to GlobalData, a data and analytics company, mobile sector revenue in Australia is expected to grow from AU$9.6 billion in 2021 to AU$11.2 billion in 2026 at a compound annual growth rate of 3 percent. This revenue growth will mainly accrue from growth in the mobile data subsector.
Meanwhile, the three leading telephone companies will not only be expanding their 4G services but rolling out 5G networks across the country. 5G allows for improved and additional smartphone services and also enhances fixed wireless services that are competitive with higher speed National Broadband Network (NBN) connections.
In addition, low earth orbit satellite services are beginning to roll out in Australia led by Elon Musk's SpaceX's Starlink service that offers broadband connections delivered via its satellite network.
Overfall, the winding down of restrictions due to COVID-19 will likely see the big three companies enjoy higher revenues in 2022 after declines in earnings owing to the pandemic. Telstra, Optus and TPG Telecom all experienced significant earnings drops between 2020 and 2021 due to reduced international roaming fees, softening demand for headsets and ongoing adoption of NBN services.
But the outlook for 2022 is positive given overall improved economic prospects as Australia emerges from the pandemic, which actually increased overall consumer use of communication services in 2021.
Lockdowns resulted in increased consumer uptake of online services such as online shopping, data-intensive video streaming and the additional household usage of communication services. Indeed, in 2021, data traffic reached record highs as Australian consumers demanded improved internet speeds and unlimited data plans. Remote work will likely continue to remain elevated in 2022 and beyond, which should reinforce increased consumption of home communications services.
Telstar and TPG Telecom in particular are embarking on long term strategies that will drive future earnings growth via accelerating 5G adoption, expansion in dark fibre, and increased adoption of new services such as edge/cloud computing.
Don't forget to follow us @INN_Australia for real-time updates!
Securities Disclosure: I, Harold Von Kursk, hold no direct investment interest in any company mentioned in this article.
From Your Site Articles
Related Articles Around the Web
General Manager Matt Herbert described Ontario as an "undiscovered gem," and spoke about the company's work on its lithium projects in the province.
---
After making its ASX debut this past November, Green Technology Metals (ASX:GT1) has been hard at work in Ontario, Canada, where it holds three projects covering 35,000 hectares.
Speaking to the Investing News Network at the Prospectors & Developers Association of Canada (PDAC) convention, General Manager Matt Herbert described the province as an "undiscovered gem" with the potential to contribute to the lithium supply chain in an environmentally conscious manner.
"I think the opportunity there is to create some very, very green lithium," he said.
---
"At the moment, a lot of lithium is mined in Western Australia, (then) shipped to China for processing; from China it goes to European battery markets. I think by the time that lithium arrives where it's supposed to arrive it's left itself a bit of a carbon footprint," Herbert explained during the conversation. "We have a real opportunity here to leverage low-carbon lithium in a place that is really screaming for security."
Green Technology Metals has already seen support from members of the Ontario government, including recently re-elected Premier Doug Ford, and Greg Rickford, who is the province's minister of northern development, mines, natural resources and forestry, as well as its minister of indigenous affairs.
"Both are massive supporters of critical minerals," said Herbert. "Those things are important when you're at the permitting and approval stage, and that's exactly where we're at. We're able to leverage those relationships really well, and there's just no better place to be at the moment."
Watch the interview above for more from Herbert on Green Technology Metals and its plans for the next six months. You can also click here for our recap of PDAC, and here for our full PDAC playlist on YouTube.
Don't forget to follow us @INN_Australia for real-time updates!
Securities Disclosure: I, Charlotte McLeod, hold no direct investment interest in any company mentioned in this article.
Editorial Disclosure: Green Technology Metals is a client of the Investing News Network. This article is not paid-for content.
The Investing News Network does not guarantee the accuracy or thoroughness of the information reported in the interviews it conducts. The opinions expressed in these interviews do not reflect the opinions of the Investing News Network and do not constitute investment advice. All readers are encouraged to perform their own due diligence.
Investing News Network websites or approved third-party tools use cookies. Please refer to the cookie policy for collected data, privacy and GDPR compliance. By continuing to browse the site, you agree to our use of cookies.