Phase 5 RAB Tranche 1 Drill Assay Results Confirm Significance of Makuutu as a Strategic Asset
September 04, 2023
The Board of Ionic Rare Earths Limited ("IonicRE" or "The Company") (ASX: IXR) advises on progress at its 60 per cent owned Makuutu Heavy Rare Earths Project ("Makuutu" or "the Project") in Uganda.
---
Phase 5 Rotary Air Blast (RAB) Tranche 1 assays on Exploration Licence (EL) 00147 reporting clay-hosted rare earth intersections achieved in 43 of 45 drill holes received including;

3 metres at 1,337 ppm TREO from 13 metres in RRMRB083;
10 metres at 1,029 ppm TREO from 5 metres in RRMRB079;
11 metres at 1,013 ppm TREO from 6 metres in RRMRB105;
7 metres at 974 ppm TREO from 6 metres in RRMRB078;
24 metres at 967ppm TREO from 4 metres in RRMRB086;

Results support historic kilometre-spaced drilling program indicating large areas of rare earth mineralisation outside current Mineral Resource Estimate (MRE);
Results from a further 31 RAB holes from unexplored Exploration Licence (EL) 00257 are currently being analysed; and
Diamond drilling is continuing infill drilling at Retention Licence (RL) 00007, aiming to increase resource classification to Indicated Resource, with 78 holes completed (1,580 metres) to date.
A total of 45 holes were drilled with 43 recording intervals of regolith hosted rare earth mineralisation above the 2022 Mineral Resource Estimate (MRE) cut-off grade of 200 ppm TREO-CeO2. (ASX: 3 May 2022). Table 1 lists the intersection compilations and Figure 2 shows the location of the drill results.

IonicRE's Managing Director Mr Tim Harrison said the Phase 5 RAB Tranche 1 assay results further validate the massive potential of EL00147 by having identified some of the highest-grade intervals drilled at this exploration target.
"EL00147 has now confirmed clay-hosted REE in 66 of 70 RAB holes drilled across programs in 2021 and 2023, on a broad 500 metre spacing, which highlights the massive potential of this exploration target. These results confirm the significance of Makuutu as a strategic asset with an expanding IAC deposit. This potential to expand the Makuutu resource further to the east means we expect the scale of the Project to substantially increase in the future, with these new assays inferring considerable upside at Makuutu."
"Our focus on the delivery of the Makuutu Heavy Rare Earths Project in Uganda positions us to provide a secure, sustainable, and traceable supply of magnet rare earth oxides. Along with our Belfast recycling facility, Makuutu is key to us harnessing our technology to accelerate our mining, refining, and recycling of magnets and heavy rare earths which are critical for the energy transition, advanced manufacturing, and defence," Mr Harrison said.
The Tranche 1 results are all from drilling located on Exploration Licence EL0147, located at the eastern end of the extensive licence holding at Makuutu.
This area was previously tested with 1-kilometre spaced RAB holes in 2021. The aim of the 2023 program was to decrease the hole spacing to approximately 500 metre spaced holes and determine broad trends and zonation of mineralisation.
The Company is progressing the development at the Makuutu Heavy Rare Earths Project through local Ugandan operating entity Rwenzori Rare Metals Limited ("RRM").
Figure 1: Makuutu project drill status plan showing location of RAB results and current core drilling program location.
A significant number of the drill intercepts including thick high-grade intercepts RRMRB07 (10 metres at 1,029ppm TREO), RRMRB105 (11 metres at 1,013ppm TREO), RRMRB086 (24 metres at 967ppm TREO) and RRMRB085 (22 metres at 879ppm TREO) are within Exploration Target area B4. The mineralisation in this area is hosted by a mixture of weathered rock types including granite, diorites and mafic rocks. These rocks are different from the primarily sedimentary rocks that form the protolith for the Makuutu MRE.
Results from Exploration Target area A6 are similar in TREO grade and thickness to the wide spaced 2021 drilling of the same area. This area is considered consistent to and along trend from MRE area I.
Further work planned on these areas includes metallurgical test work to determine potential rare earth extractions and core drilling to progress to a resource estimate.
Click here for the full ASX Release
This article includes content from Ionic Rare Earths, licensed for the purpose of publishing on Investing News Australia. This article does not constitute financial product advice. It is your responsibility to perform proper due diligence before acting upon any information provided here. Please refer to our full disclaimer here.

IXR:AU
14 September
Overview
Rare earth metals are best classified as difficult to discover and extract. In 2019, nearly 60 percent of global annual production (an estimated 132,000 tonnes) came from China, with only 12.2 percent of production coming from the second largest producer, the United States. But, what are rare earth metals? And why are they more important than ever?
Rare earth metals are classified into two categories: light and heavy. Light rare earth elements (LREEs) are commonly available and include lanthanum, cerium, praseodymium, and neodymium. Heavy rare earth elements (HREEs) are more difficult to source (and therefore more expensive), and include samarium, europium, gadolinium, terbium, dysprosium, holmium, erbium, thulium, ytterbium, lutetium, yttrium, and scandium.
Known as the seeds of technology, rare earth metals set to play an ever growing important role in the future of clean energy, as well as serving as a key ingredient in the permanent magnets found in wind turbines and electric vehicles. With such rapid forecast demand looming it's clear why this segment of the mining industry is attracting attention.
Ionic Rare Earths (ASX:IXR, or "IonicRE") is an exploration and mining development company that aims to create rare opportunities for investors by operating a low capital operation with a high-margin product. The company currently has a 51 percent ownership (earning up to 60 percent) over the promising rare earth elements Makuutu project located in Uganda. Even though it is the company's only project, the Makuutu project has a post-tax long-term free cash flow estimate of US$766 million over 11 years. This is expected to grow dramatically in the next 12 months as the company increases the resources to increase the potential life at Makuutu beyond 30 years.
The company is focused on developing its flagship Makuutu Rare Earths Project in Uganda into a significant, long life, high margin, supplier of high-value critical and heavy rare earths. Makuutu is an advanced-stage, ionic adsorption clay (IAC) hosted rare earth element (REE) project highlighted by near-surface mineralisation, significant exploration upside, excellent metallurgical characteristics, and access to tier one infrastructure. The clay-hosted geology at Makuutu is similar to major IAC rare earths projects in southern China, which are responsible for the majority of global supply of low-cost, high value Heavy REOs (>95% originating from IAC). Metallurgical testing at Makuutu has returned excellent recovery rates, which provide multiple avenues for a low-CAPEX process route. Makuutu is well-supported by tier-one existing infrastructure which includes access to major highways, roads, power, water and a professional workforce.
Makuutu will produce a mixed rare earth carbonate (MREC) product, and is planning on developing a standalone refinery to then process the radionuclide MREC product to produce secure and traceable individual rare earths required to supply a growing western demand.
Key investor take-aways:
The Basket; High content of critical and heavy rare earths (73 percent) required to enable transition to carbon neutrality.
Low capital development (US$89M); Scalable modular approach means that we can expand the operation from initial capital investment using free cash flows from the project.
High payability mixed rare earth carbonate (MREC) with no radionuclides.
Long life; 27 years defined but scope to increase this to be much greater with additional exploration upside pending.
Investigating standalone heavy rare earth refinery to separate MREC into refined products for marketing to western end users.
Figure 1: Makuutu is quickly being defined as one of the world's most strategically important rare earth projects.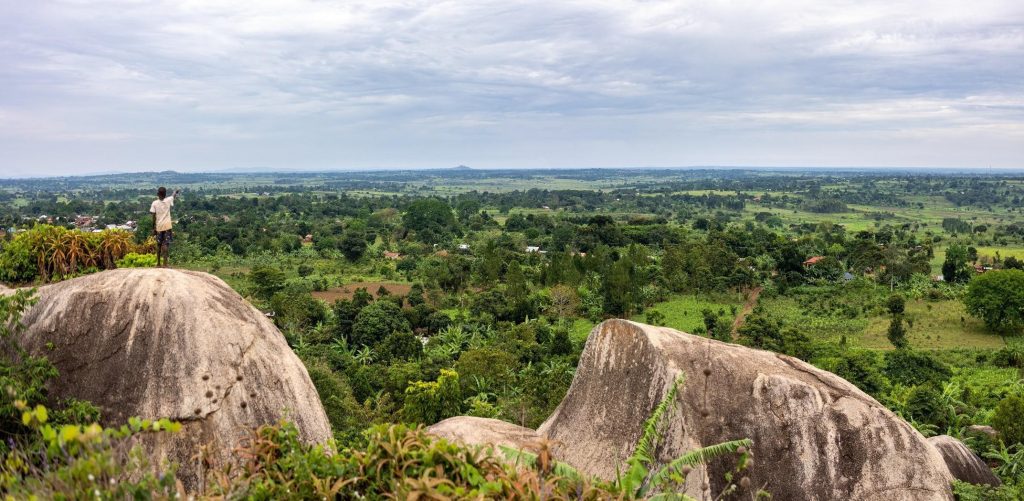 Figure 2: Granit outcroppings south of the mineralisation trend, with the expansive Makuutu project area in the distant north.
Historically, the majority of rare earth metals have been produced in China. However, economically significant deposits are now being explored and developed all around the world due to the increased commercial interest in the element driven by desires to develop secure supply chains to meet dramatic increases in future demand.
Additionally, Makuutu is the third-largest scandium deposit on the planet with 9,450t+ of scandium available and near term potential for a step change in size.
"We've recently done some exploration drilling that indicated that the overall mineralization system of Makutuu is going to get a lot bigger, so we're going to continue to add value to shareholders and build a very large project," Tim Harrison said in a recent interview.
Figure 3: Phase 4 infill drilling at Makuutu which is expected to net a significant increase in resources at Makuutu.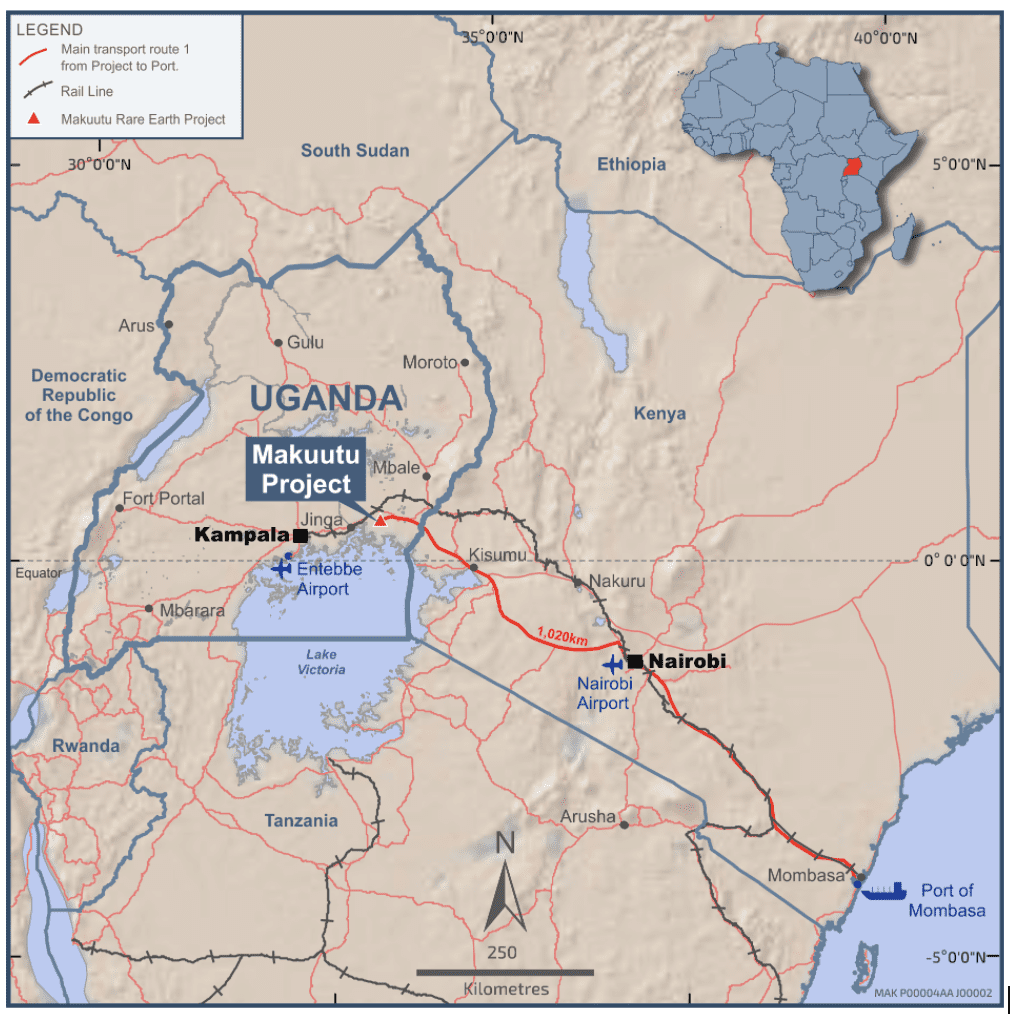 Figure 4: Makuutu project location, 120 km east of Kampala, Uganda.
Makuutu may have a strong presence of scandium, but the project also serves as a "one-stop-shop" for many other rare earth elements, especially the high value and high demand magnet rare earths , neodymium, praseodymium, dysprosium and terbium, and many others. There are 16 rare earth elements found in the Makuutu IAC mineralization, with lanthanum oxide, yttrium oxide, and neodymium oxide being found in the highest concentrations. Forecasting the price of all the rare earth elements found at Makuutu is how Ionic Rare Earths is expected to earn US$766 million over 11 years, with much more upside long term given sensitivity analysis indicated a 10% increase in rare earth prices projected a massive 30% increase in NPV post tax.
Ionic Rare Earths is led by a strong corporate management team with decades of applicable experience. Trevor Benson, the chairman, has over 30 years experience with investment banking and stockbroking, focusing on the resources sector. Tim Harrison, managing director, brings 20 years of experience in mineral processing and hydrometallurgy. Max McGarvie, the non-executive director, has 45 years of experience in mining development and mineral processing. Combined, the experienced management team is fully equipped to lead Ionic Rare Earths to success.
Ionic Rare Earth's Company Highlights
Ionic Rare Elements is an exploration and mining company that is cultivating a promising basket of rare earth metals, which includes magnet rare earths neodymium, praseodymium, dysprosium and terbium, in high demand to feed the insatiable demand for Evs and offshore wind turbines
Makuutu's unique rare earth basket has the full list of all individual REEs required for the future industries dependent upon a secure and stable supply
The Makuutu project is a low-capital development that will produce a high-margin product
Rare earth metals already have many applications, but a forecast demand of these technology metals already exceeds potential supply indicating that long term REE procing is set for significant gains
The Makuutu project is considered the third-largest scandium resource globally, and has the potential to produce many other in-demand REEs
IonicRE is dedicated to developing and extracting value from the Makuutu project with a potential of extending the to 2050 and beyond
IonicRE is planning on developing heavy rare earth refining capacity and supplying western markets as the next step in maximising the value of the Makuutu basket in a climate of strained supply.
IonicRE's magnet recycling business Ionic Technologies, has executed landmark partnership agreements with Ford Technologies, Less Common Metals, and British Geological Survey (BGS) to create a UK rare earth supply chain from recycled magnets.
Ionic Rare Earth's Key Projects
Makuutu Project
The Makuutu project covers an approximate area of 300 square kilometers and is located 120 kilometers away from Uganda's capital city of Kampala. The project has a pre-existing tier-one infrastructure that consists of tarred roads, a nearby rail, power, water and even cell phone services. The project is fully accessible year-round.
Figure 5: Makuutu project and proximity to existing infrastructure.
The Makuutu project hosts the highly desirable mineralization of rare earth bearing ionic adsorption clay (IAC). IAC mineralizations have many numerous advantages over hard rock REE projects. IAC mineralizations are softer, near surface and have relatively low operating costs due to ease of mining, allow for simplistic processing methods, and possess mixed high-grade rare earth elements and a high value basket with no radionuclides. The low mining costs combined with a simple processing method create a low-cost operation that produces a high-margin product with a value that is expected to also see a step change increase as a stable global supply of scandium is demonstrated.
The current mineral resource estimate of the Makuutu project is 315 Million tonnes rated at 650 ppm TREO, at a cut-off grade of 200 ppm TREO-CeO2. One exciting upside to this project is that of the 37 km long mineralisation trend, the resource is defined within discrete areas across only a portion of the 26 kilometers drilled previously, and additional clay zones identified across the full mineralisation trend.
Ionic Rare Earths is using simple extraction and processing techniques that allow them to keep operating expenses low. This is possible because of the IAC mineralization that defines the area. The mineralization has a near-surface orebody that enables low-cost bulk mining with a low strip ratio.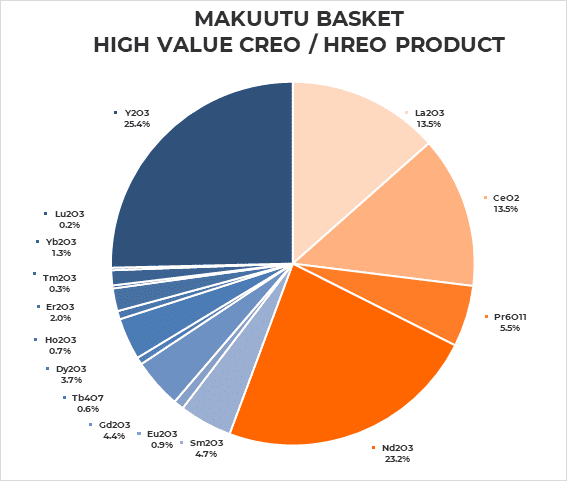 Figure 6: Makuutu's critical and heavy rare earth dominant basket has a high value and wide appeal.
This project is 100% owned by Ugandan company Rwenzori Rare Metals Limited, which has an ownership structure as follows; Ionic Rare Earths owns 51 percent, Rare Earths Elements Africa owns 42 percent(which is reducing), and Ugandan Partners hold 7 percent (which is reducing).
Ionic Rare Earth's Management Team
Trevor Benson – Chairman
Trevor Benson has over 30 years of experience within investment banking and stockbroking, specializing in the resources sector. He has also worked for large Australian and international corporations and held a number of directorships with ASX-listed companies. Most recently he held the position of Executive Chairman and CEO for Walkabout Resources Ltd.
Benson's focus within the investment banking industry was within SE Asia and China specializing in merger and acquisitions and equity capital market transactions and advising Australian and International companies, including being an exclusive adviser to Chinese State-Owned Enterprises, and Hong Kong-listed resource companies.
Benson has cross-border experience including Africa, UK, Hong Kong, and China and has advised and listed numerous ASX listed companies.
Tim Harrison – Managing Director
Tim Harrison initially joined the Company in the role of Project Manager of Makuutu Rare Earths Project at the start of 2020. Since then, he has been driving development and value creation, and was appointed CEO in June 2020 and was appointed Managing Director in December 2020.
Harrison holds a Bachelor of Chemical Engineering and has over 20 years of experience and an extensive and successful track record in the fields of both mineral processing and hydrometallurgy across multiple commodities.
Harrison has been involved in project development, process and flowsheet development, studies, test work planning and supervision, engineering, construction, commissioning, operations and project management. Harrison has been engaged with operations and projects across Australia, Africa, Asia and Eurasia.
Jill Kelley – Executive Director
Jill Kelley has previously held roles at the highest levels of international leadership and has played a crucial role in supporting U.S. military operations spanning over 60 countries, collectively known as the U.S. Coalition Allies. Ms. Kelley's networks in, and knowledge of, Europe, the Middle East, Asia, and South and Central America have helped advance American interests during the most critical points in current history.
As former honorary ambassador to U.S. Central Command General Mattis and CIA Director David Petraeus, Kelley met regularly with Royals, Presidents, Prime Ministers, and Parliamentarians to foster military, security, and economic relationships. Kelley received the Pentagon's esteemed Joint Chiefs of Staff Award for her leadership, along with the Multi-National Military Forces Award, an honour only bestowed upon a few individuals.
Max McGarvie – Non-Executive Director
Max McGarvie is a senior mining executive with an extensive portfolio of technical/managerial appointments in a career exceeding 45 years in mine development, mineral processing, operational and management roles across Australia, Africa and the Middle East.
He has a long and distinguished career in the mining industry, a significant portion of this with Iluka Resources Limited and prior entities, including development roles within its mineral sands operation at Eneabba, Western Australia and a major role in returning the Sierra Rutile mineral sands operation in Sierra Leone (operated by Iluka) to profitable operations following the civil war in that country.
McGarvie's career has covered a range of senior roles in the mining sector including Production Manager, from Registered Mine Manager to CEO, and he has a deep knowledge and understanding of the African environment and project development in this theatre.
Brett Dickson – CFO and Company Secretary
Brett Dickson has over 20 years' experience focusing on the start-up, restructuring, management, growth and financing of emerging publicly listed exploration and mining companies, including projects advancing from exploration through development to production. This experience ranges through a spectrum of activities; from capital and debt raisings, corporate restructuring and stock exchange listings.
Dickson has been a Director of, and involved in the executive management of, a number of publicly listed resource companies with operations in Australia, Nicaragua, Chile, Mexico, Finland, Ukraine, Laos, Papua New Guinea and South Africa.
Keep reading...Show less
TOP STOCKS
American Battery4.030.24
Aion Therapeutic0.10-0.01
Cybin Corp2.140.00
Investing News Network websites or approved third-party tools use cookies. Please refer to the cookie policy for collected data, privacy and GDPR compliance. By continuing to browse the site, you agree to our use of cookies.