November 18, 2021
Sarama Resources (TSXV:SWA) focuses on developing a portfolio of highly prospective gold projects in West Africa. The company's lead project is located in the Southern Houndé belt, one of the most prolific gold belts in Africa which features a growing gold endowment of more than 19 million ounces. The Company's second fully owned project is situated in the neighboring Banfora belt which is widely considered underexplored and highly promising.
Sarama's 100 percent owned flagship Sanutura Project is a 1,450 square kilometre late-stage exploration project located in the Houndé belt in Burkina Faso and contains ~3 million ounces of gold in resource, including over 2 million ounces of high-grade material grading +2 g/t gold and 1 million ounces of oxides within a pit shell. The project's large oxide and a free milling gold resource will allow a new mine to be financed and established using a simple CIL process flow sheet, lowering technical risk and upfront capital needs.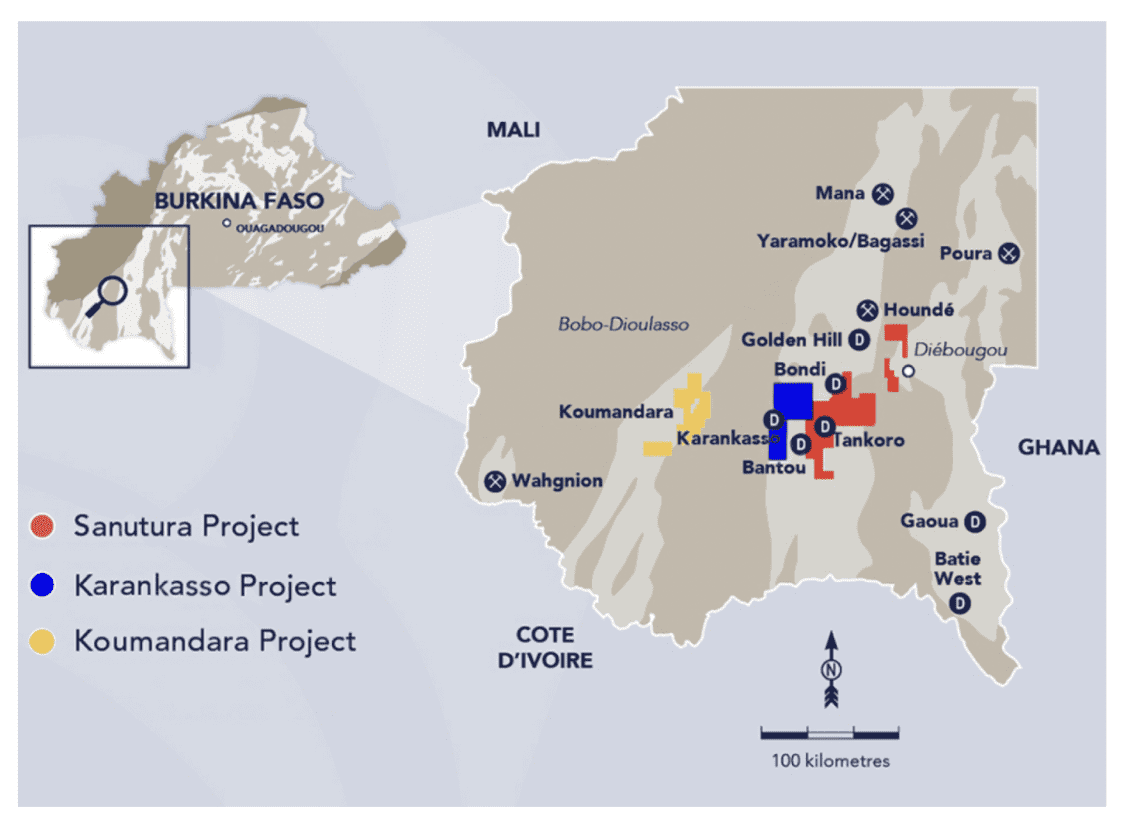 Sarama Resources' Company Highlights
Sarama Resources' projects span over 2,000 square kilometres in Burkina Faso's Houndé belt, one of the most prolific gold belts in West Africa.
The company's fully-owned flagship Sanutura Project is a 1,450 square kilometre near-term development project and contains over 2 million ounces of material grading +2 g/t.
The Sanutura project benefits from significant oxide and a free milling gold resource which creates a low technical risk environment to pay back development and generate significant free cash flow. The relatively modest up-front capital expenditures will allow for a rapid payback and higher margins in the early years which will be followed by a second stage of development adding significantly to the mine life.
The Karankasso Project is an exploration-stage joint venture project that has 700,000 ounces of gold in resources.
Sarama Resources' fully-owned Koumandara Project is an exciting early stage exploration project featuring very large gold anomalies and multiple hits of high-grade gold during scout drilling.
The company is led by an experienced management team and board with more than 30 years of individual experience and proven track records of discovery and development of large-scale gold deposits in Africa, including the multi-million-ounce world-class Kibali Gold Mine.
SWA:CA
07 July
Overview
The electric vehicle (EV) revolution is well underway, and world governments are scrambling to create domestic supply chains to support it. The European market is rapidly expanding with 1100 Gigawatt hours of battery production already committed and the European Union has aggressive goals to put at least 30 million zero-emission vehicles on the road by 2030. Government incentives given to EV consumers are helping the EU meet these goals. Still, consumer adoption isn't the only problem — the EU needs a domestic lithium supply.
Lithium is a critical metal required to produce the high-capacity batteries that EVs require. 100 percent of Europe's battery chemical demand is currently imported. The problem becomes more severe when looking beyond its present needs; the EU will require 18 times more lithium by 2030 and 60 times more by 2050. So how will the EU meet its ambitious goals of widespread EV adoption and a domestic supply to support it?
Infinity Lithium (ASX:I
NF
, FRA:3PM) is an Australian-listed project developer that became the first to
secure investments from the European Union
to support the continent's plans for a domestic lithium supply chain. The company is developing the most technically advanced integrated industrial lithium project in the EU at its San José lithium Project. Infinity Lithium's project comprises both hard-rock lithium mining and chemical processing on-site. In addition, it has developed novel sustainable lithium processing technologies with the potential to unlock previously unviable lithium deposits via its Infinity GreenTech subsidiary.
Infinity Lithium's project is located in the Extremadura region of Spain near the town of Cáceres and contains the EU's second-largest hard rock lithium deposit. However, the company is doing much more than mining lithium. Infinity is focused on supporting Spain and the EU's energy transition. It is building a fully integrated lithium processing plant on site at its San José Lithium Project that will utilise the deposit as feedstock for its processing plant to produce 20,000tpa (over 26 years) of battery grade lithium chemicals. The processing plant will operate using the novel technologies Infinity has developed with the support of EIT Innoenergy and will allow for more sustainable processing operations when compared with traditional and existing lithium processing practices.
In February 2022, test work conducted at Dorfner Anzaplan in Germany produced battery-grade lithium hydroxide from the feedstock at Infinity Lithium's San José project. These results are significant as they indicate that Infinity's project is the first in the EU to produce battery-grade lithium chemicals and proves the efficacy of its innovative, environmentally sustainable process.
The company understands the importance of an impeccable ESG rating and works closely with local community to create an operation that adds value. In October last year, Infinity's project converted its mining activity to an underground extraction methodology to further improve its environmental credentials and meet the demands of the local community of Cáceres.
An experienced management team leads Infinity Lithium toward its goal of becoming a significant player in the European Union's lithium supply chain. Experts in corporate management, resource extraction, and chemical engineering create a team capable of leading the company towards its goals.
Company Hightlights
Infinity Lithium is an ASX-listed project developer that the first recipient of investment from the European Union to support its goals of creating a local lithium supply chain.
The company has an integrated lithium project that includes resource extraction and processing at the same location. The project contains the second-largest known lithium hard rock deposit in the European Union.
Infinity Lithium has also developed novel, innovative and sustainable technologies for low grade lithium chemical processing.
Recent test work conducted by Dorfner Anzaplan and Infinity's technical advisory committee indicated that the company's project and its processing technologies produce battery-grade lithium, the first project in Europe to do so.
Infinity Lithium is mindful of its ESG rating and works closely with the local community to minimize the project's impact and provide value to surrounding communities.
An experienced management team builds confidence that the company will achieve its ambitious goals of becoming a significant player in the EU's lithium supply chain.
Key Projects
San José Lithium Project
Infinity Lithium's 75 percent owned San José Lithium Project is poised to become a major player in the European Union's lithium supply chain. The project is located in the Extremadura region of Spain and contains both lithium mining and chemical processing. Once in full operation, the project will become a significant and sustainable source of battery-grade lithium chemicals. In addition, the San José project contains the European Union's second-largest JORC-compliant hard rock lithium deposit.
Project Highlights:
Unique Lithium Deposit: The massive lithium deposit is unique due to its extensive strike and surface outcrop, creating a sizeable homogenous ore body. The fully JORC-compliant lithium deposit can sustain the operation for over 25 years.
Sustainable Focus: Infinity Lithium understands the importance of maintaining an excellent ESG rating as a lithium producer. The company has several initiatives focusing on sustainability, including:

Underground Extraction: The deposit will be mined with a 100 percent underground extraction operation. This method was chosen to cause minimal terrain disturbance, reduce air dust, and minimize noise pollution.
Electrified Underground Fleet: Infinity is examining options for all-electric mining equipment for its underground mining operations.
Access to Renewable Energy: The Extremadura region of Spain is one of Europe's most prominent centers of renewable energy. Access to clean energy allows Infinity Lithium to enhance its ESG rating further.
Production of Battery Grade Lithium: The company's project will become a large-scale producer of battery-grade lithium hydroxide for Europe. Lithium hydroxide is a critical component used in manufacturing the batteries that power EVs and other clean technologies.
Management Team
Adrian Byass - Non-Executive Chairman
Adrian Byass' career spans over 25 years in the minerals industry. His robust experience was gained through mining, resource estimation, and mine development roles for several gold and nickel mining and exploration companies. He has also gained experience in corporate finance and financial modelling during his employment with publicly listed mining companies. He has been part of exploration, development and production projects in a suite of commodities including gold, base metals such as copper, zinc, lead, specialty metals such as lithium, molybdenum and tungsten and fertilizers in Australia, America, Europe and Africa.
Currently, Mr. Byass is the chairman of a Europe's most technically advanced lithium project in San Jose with Infinity Lithium (ASX.INF), chairman of Galena Mining Limited (ASX.G1A) which is progressing through the construction of a $200 million underground base metals mine in Australia and chairman of a producing underground gold mine in Australia (Kaiser Reef Limited ASX.KAU) as well as a non-executive role at Sarama Resources (TSXV.SWA) which is a gold company working in Burkina Faso.
Ryan Parkin - Managing Director and CEO
Ryan Parkin graduated with a degree of Bachelor of Commerce, Accounting and Finance from the University of Australia. He also earned his Diplome d'etudes en langue francais (DELF), Francais from the Université de Pau et des Pays de l'Adour. In 2017, he was a member of the Investment Advisory Board for Bonfire Group and became the Corporate Development Consultant for almost 10 years at Orthezian Holdings.
Remy Welschinger - Executive Director and Head of Corporate Development
Remy Welschinger holds a Master of Science in Investment Management degree. He is the founder and managing director of Limehouse Capital, an investment holding company that specializes in natural resources projects. He has significant networks in the UK and European Union. He also has connections with major London-based institutions.
Jon Starink - Executive Director / Chief Technical Officer
John Starink has 30 years of extensive experience in the mining industry, particularly in project management, engineering design, science and engineering research and development, mining exploration management, and process innovation and development. John Starink has earned his Bachelor of Science (Chemistry), Bachelor of Engineering (Chemical Engineering), and Master of Applied Science (Biotechnology) degrees from the University of Sydney.
Justin Samulski - General Manager (Commercial)
Justin Samulski worked as a principal for Axum, a company that specializes in customs and cross border trade matters providing an avenue for Samulski to exercise his expertise in mitigating risks associated with international trade. He also worked as Senior Manager - Customs and International at Pitcher Partners from 2019 to 2020.
Jonathan Whyte - CFO and Company Secretary
Jonathan Whyte worked as a Regulatory and Finance Control officer at Credit Suisse from 1999 to 2004. He then moved to Barclays Investment Bank as an accountant and then to Lefroy Resources Limited as company secretary. From 2006 to 2020, Jonathan was the company secretary for Peninsula Energy Limited before transferring to Infinity Lithium for the same position.
Lucas Robinson - Investor Relations Manager, Extremadura New Energies
Ramón Jiménez Serrano - CEO of Extremadura New Energies
Ramón Jiménez Serrano has over 25 years of professional life leading several companies including Extremadura New Energies, Acciona and Cobra or ABB, performing different roles such as CEO, Managing Director and Board Member. Mr. Serrano has robust experience in different fields like energy transition, renewables, water and environment, services and industrial banking on his solid technical background as an Industrial Engineer, complemented with a Master's Degree in Financial Economic Management and specialized training as a Member Board.
David Valls Santos - General Manager of Extremadura New Energies
David Valls Santos has more than 12 years of experience in the mineral exploration sector, national and international. He worked as Exploration Geologist for Berkeley Minera España from 2009 to 2012. He briefly worked as Chief Geologist for Forte Energy NL before he became a Senior Geologist - Consultant for nine years. He was Infinity Lithium's Country Manager for five years before he was appointed as general manager for Extremadura New Energies.
Keep reading...Show less
TOP STOCKS
American Battery4.030.24
Aion Therapeutic0.10-0.01
Cybin Corp2.140.00
Investing News Network websites or approved third-party tools use cookies. Please refer to the cookie policy for collected data, privacy and GDPR compliance. By continuing to browse the site, you agree to our use of cookies.