Overview
Demand for battery metals has dramatically increased in recent years alongside the rise of electric vehicles, renewable energy technologies, and consumer electronics. The global battery market is currently estimated at US$120.4 billion and is expected to reach an astounding US$279.7 billion by 2027. Metals such as nickel, lithium, copper and tantalum are necessary to satisfy the ever-growing demand for these batteries.
This is also the exact reason why a country like Namibia continues to prove itself as a key player in this movement due to its rich deposits of battery metals . Plus, with mining contributing approximately 10 percent to its GDP, experts predict that contribution will undoubtedly increase as mining production is expected to increase by 15 percent in 2022, and by an additional eight percent in 2023 . The presence of rich zinc, lithium and cobalt deposits has attracted multiple mining companies to the region in recent years.
Arcadia Minerals (ASX:AM7) is an exploration company that's focused on exploring battery metals located throughout its multiple projects in Namibia, a country known for its rich metal deposits. The company's portfolio is composed of active exploration projects that feature tantalum, nickel, lithium, copper, and gold. All of its projects are fully funded and led by a strong management team with decades of experience.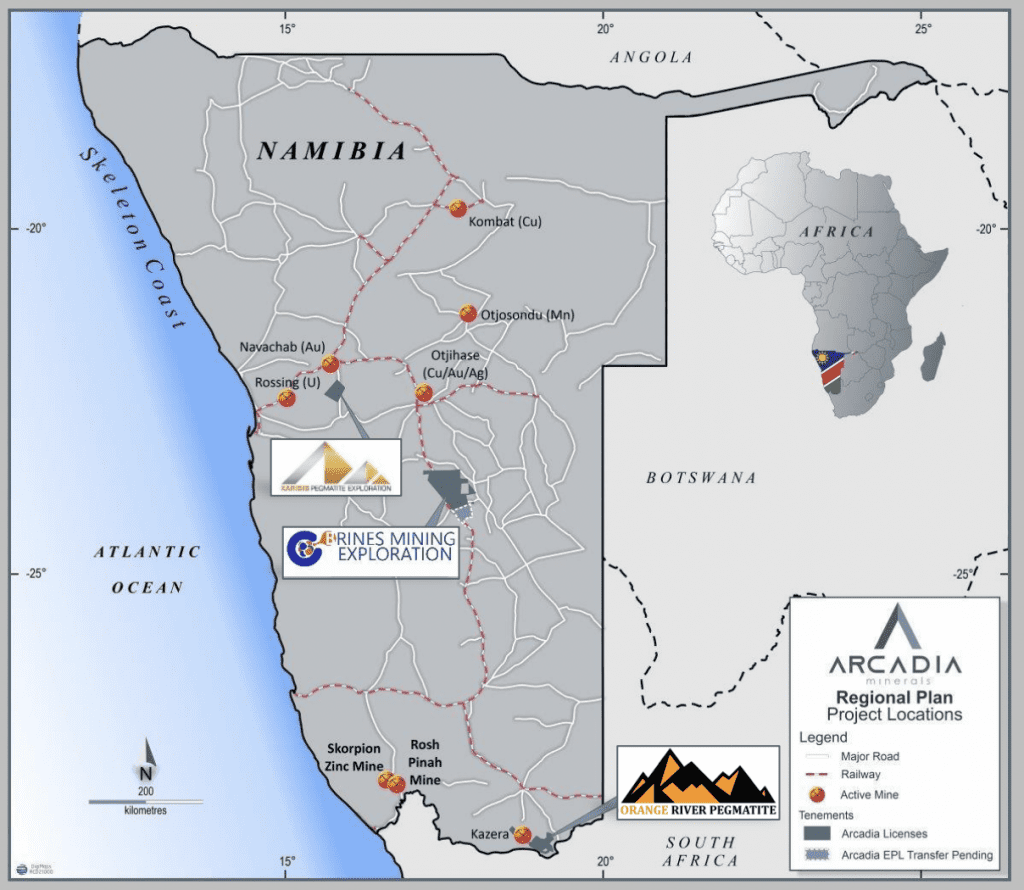 The company's flagship Swanson Project, which covers approximately 19.4 square kilometres. It's located in the well-mineralized southern region of Namibia, largely known for its tantalum deposits. Tantalum is an extremely rare mineral that's required for the production of capacitors that are used in a variety of electronic equipment. The neighbouring AIM mine has already produced 594,000 tons of ore. Arcadia Minerals is currently exploring pegmatites to identify targets for future production.
"Battery metals are very important for the new age where renewable energy is the method for supplying the energy and the power necessary. We intend to play a large role." said Jurie Wessels, executive chairman of Arcadia Minerals, in an interview .
The company is also led by a strong management team that has a proven track record of leading successful mining projects. Philip Le Roux, CEO of Arcadia Minerals, brings
decades of experience leading companies from exploration to production
throughout a diverse portfolio of geological landscapes. He currently is managing a team of geologists in Namibia that are moving each of the company's projects forward. The executive team is also experienced in overseeing mining projects within the African continent. The CEO, country manager, and chief geologist
all reside in Namibia
, which allows them to cultivate a network of consultants and advisors with a view to generating additional value for the company.
Company Highlights
Arcadia Minerals has an experienced executive team that has a track record for taking companies from exploration to production.
The company's projects are all located within Namibia.
Each project within Arcadia Mineral's portfolio is focused on minerals that are needed for producing electric vehicles, batteries, and other green technologies.
The company currently has an in-country team led by executives that are currently exploring each of the projects.
JORC mineral resource increased its total in situ metal content to 1,257 tonnes, a rise of 154 percent , on its flagship project.
Arcadia Minerals completed a study that advances the work program for district-scale lithium brine.
Arcadia Minerals received the completed study on its Kum-Kum property in May 2022, leading to further development.
Namibia has a strong regional infrastructure that currently supports an established mining industry.
Arcadia announced its completion of a drilling assay across 32 holes at its Bitterwasser Project to a maximum depth of 9.6 metres, with samples containing lithium mineralisation ranging from 2.4 to 9.4 metres, at between 744 and 811 parts per million (ppm).
Get access to more exclusive lithium Investing Stock profiles here