Company Highlights
Balkan Mining and Minerals is a publicly-listed exploration and development company focused on lithium and boron mining in the Balkan region.
The Rekovac project has demonstrated promising results in its early exploration phase and is on track for additional explorations and assessments within the Ursule and Siokovac licensed areas.
The Cacak project provides new access to underexplored areas of the Vardar Zone, an emerging tier 1 lithium-borate jurisdiction. The company is looking to expand beyond the Rekovac project and region.
The company is backed by leaders in the space and has performed well since its IPO. An experienced board and regional management expertise equip Balkan Mining and Mineral to be a leader in the lithium-borate space and are in the right space at the right time.
Overview
The recent boom in electric vehicle (EV) adoption and green technologies has seen global demand for lithium skyrocket. Analysts believe EV penetration could reach 35% by 2030, which means lithium production will need to quadruple between 2020 and 2030 to satisfy this growing demand.
Lithium production is often associated with countries like Chile, Australia and Argentina — but strategic policy shifts in the European Union have led Europe to look inward for essential battery metals, placing the spotlight directly on the Balkan states. While the Balkan states, which includes Albania, Bosnia and Herzegovina, Bulgaria, Croatia, Kosovo, Montenegro, North Macedonia, Romania, Serbia and Slovenia, are best known for historic gold production — recent lithium discoveries in Serbia have renewed interest in this region.
Balkan Mining and Minerals (ASX:BMM) is focused on an early-stage exploration through the full development of lithium and boron mining in the Balkan region. The company is committed to building an ethical resource portfolio backed by strategic partnerships and guided by an experienced board and management with regional expertise.
The Balkan states, and Serbia in particular, are well-endowed with many minerals and have attracted a surge in foreign investors for the exploration of mining operations. Serbia's Vardar zone is an emerging tier 1 lithium-borate jurisdiction. Balkan Mining and Minerals is well-positioned to capture the growth of the European lithium and boron supply chain.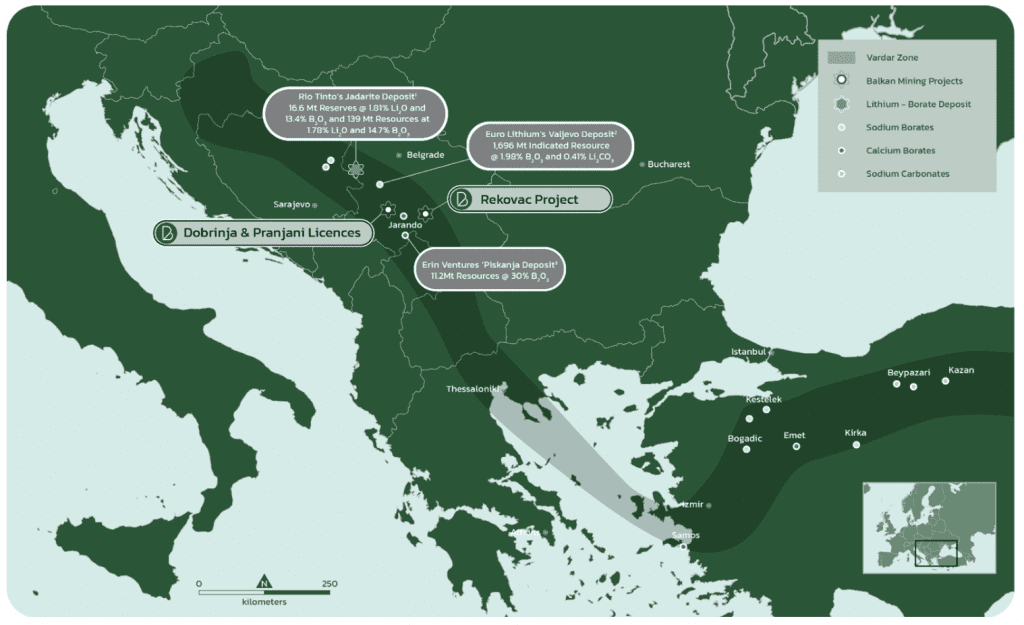 Balkan Mining and Minerals' flagship Rekovac lithium-borate project demonstrated two successful diamond drill holes discovering preserved lithium and borate mineralization. The company recently completed its surface mapping program. With the success of the initial drilling and exploration, Balkan is well-positioned to commence its drill program in late September 2021.
The company continues to expand its reach across Serbia with four new exploration permits recently granted. The Ursule and Siokovac licenses provide expansion of Rekovac and span nearly 200 square kilometers. The Dobrinja and Pranjani licenses provide access to Western Serbia with favorable lacustrine strata for hosting lithium and boron.
"It's the right region, it's the right commodity and the right capital structure with the right investors… the key thing to add to that is what differentiates this particular lithium project from many of the other … lithium companies, at least listed in Australia, is the borate angle… So that makes these types of things extremely economic and extremely easy to mine and process," commented Ross Cotton, managing director.
Balkan Mining and Minerals is backed by Sandfire Resources (ASX:SFR). The company's current market cap is AU$36 million with 45 million shares on issue.
The leadership of Balkan Mining and Minerals includes a highly commercial board with decades of experience. Sean Murray serves as chairman and brings executive experience from Rio Tinto and expertise in industrial minerals. General Manager Dejan Jovanovic is the Balkan region expert with over 15 years of experience as a geologist. The company has a strong combination of experience and expertise to be a leader in the lithium and boron space.